Chocolate! The Exhibition
September 26, 2015 to January 17, 2016 in Mobile , AL
Tuesday-Thursday 9 a.m.-4 p.m.; Friday-Saturday 9 a.m.-5 p.m.; Sunday Noon-5 p.m. Closed Mondays.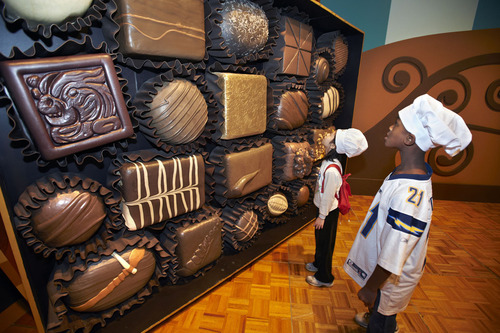 website
Chocolate! and its national tour were developed by the Field Museum of Chicago and was supported, in part, by the National Science Foundation. This well-received exhibition has traveled throughout the United States and will visit the Southeast for the first time. Visitors will discover chocolate's impact on human cultures and tropical ecosystems through scenic elements, original video, interactive displays, rich imagery and graphics, and approximately 150 objects. This major exhibition includes replicated pre-Columbian ceramics and other decorative objects, European silver and porcelain servers, as well as examples of nineteenth- and twentieth-century advertising and packaging, vintage chocolate molds, and detailed botanical replications. 
 Chocolate! The Exhibition runs through January 17, 2016 and features the real story of chocolate beginning with the discovery of the cacao bean in the rainforests 1,500 years ago. The Mayans created a spicy drink and the Aztec civilization actually used the beans as currency.