2018 Battles for the Armory & Arts and Crafts Fair
November 09, 2018 to November 11, 2018 in Tallassee , AL
Gates open at 9 a.m. each day. Battle reenactments Saturday and Sunday at 2 p.m.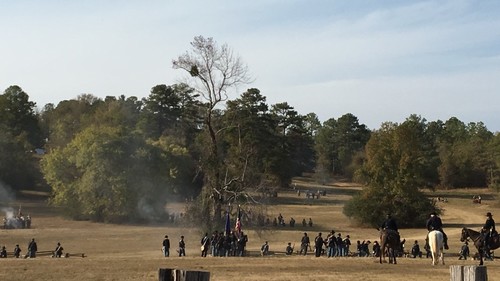 Video provided by Santa Henry Howard
website
Tallassee Living History and Heritage Days, brought to you by The Tallassee Armory Guards (SCV Camp 1921) in conjunction with the new Talisi Cotton Belles (OCR Chapter 020), is a 3 day Veteran's Weekend celebration featuring the Battles for the Armory live Civil War Reenactment and the new Talisi Arts & Crafts Fair. You will have the unique opportunity to stroll through and shop our new Arts & Crafts Fair. We invite Arts and Crafts vendors of all types to join us as we bring the Talisi Arts & Crafts Fair to life. We plan to have a spectacular event. The first day, Thursday, is School Day for students to get a feel of what it was like to live during the 1860s to include culture, crafts, homemaking, dance, dress, battle, medicine and much more. The public is invited to join us Saturday and Sunday for a very family-oriented, fun-filled, and educational weekend event. You will see a live portrayal of a Civil War battle, hosted by the 53rd Alabama Cavalry reenactors, as well as handmade clothing, accessories, weapons, toys, and even soap making; giving our viewers new insight into day to day life during the 1860s. Contact us for more information.