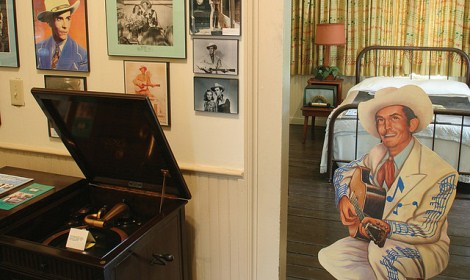 Hank Williams was born in Mount Olive on September 17, 1923. By the time of his death 29 years later, he had left behind a monumental legacy of such hits as "Hey, Good Lookin'," "I Saw the Light," "Jambalaya" and "Cold, Cold Heart."
The young Hank often sang at Mount Olive West Baptist Church, where his mother played the organ. His early youth is documented at the Hank Williams, Sr. Boyhood Home & Museum in Georgiana. He attended school in Greenville, where he also shined shoes and studied guitar with black musician and friend Rufus "Tee-tot" Payne.
Hank married Audrey Sheppard, the inspiration for many of his songs, at a service station garage in Andalusia. With his band the Drifting Cowboys, he played engagements across the South. Hank became country music's first superstar, selling 10 million records from 1947 to 1953. He retreated to a vacation cabin at Kowaliga on Lake Martin.
Leaving Alabama for concerts out of state, Hank and his driver set out from the Redmont Hotel in Birmingham. He died in the back seat of his convertible, now at the Hank Williams Museum in Montgomery. His final resting place at Oakwood Cemetery is one mile away.
Find more Hank Williams attractions in the complete Hank Williams Trail brochure.