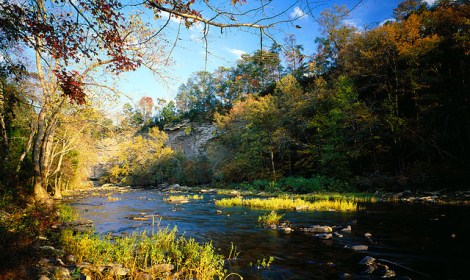 The Alabama Scenic River Trail is what adventure is all about. At 631 miles, it is the longest water trail in any single state of the country. Starting at the Georgia state line and winding across nine beautiful lakes, the scenery ranges from magnificent wildlife preserves and steep stone cliffs to the tranquil beauty of secluded bayous in the Delta region. The trail follows seven rivers and two creeks through tucked-away backcountry areas as well as some of Alabama's best-known cities, ending at historic Fort Morgan.
For the canoeist and kayaker, there are easy stretches with numerous well-maintained campsites. The Alabama Power Co. has designed portages around its six dams, and the three dams on the Alabama River operated by the U.S. Army Corps of Engineers offer all boaters the option of portage around the dams or a smooth, easy lock-through.
Most of the great paddling adventures can also be taken by motorboat, which can be just as exciting. The trip from Montgomery to the Gulf of Mexico can be accomplished with ease, aided by the Army Corps of Engineers' locks.
The Alabama Scenic River Trail Association publishes five trail guide booklets, each describing in detail the route through a specific portion of the trail and providing information regarding campgrounds, marinas, put-in and take-out locations and points of historic interest along the way. Although the association suggests also using more detailed maps, especially in the Delta, included in each guidebook are maps outlining the trail's route and key facilities including fuel stops for powerboats.
Find more outdoor activities in the outdoor adventure in Alabama brochure.