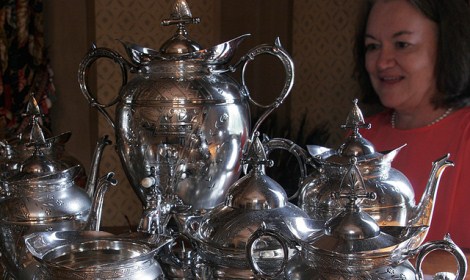 From upscale galleries to multivendor malls, the Alabama Antique Trail provides a mixture of antiques and vintage collectibles throughout the state. Discover items from Alabama family estates, original pieces from antebellum homes, and European and Oriental imports selected from abroad by antique dealers or brought by early settlers. The trail offers glassware, pottery, silver, porcelain, military items, books, art, signs, historical papers, and American, French, Japanese, Chinese and English furnishings from the 18th, 19th and early 20th centuries. But most importantly, you are sure to find Southern hospitality and knowledgeable people.
North Alabama contains an abundance of treasures within its 53 member shops on the antique trail. Hartselle, with 10 stores on the trail, is a can't-miss stop. The Hartselle Antique Mall specializes in Fire-King glassware. In fact, the owners, Dale Kilgo and Gail Wilkins, wrote the first book on the subject. Drive to nearby Decatur to visit the three-story Bank Street Antique Mall, located in a historic building dating to 1899. Within Railroad Station Antiques Mall in Huntsville, you'll find gift shops, a bookstore and an on-site decorator in addition to a large selection of antiques. And in Cullman, Water Valley Antiques features 90 booths in two buildings, one of which is a former chicken coop.
In Central Alabama, Birmingham is home to the high-end The King's House Antiques and INTERIORS at Pepper Place. Arledge Antiques & Collectibles of Montevallo is located on a family farm near the American Village historical education center. In Alexander City, check out the Antique Mall of Memories, where it is a pleasure to browse the orderly collections organized by type. Dadeville's Old Bank Antiques is housed in the 1935 Bank of Dadeville, which still contains the original vault. A unique aspect of 559 Market Place Antiques in Valley is the store's excellent on-site café with a gourmet chef. In Marion, Judge Avery's Antiques is in an antebellum home containing one of the state's best personal collections of 1800–1860s American furniture. And Attalla, with five member shops, is an important destination on the trail.
Southeast Alabama features a number of member stores. In Montgomery, stop by Pickwick Antiques, The Unicorn Shop and Nicole Maleine Antiques Inc., which specializes in French imports. Visit Vignettes on Magnolia, located in a period home in Auburn, and then drive to nearby Opelika to shop at the large Angel's Antique and Flea Mall. Find some great deals at The Mercantile in Clayton, and then head to Troy Antiques in historic downtown Troy. In Dothan, three generations of one family are waiting to serve you at Antique Attic. And in Southwest Alabama, This 'el do Vintage Stuff in Loxley features a large and varied collection of glassware. Fairhope, a focal point of the region, has five member shops, including the charming Antiques and Uniques.