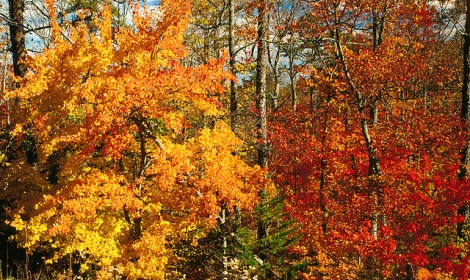 Follow every curve of the highway to scenic adventures in Alabama. Begin at Oak Mountain State Park (1) on AL 119 near Birmingham. Take I-65N to I-459N, then join I-59N. Exit at Ashville onto U.S. 231N, and see unusual rock formations at nearby Horse Pens 40. Travel to Oneonta and covered bridge country (2), then take U.S. 278W to Cullman and Ave Maria Grotto (3). Continue to Double Springs, Bankhead National Forest (4) and Natural Bridge of Alabama.
At Hamilton, take U.S. 43N. See Dismals Canyon, Phil Campbell and Rock Bridge Canyon in Hodges. At Tuscumbia, take U.S. 72W to the Natchez Trace Parkway (5). Explore the Trace, then return to U.S. 72 and cross the Tennessee River into Florence. Continue to Joe Wheeler State Park (6).
Follow U.S. 72E to Huntsville; take U.S. 431S to Monte Sano State Park (7). Return to U.S. 72E for Scottsboro and nearby Russell Cave (8), then take AL 35S to Rainsville. Take AL 75S to Geraldine, then AL 227N toward Lake Guntersville State Park (9). In Guntersville, take U.S. 431S to Gadsden and Noccalula Falls (10). Get on I-59N to Hammondville; exit at AL 117S for quaint Mentone, with log cabins and antiques.
Take Lookout Mountain Parkway (CO 89 and AL 176) to DeSoto State Park (11). Detour at AL 35S to the AL 176 section that weaves along the rim of Little River Canyon (11). Stay on AL 176W, then take AL 68E to Leesburg and Cherokee Rock Village, then US 411N to Centre. Get on AL 9S to Lineville. Take AL 49N, then AL 281S to Cheaha State Park (12). Follow AL 281N to US 78W, picking up I-20W in Oxford. Get on I-459S, then I-65S. Return by AL 119N to Oak Mountain State Park.