Wonder Falls & More: Gadsden, Attalla and Beyond
by Jennifer Kornegay
Take two days to explore the stunning scenic splendor of northeastern Alabama with visits to waterfalls in Gadsden and Fort Payne and the federally protected magnificence of Little River Canyon. There are also opportunities for antiques shopping, taking a walk on the wild side and enjoying a taste (or two) of Alabama wine before you leave.
Tragic Beauty
Start in Gadsden with a visit to one of the area's prettiest gems, Noccalula Falls (1500 Noccalula Falls Road; 256-549-4663). Torrents of shimmering water take a dramatic plunge into Black Creek Ravine to form this 90-foot-high waterfall. According to local legend, so did a Cherokee princess with the same name. In a tragic end to a Romeo and Juliet-style love story, Noccalula threw herself over the falls rather than forsake her true love by a forced marriage to another. A statue at the edge of the falls illustrates and honors her sacrifice.
The city of Gadsden has long recognized the allure of the waterfall, and has protected it and built a 250-acre park around it, complete with a pioneer village, a botanical garden, a mini-zoo, a train that traverses the property and a fabulous playground with pavilions. You can take in great views of the waterfall simply by walking into the park, but taking the steep trail down to and under the falls is well worth some heavy breathing. During summer's swelter, it's at least 10 degrees cooler in the shade of the woodland path, and when you get up to the waterfall, the soft mist dancing in the air is a soothing refresher.
Downtown Delights
In the heart of Gadsden's revitalized downtown, the Mary G. Hardin Center for Cultural Arts (501 Broad St.; 256-543-2787) is worth a stop when you leave Noccalula Falls. It hosts a variety of visual, musical and theatrical presentations each year, including performances by the nationally renowned Etowah Youth Symphony Orchestra, and houses the Courtyard Cafe (256-547-1066), which serves daily meat-and-veggie-plate specials with amazing cornbread muffins. Right next door, the Gadsden Museum of Art (515 Broad St., 256-546-7365) showcases local talent and rotating exhibits of other Southern art. Downtown also hosts First Fridays on (yep, you guessed it) the first Friday of each month. These events include local live entertainment, food and drink specials from area restaurants, classic car shows and more, and they're free.
Lions, Tigers & Bears, Oh Yes!
From Noccalula Falls, take AL Hwy. 211 for 15 miles to Attalla to visit Untamed Mountain and Tigers for Tomorrow. (708 County Road 345; 256-524-4150) This exotic animal preserve and environmental learning center is a sanctuary for more than 130 tigers, cougars, bears, lions, wolves and other creatures that have been rescued from roadside circuses, owners who tried to keep them as pets and other situations that put these majestic animals at risk. Owner Susan Steffens worked for years in some of the country's best zoos and believes that wild animals should never be kept as pets or be subjected to terrible living conditions for the sake of our entertainment. She believes letting the public get up close to the big cats and other animals is a means of education, teaching visitors about the animals' beauty and power and their habitat needs. Tigers for Tomorrow is also a sanctuary for injured raptors and birds of prey that are native to Alabama as well.
Antiquing and Flea Market Treasures in Attalla
Downtown Attalla has a bevy of antiques shops with wares ranging from fine furnishings, china and glass to old books, bottles, collectibles, lamps and even some "junk." Somewhere in Time (402 Fourth St.; 256-538-4056) is a great place to step back into yesterday. Olde Walker Drug Store Antique Mall (328 Fifth Ave. NW, 256-538-6678) has items, from 15 vendors, including some great vintage signs, all housed in the historic main street drugstore. Owners Melton "Cowboy" and Janie Terrell have been operating the Mountain Top Flea Market (11301 U.S. Hwy 278;1-800-535-2286) since 1973. The market features everything from homemade ice cream, hot dogs, hamburgers, red-hot chili peppers, fruits and vegetables to toys, games, CDs, DVDs, tools, birds, fishing poles, hats, purses, clothes, shoes and a bargain special that includes 18 pairs of socks for $5. The Terrells can always be found mingling with the crowd on Sundays. Visitors have come from all 50 states and experienced a "true" Southern flea market at Mountain Top.
Wine Down
After enjoying the area's flora, fauna and shopping, relax with a glass of all-natural wine for a perfect ending to an exciting day. At Wills Creek Vineyards (10522 Duck Springs Road; 256-538-5452) in Attalla, just four miles from Untamed Mountain, you can indulge in the sweet juices of Alabama's native grape, the muscadine. Nestled in a picturesque valley, this 100-percent pesticide-free vineyard is family owned and operated and welcomes visitors with free wine tastings, tours of the vineyard and, of course, its wine and gift shop where you can purchase the wines you just sampled.
Wills Creek Vineyards' Ruby Red is a lighter red wine that's a bit sweet, but less so than the white muscadine wine.
Play at the Park
Travel north of Gadsden on I-59 and get off at exit 231 toward Valley Head to discover an abundance of natural wonder awaiting you at and around DeSoto Falls, right outside of Mentone and located and marked by signage on County Road 89. The Little River hurls itself over a craggy rock ledge, creating a 104-foot cataract and a thunderous roar. A short stroll from the DeSoto Falls parking area takes you to an observation point. Just down the road, you'll find several smaller waterfalls in DeSoto State Park (7104 DeSoto Parkway NE; 256-845-5380). This 3,205-acre outdoor enthusiast's paradise has cabins, primitive camping sites and 25 miles of hiking and biking trails. Each season is a new revelation; you'll find the forest ablaze with color in the fall and filled with the blooms of native wildflowers like Catesby's trillium, mountain laurel and sweet shrub in spring and summer.
Make sure you wear comfortable walking shoes for this road trip. You don't want your feet to give out before you do!
But the park's true treasures are the waterfalls tucked among the rocks and trees. Traverse the trails in the park to find them. Indian Falls is the easiest to reach and drops 20 feet into a glassy pool. Laurel Falls is a pretty little drop and Lost Falls deep in the park, is aptly named because when there's not enough water flowing, there is no waterfall. The 360-yard Boardwalk Trail is an easy trek that takes you to a round deck overlooking the lovely Azalea Cascade. A detailed trail map with the location of each waterfall can be found on the park's website or at the park's lodge.
Into the Deep
Thirteen miles from DeSoto Falls is Little River Falls. It plummets 45 feet and is the glittering showpiece of Little River Canyon. Little River is one of the country's longest rivers to form and flow on top of a mountain. Over eons, its clear waters have cut through sandstone and carved an extensive canyon and gorge system as they descend.
Little River Canyon is home to many rare, threatened and endangered species of both plant and animal life, including carnivorous green pitcher plants and the blue shiner fish.
Drive on 89 South to Highway 35 to visit the Little River Canyon Center (4322 Little River Trail NE ; 256-845-3548) and watch the 15-minute video to learn more before going to view Little River Falls. Continue to Highway 176, also known as Canyon Rim Parkway, and drive 11 miles along the edge of the canyon through the 14,000-acre Little River Canyon National Preserve. Multiple scenic overlooks offer majestic views of the falls as well as sheer rock faces, soaring hawks and the Little River. Grace High Falls are also visible on this drive, but they are a bit fickle, only appearing when there's been enough rain. Tall and slim with a gentler flow, the falls are a treat for those who catch them at the right time. Further into the preserve, Canyon Mouth Park has picnic tables and access to trails that weave through the lower canyon's boulders and creeks.
Canyon Rim Parkway offers multiple scenic overlooks for majestic views of Little River Falls, Little River and the canyon.
No Guts, No Glory
For the active traveler, True Adventure Sports (13102 Hwy. 176, Fort Payne; 256-997-9577), at the end of Canyon Rim Parkway, is able to fulfill almost any outdoor dream, from a guided hike through the canyon to a paddle trip down the Little River to more adrenalin-fueled pursuits, like rappelling and caving. Feeling really gutsy? Try swishing through the woods and over water by moonlight on one of TAS's nighttime zip-line tours.
Where To Eat
In Mentone, the Wildflower Café (6007 Hwy. 117; 256-634-0066) is a charming spot with exceptional food. A cute cottage houses an eatery committed to using fresh, local produce and other ingredients to craft delights like loaded tomato pie and a triple-layer carrot cake. If you can't tear yourself away from all the fun at DeSoto State Park, the restaurant in the park lodge is also a great choice. It serves a tasty Reuben sandwich.
In Gadsden, Pruett's Bar-B-Que (1617 Rainbow Drive, 256-547-4118) is good, but so are most other offerings on the large menu. Try the light and airy sweet potato fluff, then mark it "eaten" on your copy of the "100 Dishes To Eat in Alabama Before You Die" brochure.
Where To Stay
In Gadsden, the Holiday Inn Express (106 Walker St.; 256-691-0225) is a comfortable, convenient choice with some nice complimentary extras like a hot breakfast each morning and warm, fresh-baked cookies and coffee each afternoon. Stylish, spacious rooms are held to the same standard of cleanliness used in many hospitals. Friendly staff will help you plan your sightseeing in the area and even pack a picnic lunch for your waterfall walks. Ask about special package rates for this road trip.
Don't Miss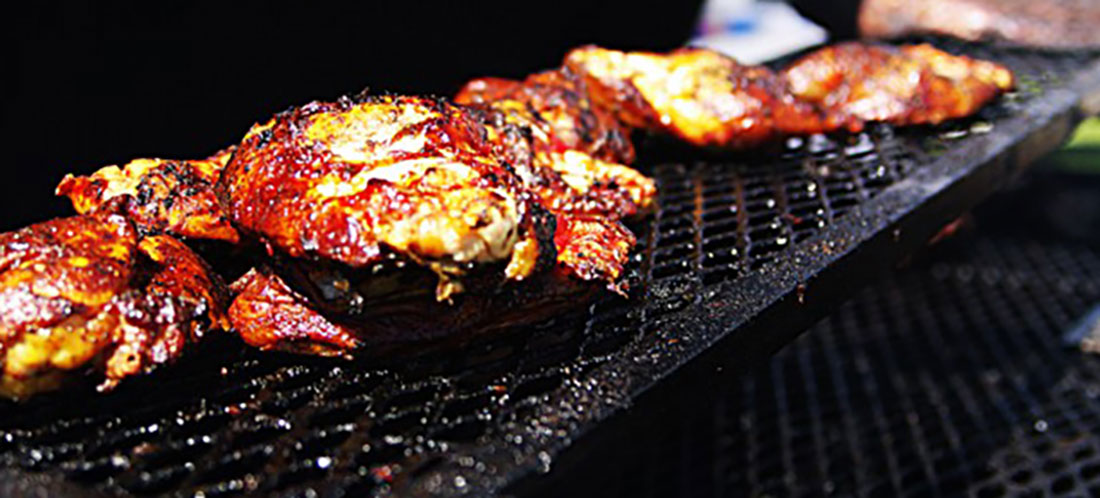 Smoke on the Falls Barbecue Festival
The annual Smoke on the Falls Barbecue Festival is held each April at Noccalula Falls and attracts thousands of visitors for two days of family fun. The event features live music and plenty of kids activities along with the barbecue cook-off featuring both backyard cooks and professionals competing for thousands of dollars in prize money and bragging rights. And around the holidays, Christmas at the Falls showcases brilliantly colored lights that set the park aglow. Several lighted scenes are synchronized to popular holiday tunes. You can take it all in on foot or aboard the train. Kids of all ages enjoy hot cocoa, kettle corn and activities like decorating their own Christmas cookies.