Seeing Gadsden from the Inside
by Marilyn Jones Stamps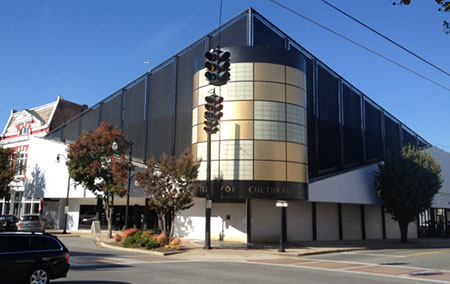 The Coosa River flows down from beautiful Lookout Mountain, offering fishing, camping and birdwatching along the shoreline of Neely Henry Lake. Stunning waterfalls capture your imagination at Noccalula Falls Park. A relaxing 36-hole Robert Trent Jones Golf Course beckons you to grab your clubs and enjoy a round or two of golf. With so many opportunities for recreation surrounding it, one would think that Gadsden is all about the outdoors.
But this scenic area of northeast Alabama boasts history, culture and so much more. And you're invited to hit the road and experience it all. U.S. Hwy. 411, the main artery of travel leading into Gadsden off I-759, will take you inside some awesome museums and put you in the center of history, creativity, and learning.
Experience the Gadsden Museum of Art
Located on Broad Street in the heart of downtown is the Gadsden Museum of Art (GMA) (515 Broad St.; 256-546-7365). Founded in 1963, the museum has established itself as an important part of the cultural fabric of life in the region.
With a mission "to inform, to educate, to inspire," GMA offers three galleries for visitors to enjoy. The first-floor gallery serves as a venue for large shows and changing exhibitions featuring the works of local and regional artists. On the second floor is the Grand Gallery which showcases objects from the museum's permanent works, including paintings, sculptures and prints. Photographs, furniture, decorative arts and artifacts related to local history, such as an old doctor's office and a steamboat whistle, are housed on the third floor.
Tip 1: Inquire about the history of Gadsden and learn about the importance of the Coosa River.
On your tour, you'll learn how the Coosa River served as an important transportation route and commercial waterway for riverboats in the 19th and 20th centuries, trailing only the seaport of Mobile. You'll discover how Gadsden rose to prominence in the 1980s as a center of heavy industry. And you'll see how the town was able to rebound and transform itself, replacing some key industries with arts and entertainment attractions.
Tip 2: Stroll through the town to see art from a different perspective.
One of the most interesting aspects of the Gadsden Museum of Art is its ability to bring art and history together for folks from all walks of life to enjoy. GMA does this through its 24/7 Virtual Museum, where museum-quality exhibit reproductions are displayed in the windows of the businesses on Broad Street, thus turning the entire downtown into a museum all its own.
Soak up the Arts at the Mary G. Hardin Center
Culture and creativity in arts and education come together at the Mary G. Hardin Center for Cultural Arts (501 Broad St.; 256-543-2787). Located next door to the Gadsden Museum of Art, the center is home to Imagination Place, Gadsden's children's museum; the Etowah Youth Orchestras; the Gadsden Community School for the Arts, which offers classes in music and the visual arts; and the Downtown Dance Conservatory. In addition, it serves as a platform for temporary exhibits and offers live concerts in its New Orleans-style courtyard. Hours are Mon.-Sat., 10 a.m.-5 p.m. and Sun., 1-5 p.m. Admission is charged.
Imaginations Soar at Imagination Place!
If you're traveling with small children, a visit to Imagination Place is a must. This interactive learning center, geared toward those 2 to 10 years old, features several fun activity stations, including KidsTown USA. This permanent exhibit allows kids to enjoy scaled down versions of a farm, bank, grocery store, medical clinic, a sunken pirate ship, and more. They can explore careers by pretending they are firemen, doctors, bankers and other professions.
Note: Imagination Place is perfect for birthday parties, field trips and other group activities. It operates under the same hours as the Mary G. Hardin Center except it is closed the first Monday of the month for maintenance.
More Fun at The Factory
Located on Thomas Drive, The Factory (100 Thomas Dr.; 256-312-8974) began as a real fully-operational factory in the 1980s, complete with tools, machinery, forklifts…the works. In 2013, the son of the owner of The Factory, Dan Browning, bought the building and he and his daughter Bethane gave it new life as an enormous play center for both children and adults to enjoy.
Today, this indoor activity center, whose motto is "Play now. Grow up Later," offers lots of hustle and bustle, movement and motion and hard-hitting action. But instead of hammers, drills and heavy machinery, it's all about the visitor experience. You can jump around on more than 10,000 square feet of connected trampolines, make your way through an alien universe trying to beat your friends in a game of laser tag, spend the afternoon in the batting cage, or test your skills in the flight simulator, and more. Admission is charged. It varies by the time spent inside The Factory.
Tip 3: The Factory is a highly intense, action-packed center, therefore you must sign a waiver before engaging in any activities. Call ahead or check out their website to see what activities might be best for your little ones.
Where to Stay & Dine
There are a number of quality hotels and places to eat in the Gadsden area, many of which are in close proximity to downtown attractions and activities. A must-try is the Courtyard Café (256-547-1066). Located inside the Mary G. Hardin Center, this quaint restaurant offers laid back country-style meals for lunch and ribeye steaks, lobster bisque and other fine dining choices on white tablecloths for dinner. It also has a kids menu. For more information, visit the Greater Gadsden Alabama Tourism website at www.greatergadsden.com.
Don't Miss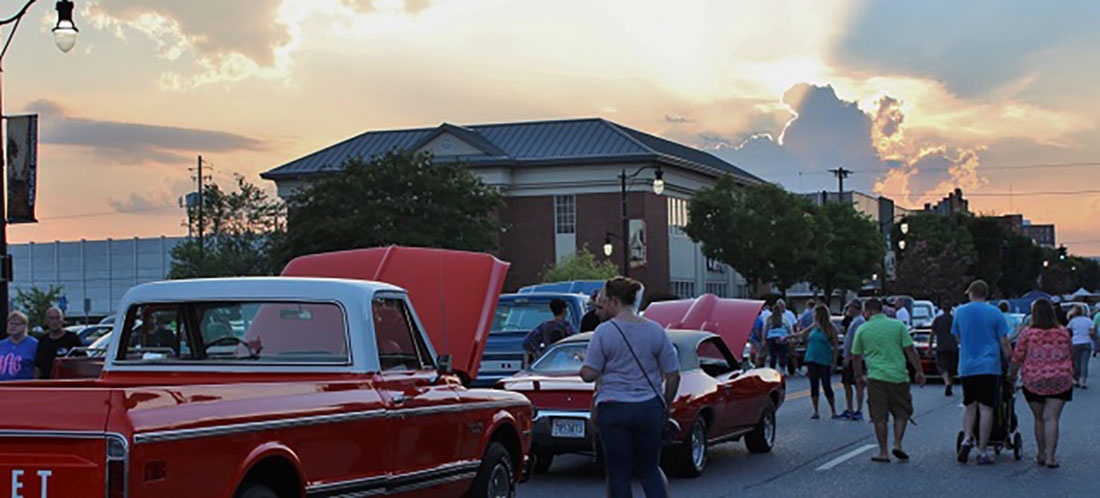 First Friday
On the first Friday of every month from March to December, you'll have the opportunity to experience Gadsden like the locals do. Museums, shops and restaurants stay open late, downtown rocks with live entertainment, special events, sales, and local cuisine, and artists and craftsmen come from all over to showcase and sell their works. In addition, hundreds of antique and classic cars are on display for this event. First Friday is coordinated by Downtown Gadsden Downtown Gadsden (256-547-8696).