See & Sip at Alabama's Wineries
by Jennifer Stewart Kornegay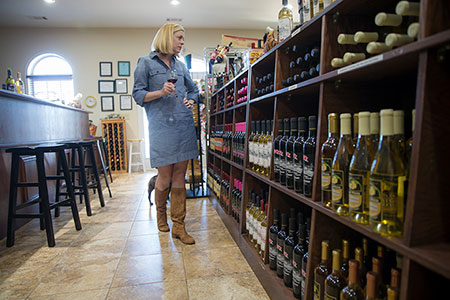 Keeping step with Alabama's burgeoning craft beer industry and award-winning restaurants, vineyards around the state are producing homegrown vintages with distinctive flavors. The state currently boasts 14 vineyards and wineries, most of which rely on Alabama's only native grape, the muscadine. And like all wines, these have unique flavors that come from the various soils in which cultivated grapes are grown. Whether you're a true oenophile or new to wine drinking, visiting Alabama's wineries – found from the foothills in the north to the coastal south – and sampling the fruits of their labors is a relaxing way to spend a day and enjoy a delicious taste of our state.
Uncork the North
Wills Creek Vineyards (10522 Duck Springs Rd.; 256-538-5452) in Attalla is nestled in a picturesque North Alabama valley. This family owned, 100 percent pesticide-free muscadine vineyard and winery has been welcoming visitors with wine tastings, tours of the vineyard and its wine and gift shop for almost 20 years. Sample from an ever-changing list of more than 20 wines, ranging from dry to sweet and made from muscadines and other grape varieties. Some are flavored with berries and peaches as well. Owners Jahn and Janie Coppey are on a mission to promote the joys and benefits of enjoying wine responsibly. They're both friendly and full of wine wisdom, much of it gleaned from Jahn's childhood experiences in his family's vineyards in Switzerland, and they love sharing what they know with their guests. That's why Wills Creek also offers winemaking kits if you're interested in becoming a home vintner.
Don't leave Attalla without checking out other attractions. Go wild at Tigers for Tomorrow (708 County Rd. 345; 256-524-4150), an exotic animal preserve, sanctuary and environmental learning center with more than 100 animals, including bears, tigers and other big cats. The center is as much about education as it is entertainment. Next, visit downtown Attalla and step into the past with a stop in any of the antiques stores lining the streets. Enjoy a lazy float down the tree-lined beauty of Big Wills Creek via kayak or canoe courtesy of Big Wills Outfitters (2881 Wesson Gap Rd.; 256-538-3226).
Meander Through the Middle
Ask Bill Bailey, owner of Hidden Meadow Vineyard (664 County Rd. 606; 205-688-4648) in Jemison, what his favorite wine is, and he'll tell you, "Whatever's in my glass!" It's the answer of a wine lover, and this passion is poured into every wine his vineyard creates. Hidden Meadow has five acres of vines; 85 percent of them produce three varieties of muscadines and the rest grow Cynthiana (also called Norton) grapes. Proudly situated in Chilton County, home of some of the South's tastiest peaches, Hidden Meadow also makes a peach wine from local fruit. It's heavy on ripe peach flavor, but still light with the slightly acidic finish you want in a wine, and is consistently one of the winery's best sellers. The other is Smith Ridge White, a refreshing wine that's packed with the unmistakable rich, sweet-tart punch of white Carlos muscadines.
If strolling among rows of intertwining grapevines brings thoughts of starting your own mini vineyard at home, take the short trip from Hidden Meadow over to Petals from the Past (16034 County Rd. 29; 205-646-0069), also in Jemison. Here you can buy a few vines and get some expert growing instruction from the knowledgeable staff. The nursery and garden shop specializes in heirloom and hard-to-find plants and also offers workshops throughout the year.
Ozan Vineyard (173 Hwy. 301; 205-668-6926) in Calera has 2,000 vines and crafts much of its wine from Norton grapes, a species native to North America but not the Deep South. However, using an open trellis system, Ozan has had great success growing the grapes and uses them to create Norton Red, which is aged for a year in American oak barrels. Ozan also offers many other wines, including Founders Cut Apple – a dessert wine – and Shelby Blanc, made from the humble but hearty scuppernong. Can't decide which to taste? Try several with the Souvenir Sampler that includes a keepsake glass. Enjoy it with a savory cheese plate on the deck, which offers a lovely view of the vineyards below.
Next, stop by Corbin Farms Winery (800 Hwy. 87, Calera; 205-685-0655) for some more vino sampling paired with lunch. Founded by the Vizzini family in 2005, the winery brings Old World wines to the South with cabernet, chardonnay, pinot noir and merlot made from purchased grapes as well as muscadine wine from the winery's own harvest. The on-site Bistro gives more than a passing nod to the owners' Italian heritage with selections like the Italian Trio Salad, Baked Rigatoni, antipasti starters and pizzas. Since 2017, the winery has been owned and managed by the Corbin family.
While you're in Calera, learn the story of Alabama's railroad legacy at the Heart of Dixie Railroad Museum (1919 Ninth St.; 205-757-8383). Check out the collection of historic railroad artifacts that include restored depots, locomotives, cabooses and railway equipment for free, but spend the $14 ($10 for kids) to ride one of two vintage trains. You'll travel a section of the old L&N mineral line amid the ambiance of yesteryear in antique coaches behind a first-generation diesel-electric locomotive.
Owned by the Brammer family and the largest winery in the state, Morgan Creek Vineyards (181 Morgan Creek Ln.; 205-672-2053) in Harpersville honors its proximity to Birmingham and the city's history with two best-selling muscadine wines. Red Mountain Red (semi-sweet) and Vulcan Red (dry) are inspired by the memory of Birmingham's mining industry and by Frank Brammer, the owners' grandfather, who painted the massive cast-iron statue of Vulcan that sits atop Red Mountain in the Magic City. Annual events at the winery, such as Music & Fireworks held June through August and the Grape Stomp in September, have become as popular as the wines.
Ozan Vineyard has partnered with the Heart of Dixie Railroad Museum to provide "wine and dine" train rides on Saturdays, April through October. The Souvenir Lunch Excursion combines wine tastings and a gourmet boxed lunch enjoyed alfresco before you hop aboard one of the museum's two vintage trains.
Sippin' in the South
The muscadine vines at Whippoorwill Vineyards (4282 County Rd. 31; 334-257-2711) in Notasulga produce such abundant yields that the winery opens to the public for "u-pick" days in late summer. The Whippoorwill wine listing is divided into four residual sugar concentration categories, and most wines are made from muscadine vintages. The vineyard is one of only two in the state making wine from the Creek muscadine, one of the oldest muscadine varieties. Whippoorwill also produces wine from Norton and Lenoir grapes grown in its vineyards.
While in Notasulga, grab some lunch at Turn Baby Turn (8960 Tuskegee Rd.; 334-415-0171), a liquor store/barbecue joint that looks like a serious dive but serves some of the area's finest ribs and chicken. The meat is cooked low and slow rotisserie-style in a drum smoker and served with owner Bill Strong's signature red and mustard sauces and interesting sides such as pineapple coleslaw.
Jim Eddins, the owner of Perdido Vineyards (22100 County Rd. 47; 251-937-9463) in Perdido, played a large part in changing the laws that made other Alabama vineyards possible today. Established in 1972 as the first farm winery to open in the state since prohibition, Perdido Vineyards makes grape-based wines exclusively from muscadines just as several area winemakers in the late 1800s and early 1900s did. Local artists create the wine labels. Perdido Vineyards also produces dessert wines using apples, blueberries, blackberries and satsumas as well as a wide selection of gourmet fruit vinegars, made with a state-of-the art technique that includes fermenting the fruit into wine and then re-fermenting the wines into vinegar. The result is a finished product with a taste that stays true to the original fruit. The tart apple and fig balsamic vinegars are must-trys. In addition, Perdido Vineyards bottles and sells muscadine juice.
Much More To See & Sip
All of Alabama's vineyards and wineries are worth a visit: Hodges Vineyards in Camp Hill, Jules J. Berta Vineyards in Albertville, White Oak Vineyards in Anniston, High Country Cellars in Heflin and The Fruithurst Winery Co. in Fruithurst.
Don't Miss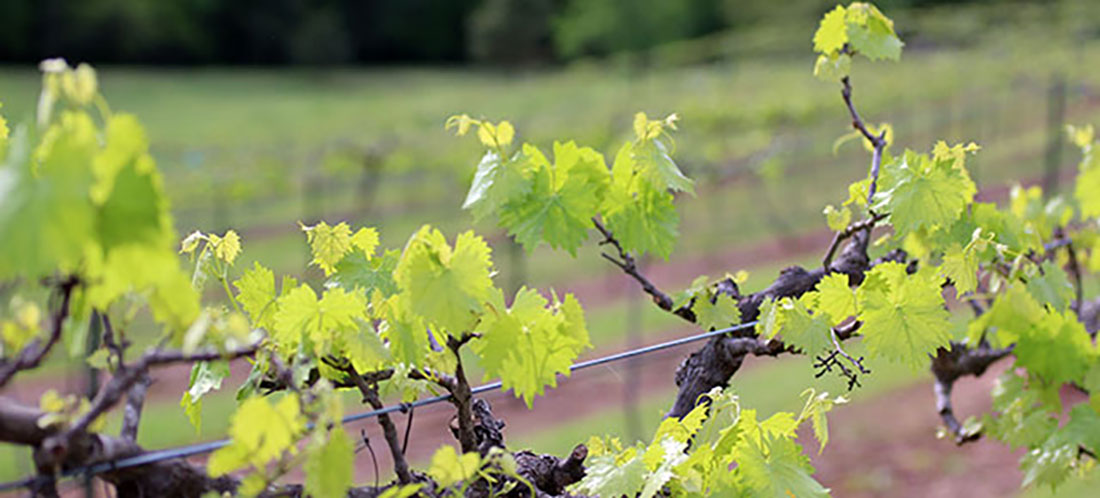 One of Alabama's Newest Wineries
Maraella Winery (Maraella Winery; 256-494-1000) in Hokes Bluff opened for business in 2012 but its story began years before. A trip to California's wine country prompted owner Jim Lee to import cabernet grapevines from the state in 2005 and put them in the ground on farmland that's been in his family for decades. Most folks, including those he got the grapes from, thought he would likely fail because non-native grapes don't usually like Alabama's climate. But the plants thrived, and Maraella (the name is a combination of the first two letters in Lee's three granddaughters' middle names) is now the only winery in the state making cabernet from grapes grown on its property.