Rosa Parks, Paul "Bear" Bryant and Jesse Owens: A Centennial Road Trip
by Marilyn Jones Stamps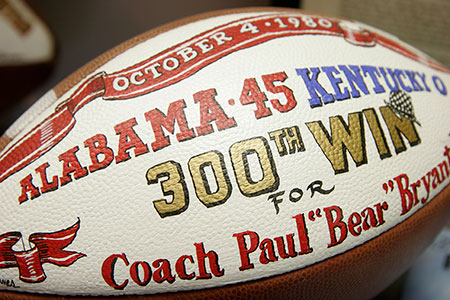 What do Rosa Parks, Paul "Bear" Bryant and Jesse Owens have in common? Besides the fact that each of them has a museum named in their honor, all three of these famous Alabamians were born in 1913, and each played a role in integration.
Experience the story of Rosa Parks from Tuskegee to Montgomery
Rosa Parks, the daughter of a carpenter and a schoolteacher and the oldest of two children, was born in Tuskegee as Rosa Louise McCauley on Feb. 4, 1913, to James and Leona Edwards McCauley.
When you visit Parks' birthplace, you'll drive down a street named in her honor and tour a downtown museum that showcases her place in Macon County history. The centerpiece of the Tuskegee Human and Civil Rights Multicultural Center (104 S. Elm St.; 334-724-0800), founded by attorney Fred Gray who represented Parks during the Civil Rights Movement, is an exhibition of important chapters in the civil rights struggle that are often overlooked – from the story of Rosa Parks' birth to that of Samuel Younge Jr., a civil rights worker shot in cold blood in 1966 by a gas station attendant who was later found "not guilty" of his murder by an all-white jury.
Rosa moved with her family to Abbeville when she was two years old, and later to Montgomery. She did not attend public school until she was 11. It was while attending elementary school in rural Montgomery County – where school buses took white students to their school and black students walked to theirs – that she received one of her first introductions to segregation in America.
"I'd see the bus pass every day. But to me, that was a way of life; we had no choice but to accept what was the custom. The bus was among the first ways I realized there was a black world and a white world," Parks once recalled.
Heavily influenced by the Jim Crow laws of the South, Rosa Parks became deeply concerned about freedom and justice for all people. In 1932, shortly after marrying Raymond Parks at age 19, she joined the civil rights organization known as the NAACP and went to work immediately helping to raise money for the now-famous Scottsboro Boys. She fought for justice in whatever way she could until she became the catalyst for local civil rights efforts being led by a young minister named Martin Luther King Jr. from Atlanta.
From the seat of a Montgomery bus on Dec. 1, 1955, the 42-year-old seamstress jump-started the 381-day Montgomery Bus Boycott when she was arrested for refusing to give up her seat to white passengers. When King heard that Parks had been arrested, he organized a meeting at Dexter Avenue Baptist Church where he was pastor, and the core of the Civil Rights Movement was formed. Parks' courageous act of civil disobedience brought nationwide attention to the problem of segregation and racial discrimination in the South and spurred people from all walks of life to action.
To understand the whole of the Rosa Parks story and the Civil Rights Movement, history buffs and visitors alike should step back to the Civil War of the 1860s, which was essentially a fight over slavery, to learn about Jefferson Davis and the Confederacy he so staunchly defended. One of the most outstanding statesmen during the first 60 years of the 19th century, Davis sacrificed everything to defend the South's position, particularly the rights of the states regarding slave ownership.
As you explore the place where both Jefferson Davis and Rosa Parks made history a century apart, you'll discover irony in the fact that the Rosa Parks Museum stands on the corner of the same street where the former 1927 Jefferson Davis Hotel now serves as a housing complex for seniors and the disabled. A mere six blocks away is the Alabama State Capitol (600 Dexter Ave.; 334-242-7800) where Davis took the office as president of the Confederacy in 1861 and where the Selma-to-Montgomery March (in which Rosa Parks participated) ended in 1965.
Adjacent to the Capitol is the First White House of the Confederacy (644 Washington Ave.; 334-242-1861), where Davis and his family lived from February to May 1861, while the capital was in Montgomery. Nearby are several civil rights attractions.
A short drive from the Capitol, Rosa Parks Avenue intersects with West Jeff Davis Avenue and travels past the Cleveland Court apartments where Parks and her husband lived while they were in Montgomery.
Rosa Parks moved to Detroit in 1957 where she continued her humanitarian efforts. She lived there until her death on Oct. 24, 2005. Her body was flown to Montgomery and taken in a horse-drawn hearse to the St. Paul African Methodist Episcopal Church. The following evening, her casket was transported to Washington, D.C., by a bus similar to the one in which she had made her historic protest and was permitted to lie in state in the rotunda of the U.S. Capitol. This allowance made her the only woman and second African-American in history to receive such an honor.
Learn about Paul "Bear" Bryant and the Integration of College Football
From Montgomery, travel Interstate 65 north toward Birmingham and take I-20/59 for your trip to Tuscaloosa, where the legendary Paul "Bear" Bryant made history in the sports arena in more ways than one. Born Sept. 11, 1913, to William Monroe and Ida Kilgore Bryant, Paul William Bryant was raised poor in Cleveland County, Arkansas. He was the 11th of 12 children born to the couple; three others had died in infancy. His father was disabled much of his life, forcing Bryant and his siblings to work on the family farm.
Although he is best remembered as the longtime winning head coach of the University of Alabama football team, Bryant achieved many accolades prior to Crimson Tide stardom. Standing a little over six feet tall, he was a successful player on his high school football team in Fordyce, Ark., where he earned his nickname for supposedly wrestling a bear for $1. He attended college at the University of Alabama in the 1930s and also played football there.
Between graduating college and returning to Tuscaloosa to become head coach, Bryant completed a brief stint in the Navy in the 1940s and held several athletic positions in the late 40s and 50s. These included serving as head coach at the University of Kentucky for eight seasons and as head coach at Texas A&M University. It was at Texas that he continued a quest he had begun earlier, which was to integrate the game of football. "We'll be the last football team in the Southwest Conference to integrate," Bryant was told by a Texas A&M official. "Well," Bryant replied, "then that's where we're going to finish in football."
Ironically, years before he took over the Alabama football team in 1958, Bryant was accused of racism for refusing to recruit black players. His response to that was the prevailing social climate would not let him do this. When asked why he came to Alabama, he replied, "Momma called. And when Momma calls, you just have to come runnin'."
It was following the Crimson Tide's 1970 season opener against the University of Southern California team led by a black fullback named Sam Cunningham that Bryant took the ball running and convinced the administration at Alabama to allow him to recruit black players. After Cunningham rushed for 150 yards and three touchdowns in a 42-21 victory against the Tide, Bryant recruited Wilbur Jackson as Alabama's first black scholarship player. However, he could not play because he was a freshman. John Mitchell (a junior college transfer) was the first to play against Southern Cal in 1971. By 1973, one-third of the team's starters were black.
"Bear" Bryant was by far the most successful football coach of his era. During his 25-year tenure at Alabama, he amassed six national championships and 13 conference championships. When he retired in 1982, he held the record for most wins (323) as head coach in collegiate football history. Alabama's legendary and beloved coach died on January 26, 1983. One month later, he was posthumously awarded the Presidential Medal of Freedom by President Ronald Reagan.
When you arrive in Tuscaloosa, take Exit 71 and follow the signs to the campus. Park in the rear of the Paul W. Bryant Museum (300 Paul W. Bryant Drive; 205-348-4668) for a tour. Once inside, you'll walk the Hall of Honor to see the large bust of Coach Bryant surrounded by photos of each of his teams.
Each year during the first home football game, the museum hosts the Paul W. Bryant Namesake Reunion for anyone named Paul, William, Bryant or any variation thereof.
Various exhibits chronicle the history and tradition of Crimson Tide football from 1892 to present day. Visitors can get a glimpse inside Coach Bryant's office, see the Waterford crystal replica of his famous houndstooth hat and experience Crimson Tide moments from the broadcast booth. The museum is open seven days a week except for major holidays.
Visit Oakville, the birthplace of an Olympic champion
Born one day after "Bear" Bryant on Sept. 12, 1913, in Oakville, near Moulton in Lawrence County, James Cleveland "Jesse" Owens was the youngest of 10 children. He was 9 years old when he migrated northward with his parents Cleveland Owens and Mary Emma Fitzgerald to Ohio, taking his strong Southern accent with him. When his new teacher asked his name, he said "J.C.," but she thought he said "Jesse." The name took, and he was known as Jesse Owens for the rest of his life.
Early in his life, Owens realized that he had a passion for running. He first came to national attention, however, when he was in high school in Cleveland. When it came time to go to college, Owens was reluctant to enter because he knew he was needed to help take care of his struggling family. After much consideration, he was finally recruited by Ohio State University in Columbus. Although he experienced racism there, it strengthened his resolve to succeed. In 1935, while at Ohio State, he broke or equaled four world track records in one day, setting a new long-jump record that would stand for 25 years.
The Jesse Owens Memorial Park and Museum in nearby Danville tells the story of Owens' personal triumphs as a world-class athlete and record holder that were the prelude to a career devoted to helping others.
Owens would also experience racism overseas when he competed as a member of the 1936 U.S. Olympic team in Berlin. The black members of the squad faced the challenges not only of competition but also of Hitler's boasts of Aryan supremacy. Not knowing the word "defeat," Owens surprised Hitler (as well as many others) and won a total of four gold medals during the Olympic Games that year. As a stunned Hitler angrily left the stadium, German athletes embraced Owens as spectators chanted his name.
The gold medalist returned to America to a hero's welcome. However, discrimination at home made it hard for Owens to find suitable work. To earn money, he took exhibition jobs that pitted his athletic prowess against race horses and cars. He later held a number of paid and unpaid positions, including heading his own public relations firm in Chicago and lecturing and mentoring youth throughout much of his life.
"Although I wasn't invited to shake hands with Hitler, I wasn't invited to the White House to shake hands with the President, either," Owens recalled later.
It would take 40 years for Owens to be officially recognized by the U.S. government for his extraordinary achievements. He was presented the Presidential Medal of Freedom by President Gerald Ford in 1976 and the Living Legend Award by President Jimmy Carter in 1979. Owens died March 31, 1980 of lung cancer. Ten years after his death, he was posthumously awarded the Congressional Gold Medal by President George Bush.
The man who rose from humble beginnings as the son of a sharecropper and the grandson of a slave in Lawrence County, Alabama became recognized as one of the most important sports figures of the 20th century. He is fondly remembered at a park and museum near Moulton in North Alabama. Through interactive exhibits, a rare film and family memorabilia, the Jesse Owens Memorial Park and Museum (7019 County Road 203, Danville; 256-974-3636) tells the story of Owens' personal triumphs as a world-class athlete and record holder that were the prelude to a career devoted to helping others.
Don't Miss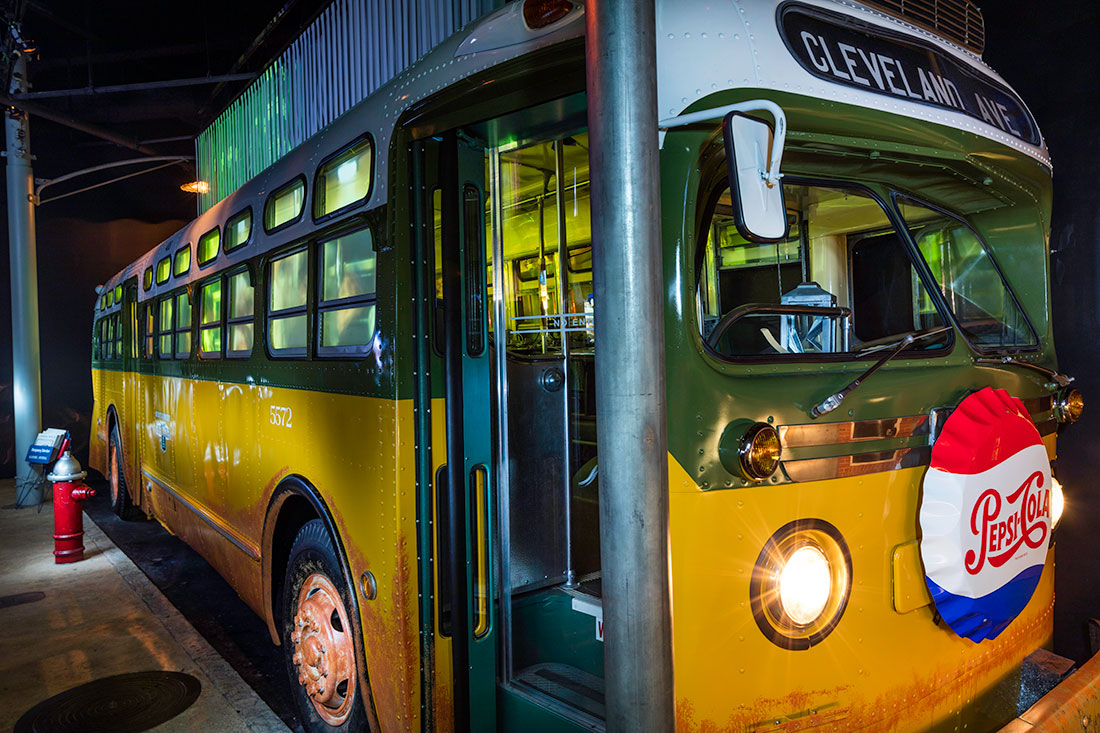 The Rosa Parks Museum
The Rosa Parks Museum & Library and Children's Wingopens in new window (252 Montgomery St.; 334-241-8615; For tours call 334-241-8661) is one of Montgomery's most popular attractions. It exposes important elements in the struggle for civil rights and racial equality in America and offers insight into other aspects of African-American history, including the Underground Railroad. Following a historical timeline, you'll see photos of Parks' arrest, newspaper clippings, interactive exhibits and a replica of the bus on which she was riding. You'll also learn about the court case that ended bus segregation in Alabama in 1956 and efforts that eventually led to the signing of the landmark Civil Rights Act by President Lyndon Johnson in 1964 and the Voting Rights Act the following year.