There are dozens of spectacular mountain biking trails situated around Auburn, Birmingham and the Anniston/Oxford area of Alabama that are perfect for bike lovers of all skill levels. So, whether you're a beginner or old pro, you're invited to pack up your gear and hit the open road toward East Alabama – we'll show you all the best trails!
Stop 1: Chewacla State Park, Auburn
Chewacla (124 Shell Toomer Pkwy.; 334) 887-5621) is a 696-acre state park in Auburn, complete with trails for expert and beginner bikers alike. In addition to the trails, it features a lake with waterfalls and a swimming area, playgrounds and hiking trails, a campground and lodging facilities.
Camp Trail (1.0 mile) For beginners, the one-mile Camp Trail offers a relatively flat loop around the campground with wide and easy turns, almost no roots or rock, and minimal elevation change. It is the perfect trail for someone new to mountain biking. Experienced riders can use this trail as a warm up.
For Pete's Sake Trail (8 miles) This trail has it all: fun runs, slightly technical climbs, narrow bridges, loose rocks, steep slopes that will test ability to stay on the trail. Take a breather on the straight western edge of the park property before navigating Momma's Milkshake down to the creek. Terrain requires you climb back up the hill before passing over more rock gardens and ride perpendicular to the severe slopes back to a skill testing drop to the bridge.
Directions To reach the state park, drive on I-85 toward Auburn, take exit 51 for Auburn University and turn right onto South College Street. Take your first left on to Lee Road 674 (you'll see signs for Chewacla State Park) and continue onto Shell Toomer Parkway. A full list of trails in Chewacla State Park can be found on the Central Alabama Mountain Pedalers website http://www.camp-sorba.org/trails/chewacla-state-park/. You can also ask the main office (where you pay admission to the park) for a map and directions to the trailheads for any of the trails.
Where to Eat in Auburn
After your day of biking the hills, visit "the loveliest village on the plains" to see all the local attractions. For some great eats, check out the "Best Bites" list to decide what award-winning restaurant you want to go to to refuel, and if you're up for it, check out the music and nightlife as well. Niffers Place (1151 Opelika Rd.; 334- 821-3118) is one of the local favorites.
Where to Stay in Auburn
If you want to stay in the park, there are both camp sites and renovated cabins available. You can also book a hotel reservation on the AOTourism website http://www.aotourism.com/Accommodations/, if "roughing it" isn't your style.
Tip 1: When booking your trip, be mindful that Auburn is a college town. During football season from August-November, Auburn and Chewacla State Park can get pretty crowded, so plan ahead!
Stop 2: Oak Mountain State Park, near Birmingham
After you've exhausted the trails of Chewacla State Park, head north to Oak Mountain State Park (200 Terrace Dr.; 205-620-2524) near Birmingham. Located in Birmingham's bedroom community of Pelham, Oak Mountain is a picturesque, 9,940-acre site that offers more than 50 miles of hiking, biking, and equestrian trails. In addition, the park features pedal boat and canoe rentals, fishing areas, a petting farm, and even an 18-hole golf course.
Red Trail (approx. 25 miles) The Red Trail at Oak Mountain was listed by the International Mountain Biking Association as one of its "epic" rides, meaning it is among the top 52 mountain biking trails in the world. It features around 25 miles of various mountain biking track, with a 1,900-foot combined elevation gain.
Inside the park, there are trail combinations for beginners and experts, so no matter your skill level there's a track for you. The trails are easily accessible from the campground and have a north and south trailhead.
Tip 2: The trails at Oak Mountain are shared with other bikers and hikers, so be cautious.
Bicycle Pump Track
Another fun part of Oak Mountain State Park is the bicycle pump track, built by the Birmingham Urban Mountain Pedalers. This track is a continuous off-road loop made of smooth hills and raised corners, perfect for perfecting your bike skills. The track is open to everyone and suitable for every level of expertise, however, helmets are required, and elbow and knee pads are encouraged.
Directions You can take I-85 south to Montgomery and follow signs for I-65 to Birmingham, or you can drive through Auburn to U.S. 280 and take it up to Oak Mountain. For detailed information about the trails, visit http://bump.org/trails/oakmountain.
Dining in or near Birmingham
There are a lot of great, local options for dining in the Pelham/Birmingham area, however, one of the most popular restaurants in Pelham and close to the park is the Mexican restaurant, the Cozumel Grill (2754 Pelham Pkwy.; 205-621-8886). It has been given consistently high ratings by visitors from TripAdvisor.
Lodging in the Birmingham/Pelham Area
If you're really outdoorsy, take advantage of the beautiful campgrounds or cozy, furnished cabins at Oak Mountain State Park. For those preferring more traditional lodging, visit Pelham Online or check out the options offered by the Birmingham Convention and Visitors Bureau.
Stop 3: Coldwater Mountain, Anniston/Oxford
For the last stop on your mountain biking tour of East Alabama, head east from Pelham or Birmingham on I-20 to the Anniston/Oxford area. The trip should take around an hour. Stop in at Wig's Wheels (1229 Noble St.; 256-237-9447) when you get into town to say hi, and get some trail maps and advice on biking Coldwater Mountain. They can also give you directions to the trailhead of Coldwater Mountain and other trails in the area.
Coldwater Mountain (More than 75 miles expected to be completed by 2017)
One of the most popular trail sites in the area, Coldwater Mountain encompasses 4,000 acres and is owned by the State of Alabama's Forever Wild organization. It's the perfect site for many levels of skill, and all riders can explore red-dirt trails in a backcountry setting, take on gravity runs, and enjoy the scenery.
Tip 3: While the trails at Coldwater are easily accessible, there are no campgrounds or restrooms by the trailhead, so plan accordingly.
Directions To get to the trailhead, take Exit 179 (Coldwater/Munford Exit) off of I-20. From the direction of Birmingham, turn left at the end of the exit ramp onto Hwy. 202. From Atlanta, turn right on Hwy. 202. Travel 2.1 miles (crossing Hwy 78) and turn right onto Coldwater Pump Road. Travel a few hundred yards and turn right into the parking lot. From downtown Anniston, travel 6.5 miles out 202 and turn left onto Coldwater Pump Road.
Dining in Anniston
After your long ride on the challenging and invigorating Coldwater Mountain, check out some of the local fare. Classic on Noble (1024 Noble St.; 256-237-5388) is one of Anniston's finest dining traditions, with travelers coming from all over. A more casual dining experience awaits at the Cheaha Brewing Company (1208 Walnut Ave.; 256-770-7300). The brewpub and on-site brewery are located in the old L&N Freight Train Station in historic downtown Anniston.
Lodging in the Anniston/Oxford Area
The International Mountain Biking Association has partnered with a few hotels in the Anniston/Oxford area to offer mountain bikers an excellent overall experience. Among them are: Holiday Inn and Suites Hampton Inn and Suites and the Parker House Bed and Breakfast Inn Parker House Bed and Breakfast Inn.
Don't Miss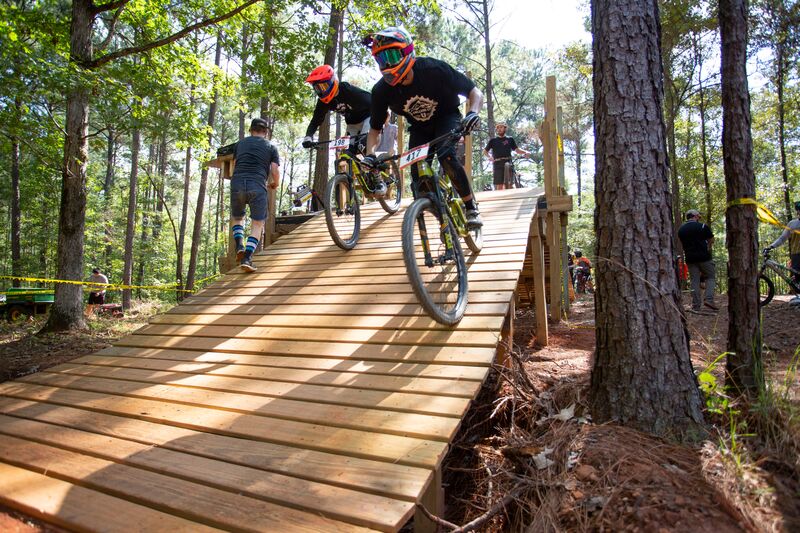 Chewacla State Park
Chewacla (124 Shell Toomer Pkwy.; 334) 887-5621) is a 696-acre state park in Auburn, complete with trails for expert and beginner bikers alike. In addition to the trails, it features a lake with waterfalls and a swimming area, playgrounds and hiking trails, a campground and lodging facilities.