Pork, Blues and Inner Tubes: A Tour of Alabama Barbecue
by The Year of Alabama Food Staff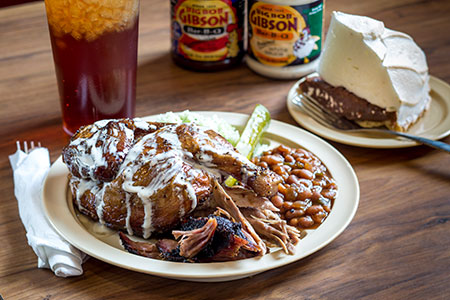 In Alabama, barbecue is a culture all in itself. The state serves some of the nation's best, with iconic and award-winning restaurants just about everywhere you look. Take a tour of some of North and Central Alabama's best – from the fruits of lifelong professional pit masters to new kids on the barbecue block – and pick up a side of fun along the way.
Visit the Home of Alabama White Sauce
Over the past 85 years, Big Bob Gibson Bar-B-Q (1715 Sixth Ave. SE; 256-350-6969) has grown from a makeshift table in Gibson's backyard to a regional barbecue staple – garnering attention from news outlets and cooking competitions all over the country.
In the 1920s, vinegar-and-mustard-based Carolina-style sauce was the predominant choice of barbecue cooks. Big Bob Gibson didn't think it complemented his chicken very well, so he came up with his own mayonnaise-based condiment, which also contains vinegar, apple juice, horseradish, lemon juice, black pepper and cayenne pepper.
Big Bob Gibson's sauces have become so popular that they are now available online and at more than 2,000 grocery stores in eight states. Locals use the white sauce as a marinade, for basting and as a table sauce.
Big Bob Gibson's split, seasoned chickens are laid open on the barbecue pit for several hours and then dipped in white sauce. The unique flavor of the sauce, combined with meat smoked in hickory-fired brick pits, helped the restaurant take off and established white barbecue sauce as a North Alabama regional specialty. Four generations of the Gibson family have continued the restaurant's tasty traditions.
While in Decatur, be sure to spend an afternoon at Point Mallard Park (2901 Point Mallard Dr., 256-341-4900). The park spreads over more than 500 acres and features camping, hiking and biking trails, a golf course and year-round ice skating. The most popular draw, however, is the Point Mallard Water Park at the J. Gilmer Blackburn Aquatic Center. Enjoy the wave pool, Olympic-size swimming pool, water slides and more.
Pork With a Side of Soul
In Florence, you'll find the W.C. Handy Home, Museum and Library (620 W. College St.; 256-760-6434) where you can see musical instruments, personal papers and original sheet music belonging to the "Father of the Blues." The legendary songwriter is credited with taking the blues from the South into other parts of the country, educating people along the way and turning the genre into a cherished art form. Each July, the W.C. Handy Festival celebrates the Florence native's musical contributions and those of other blues musicians.
Bunyan's Bar-B-Q (901 W. College St.; 256-766-3522) is located less than a half-mile from the W.C. Handy museum. A local favorite since 1972, Bunyan's is known for its pork and hot slaw. Grab a spot at one of the small tables inside or dine al fresco at one of several outdoor tables.
Need a place to stay for the night? Check into the Marriott Shoals Hotel & Spa (10 Hightower Pl.; 256-246-3600). The AAA four-diamond hotel boasts a European spa, rotating restaurant, two championship Robert Trent Jones Golf Trail courses and great views of the Tennessee River Valley.
Rib It Up in Tuscaloosa
Head down to Tuscaloosa and prepare to get your hands a little messy. Your first stop? Lunch at Archibald's (1211 Martin Luther King Blvd.; 205-345-6861) in Northport.
Get to Archibald's early. Lines often form before the doors open, and spots fill up fast at the picnic tables outside.
George Archibald Jr. was 12 years old when he started working in the barbecue business his father started in 1962. Today, George and his sister, Paulette, keep this diamond in the rough going, serving the famous ribs and vinegar-based sauce that have garnered local admiration and national attention.
After lunch, stop by the Kentuck Art Center (508 Main Ave; 205-758-1257). The Gallery features unique folk pieces by local artists and hosts workshops and other events throughout the year. Kentuck also presents the nationally acclaimed Kentuck Festival of Arts each October.
From Northport, head to the University of Alabama campus to explore Bryant-Denny Stadium (920 Paul W. Bryant Dr.; 205-348-3680) and the Paul W. Bryant Museum (300 Paul W. Bryant Dr.; 205-348-4668), where you can take in more than 100 years of Crimson Tide football history. There's plenty to see and do on campus, and you're sure to work up a championship-sized appetite.
Get Your Fill in Birmingham
Birmingham is a barbecue lover's mecca. From pulled pork at Jim 'N Nick's to Full Moon's famous chow-chow, there's plenty to keep your taste buds entertained. Pace yourself as you sample some of the best Alabama has to offer.
Jim 'N Nick's Bar-B-Q (1908 11th Ave. S.; 205-320-1060) has served the Birmingham community for more than 25 years, and it now boasts more than 25 locations throughout the South and in Colorado. Known for its pulled pork, cheese biscuits and homemade slaw, the restaurant consistently receives accolades from local and national publications like Saveur and Bon Appétit. In addition, Jim 'N Nick's was crowned the winner in the Alabama Tourism Department's inaugural Alabama BBQ Bracket.
Also in Birmingham's Southside is Full Moon Bar-B-Que (525 25th St. S.; 205-324-1007). The restaurant famous for its half-moon cookies and chow-chow – a spicy, sweet Southern relish – was once owned by Pat James, then was bought in 1996 by brothers David and Joe Maluff. Full Moon now has locations throughout the state, including the original.
Some of the Magic City's most popular attractions are just minutes from both Jim 'N Nick's and Full Moon. Visit Vulcan, the world's largest cast-iron statue, at Vulcan Park and Museum (1701 Valley View Dr.; 205-933-1409); walk on the wild side at the Birmingham Zoo (2630 Cahaba Rd.; 205-879-0409); or head downtown to explore McWane Science Center (200 19th St. N.; 205-714-8300).
The observation tower at Vulcan Park and Museum is open until 10 p.m. It's the perfect place to watch a sunset or get a spectacular nighttime view of Birmingham's skyline.
Not far from Vulcan and the Birmingham Zoo is another must-try barbecue joint. Saw's BBQ (1008 Oxmoor Rd.; 205-879-1937) in Homewood is young compared to longstanding pork houses like Full Moon, Jim 'N Nick's and Dreamland, but it hasn't taken long for it to become a local favorite.
Saw's barbecue is North Carolina-style and served in a signature vinegar-based sauce. While the Birmingham location is the only source for the restaurant's pulled pork, ribs, chicken with white sauce, stuffed potatoes and home-style sides, Saw's Sauce is available online, in stores across Alabama and at other retailers throughout the country. Saw's also boasts two sister restaurants in Birmingham – Saw's Soul Kitchen and Saw's Juke Joint.
Want some authentic Alabama barbecue sauce to take home? Stop by Alabama Goods (2933 18th St. S.; 205-803-3900) in downtown Homewood. In addition to your favorite sauces and other delicious items, you'll discover a bevy of unique Alabama-made products.
You'll need a relaxing place to stay during your time in Birmingham. Renaissance Ross Bridge Golf Resort & Spa (4000 Grand Ave.; 205-916-7677) fits the bill and is especially convenient if coming from the Tuscaloosa leg of your tour. Also check out the Sheraton Birmingham Hotel (2101 Richard Arrington Jr. Blvd. N.; 205-324-5000), the historic Tutwiler Hotel Hampton Inn & Suites (2021 Park Pl.; 205-322-2100) or Aloft (1903 29th Ave. S.; 205-874-8055) in Homewood.
Don't Miss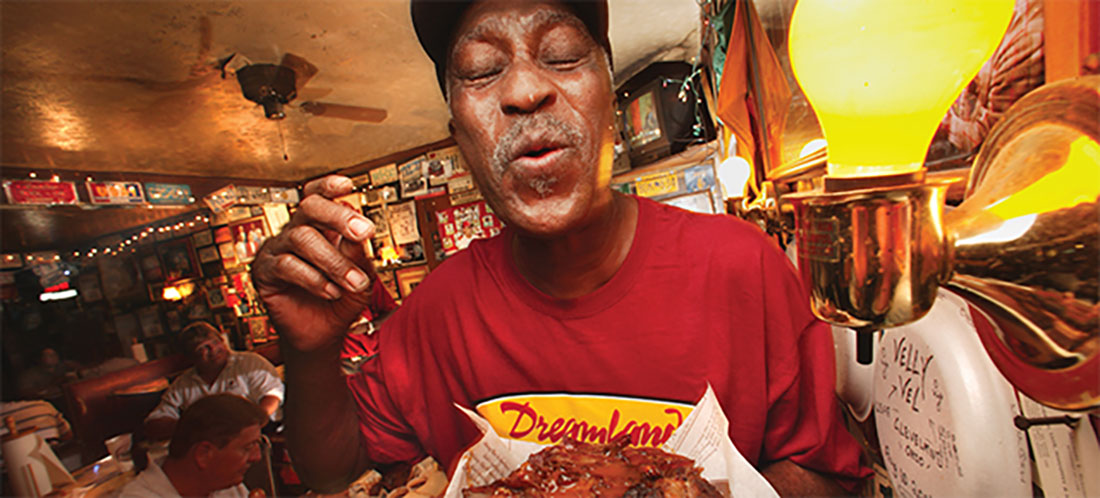 The Original Dreamland Bar-B-Que
No trip to Tuscaloosa is complete without a meal at the original Dreamland Bar-B-Que (5535 15th Ave. E., off Jug Factory Rd.; 205-758-8135). First opened by John "Big Daddy" Bishop in 1958, the restaurant has hosted celebrities like Reba McEntire and Hank Williams Jr. The story goes that the idea to build a restaurant on the land next to his home came to Bishop in a dream. Soon Bishop and his wife were selling ribs, sandwiches and more to regular customers. Once known for serving only ribs, white bread and sauce, today the restaurant's eight locations all serve pulled pork, chicken, traditional side items and desserts.
The sauce recipe is a tightly kept secret, but what we do know is that it's vinegar-based with hints of garlic and brown sugar. Dreamland encourages its customers to use the slices of white bread served with the ribs to soak up any extra sauce left on their plates.