Pike County: Art, Pioneers, Peanut Butter and More
by Jennifer Kornegay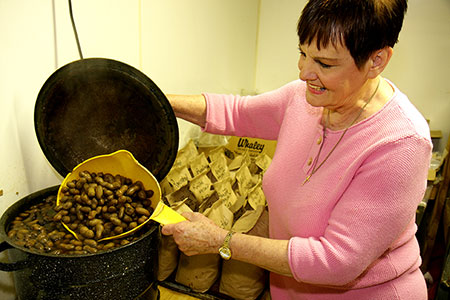 There's a lot to love about Pike County, which is just east of Alabama's capital city and includes the cities of Troy and Brundidge. Discover an emerging arts scene, the pioneering spirit of the past, a top-ranked university, antiques, an annual peanut butter party and more.
Start at the Square
At the center of downtown Troy sits a pretty little park; its grass, live oaks and flower beds mark the center of the town square. One corner is anchored by Byrd Drug Company (81 N. Court Square; 334-556-0100), which has been serving the Pike County area for decades. Byrd's old-fashioned soda fountain is still running, turning out sandwiches and ice cream treats that keep locals and visitors alike coming back year after year. Stroll around the square to find Pink Parlor (77 N. Court Square; 334-566-5525), a cute boutique; Troy Antiques (66 W. Court Square; 334-566-2601), packed with yesterday's furniture, china and more; Cotton Creek (50 E. Court Square; 334-566-1454), full of fashionable gentlemen's clothing; Glow (70 W. Court Square; 334-770-4569), offering flirty accessories, makeup and more; and Perfectly Imperfect (52 E. Court Square; 334-482-0215), which has fabulous home décor items. Unwind after all your shopping at Sips on the Square (60 S. Court Square; 334-770-0176), a relaxing wine bar.
Take in the Trojan Pride
Troy University's lovely campus is right in the middle of town, and its presence adds a shot of energy to the city's small-town atmosphere. In 2010, Forbes magazine ranked Troy University 16th nationally as a "best buy" in higher education, and for the sixth year in a row, The Princeton Review named the university to its "Best in the Southeast" list that includes 133 colleges and university in the region. Visitors are welcome to walk around the campus and check out all the university offers.
Walk Back in Time
If you've ever wondered what life was like before modern technology took hold, a visit to the Pioneer Museum of Alabama (248 Hwy. 231 N.; 334-566-3597). With 22 historic structures and 18,000 artifacts on 40 acres, the museum brings to life Alabama's rich history – from prehistoric times up to the 18th and 19th centuries – through exhibits and demonstrations, with a focus on our state's rural heritage.
The museum was founded in 1971 with this mission: "that others may learn from the past." Today, it is fulfilling its original vision with displays of farm equipment from days gone by, textile arts such as quilting and weaving, southeastern Native American arrowheads and spear tips, Civil War and WWI artifacts, an 1800s steam locomotive, a copper turpentine still, a sugar cane processing mill, a horse-drawn jail, a gristmill, 19th century church and more.
On Saturdays and other scheduled times, you'll be treated to "hands-on history" in the four primitive log cabins on the property. You'll see interactive folk-life activities including churning butter, blacksmithing, checking the henhouse for fresh eggs, cooking cornbread and even spinning raw cotton. Before you leave, take a good look around the Hearth & Homestead Giftstore and pick up some local honey and homemade preserves or a hand-embroidered kitchen towel made by local artisans. The gift store's locally made natural soy candles capture signature Southern fragrances like magnolia and hydrangea.
History On Exhibit
The past meets present at the Johnson Center for the Arts in Troy (300 E. Walnut St.; 334-670-2287). This 1911 building with its imposing brick columns was once the city's post office. It's now a spacious, airy gallery featuring rotating exhibits that showcase works from one of Alabama's most famous folk artists, Mose Tolliver or "Mose T," as well as art by local students, contemporary pottery pieces and Southern landscapes. Be sure to head down to the basement gallery at the center where amid exposed brick walls and wood-beamed ceilings state-of-the-art lighting and gallery design give artwork a spot to truly shine. The center's annex features arts education activities, including art classes and performing arts practice sessions. Other cultural opportunities are abundant in Troy as well, thanks to the Troy Arts Council, which, in partnership with Troy University, routinely brings world-class musicians to the city. The Vienna Boys Choir and the Polish Symphony Orchestra have performed in recent years.
TroyFest
TroyFest celebrates fine arts as well as arts and crafts in April each year. The weekend-long show draws more than 10,000 people to downtown to experience art, food, entertainment and activities for all ages. Another annual event occurs each December, when Troy's Director of Public Relations and Tourism Shelia Jackson sings a different tune in promotion of her city, putting on a popular holiday variety show called "Shelia Jackson & Company" as part of the Troy Arts Council's Christmas events.
Go on a Treasure Hunt
Only eight miles from Troy is little Brundidge, which calls itself Alabama's Antique City and is a good place to begin a search for something old. Main Street boasts several antiques shops; Brundidge Florist (104 S. Main St.; 334-735-2009) is a good bet for carnival glass, china, stemware and other small antiques. Just down the road from downtown, weathered gas station and cola signs welcome you to City Antiques (108 E. Troy St.; 334-735-5164), home of "the sign man" and hundreds of vintage place-markers that earned the owner his nickname. Feel free to wander around the collection of rustic buildings and peruse the options for furniture and other antique items, but the signs advertising everything from oil and cigarettes to flour and fertilizer are the main attractions here. Studio 116 (116 S. Main St.; 334-268-4436), a new spot that showcases local art and hosts local musicians, is worth checking out too.
A Night at the Theater
In the fall and again in spring, a dedicated group of Brundidge citizens dons costumes and takes the stage in the shell of a burned-out brick building downtown that was once City Hall. There's sawdust on the floor and laughter in the air as the audience enjoys a home-style dinner and then watches "Come Home, It's Suppertime," billed as Alabama's official folklife play and performed in the We Piddle Around Theater (123 S. Main St.; 334-670-6302). The play portrays age-old stories about hard times and good times, tales you've probably heard from your grandparents. The entire venture is a project of the Brundidge Historical Society. We Piddle Around Theater also hosts the annual Pike Piddlers Storytelling Festival held the last weekend in January, an event that brings nationally renowned storytellers to the area to spin their yarns for packed houses. The Saturday night session is held in Troy at the Trojan Center Theater.
From Brundidge, drive south on 231 to find the wonderfully wacky metal sculptures of folk artist Ronald Godwin. You can park and roam around his outdoor sculpture park for free.
Go Nuts at the Peanut Butter Fest
Each October, the entire city of Brundidge gets a little nutty during the annual Peanut Butter Festival. This free harvest and heritage festival was started more than two decades ago to honor and celebrate the role peanut butter processing has played in Brundidge's past and present. The Johnston Peanut Butter Mill began operations in Brundidge in 1928, and city leaders believe it was the first company to make peanut butter commercially in the Southeast. At the height of its production in the 1930s, it was putting out 2 million jars of peanut butter a year. A second mill, the Louis-Anne Peanut Butter Company, was also at full production during this time.
Peanut butter was made continually in Brundidge until the 1960s. Today, anywhere from 5,000 to 7,000 people each year congregate downtown to indulge in all kinds of peanut butter treats as well as participate in some interesting peanut butter projects. There's a 5K Peanut Butter Run, live entertainment, games, a George Washington Carver presentation, a peanut butter recipe contest, the Nutter Butter Parade, a street dance and, of course, plenty of peanut butter sandwiches on hand for sampling.
Where To Eat
In Troy, enjoy classic Southern comforts like fried okra, field peas, macaroni and cheese, fried chicken and other meat-and-three staples at Sisters' (13153 Hwy. 231; 334-566-0064), owned and operated by sisters Pat Rogers and Geraldine Umbehagen. Finish on a sweet note with banana pudding. Full of 'nana flavor and 'nilla wafers, it's good enough to have earned a spot on the "100 dishes to eat in Alabama before you die" list. Mossy Grove (1841 AL Hwy. 87; 334-566-4921), housed in an old schoolhouse and known for its heaping helpings of fried catfish and cornbread, and Julia's (809 Hwy. 231 S.; 334-566-5440) are other good options. And you can't visit Troy without at least a taste of the famous fried chicken at Crowe's (334 N. Main St.; 334-566-6027). It's crispy on the outside, moist on the inside and spiced just right all over.
Where To Stay
Contact the City of Troy Office of Public Relations/Tourism for accommodation recommendations at 334-670-2283.
Don't Miss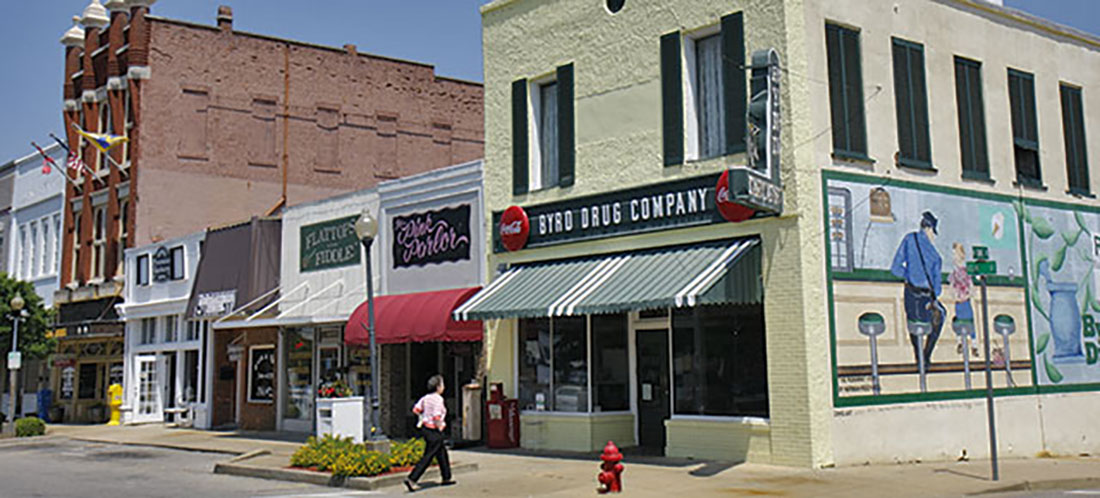 Byrd Drug Company
Pop in at Byrd Drug Company and order a strawberry milkshake. They're sweet, creamy and thick and the perfect pick-me-up to keep you energized for more area exploration.