Outdoor Beach Adventure: Gulf Shores/Orange Beach
by Edith Parten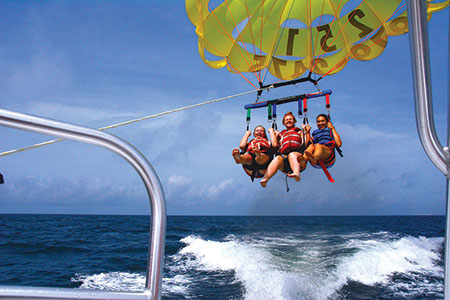 For those who love fast-paced activities and the great outdoors, Gulf Shores and Orange Beach provide the ideal vacation destination. This road trip takes you to Alabama's beautiful Gulf Coast region for fishing, parasailing, hot air balloon rides, scuba diving and exciting dolphin cruises. Down along the Alabama coast, where 32 miles of sugar white sand beaches offer fun 365 days of the year, you'll discover adventure at every turn – on land, by sea and in the air.
Adventure on the Water
There's nothing like reeling in a big catch. So if the thrill of the open waters lures you, charter a boat and head out for a day of deep-sea fishing to catch red snapper, marlin and other saltwater fish. Dozens of outfitters in the area offer inshore and offshore fishing excursions from daily to weekly charters and most welcome groups and families. For a list of available charters and cruises, visit the Gulf Shores/Orange Beach website.
If you prefer fishing from dry land, cast a line from the shore or off the second largest pier on the Gulf of Mexico at Gulf State Park (251-967-3474). The pier is 1,540 feet long, 20 feet wide and boasts 2,448 feet of fishing space. Restrooms and a snack bar are located on the pier. There is also a great bait and tackle shop, where you can load up on fishing lures, nets and snacks. And don't forget your fishing license, as you'll need one to fish in Alabama.
State law requires an Alabama fishing license for residents and nonresidents to fish in any public waters of the state, whether fresh or salt.
Worth the Drive
If you're on the coast in July be sure to check out the Deep Sea Fishing Rodeo on Dauphin Island. It's the oldest and largest multispecies fishing tournament in the world. The fishing rodeo began in 1929 and attracts some 3,000 anglers and more than 75,000 spectators. From Gulf Shores, you can get there via the Fort Morgan Ferry or Scenic Highway 98, which is part of the National Scenic Byway.
If sailing is more your idea of adventure, plan a trip with Orange Beach Sailing Charters (Hudson Marina, 4575 S. Wilson Blvd., Orange Beach; 251-981-7245). They offer a two- or four-hour sail around the gulf on a yacht. Take your camera along because you're likely to see dolphins, sea gulls, sea turtles, jellyfish and other wildlife. They also offer a sunset cruise for a more relaxing adventure.
On the back bays of Orange Beach, you can get up close and personal with bottle-nosed dolphins. All you have to do is hop aboard a vessel with Sailaway Charters (24231 Gulf Bay Road, Gulf Shores; 251-974-5055) and Surf's Up Dolphin Cruises (5749 Bay La Launch Ave., Orange Beach; 251-965-7873).
Underwater Adventure
Let the fun continue underwater on a diving adventure. Several outfitters are available including Gary's Gulf Divers (27844 Canal Road, Orange Beach; 251-716-0151) who are equipped to handle all of your gear and boat needs for scuba diving. You can dive to spots along the coast to see sunken Navy ships and old bridges that resemble Roman ruins. The dives along Perdido Pass offer great opportunities for photographs and spear fishing.
The Down Under Dive Shop (1129 Gulf Shores Pkwy., Gulf Shores; 251-968-3483), another local outfitter, specializes in guided snorkeling trips and scuba charters. Check the website for schedules and pricing.
You'll want to keep your head above water as you jet along the coast on a WaveRunner or Jet Ski. Wahoo Watersports (4576 Walker Key Blvd, Orange Beach; (251) 981-1998) offers personal watercraft rentals and parasailing daily from 9 a.m. to 6 p.m., and Happy Harbor Watersports (27212 Marina Road, 251-981-6111) features a large variety of vessels to provide hours of fun on the water. You can choose from personal watercraft, pontoon boats, runabouts and kayaks.
Adventure in the Air
Looking to get off the ground for more adventure? Take it up a notch by parasailing 800 feet above the shores of the Gulf of Mexico. You will enjoy spectacular views of turquoise waters and white-sand beaches as you glide through the breeze while being pulled along by a power boat. There are several outfitters in the area that offer fun high above the beautiful Gulf waters. Perdido Key Parasail (401 E. Beach Blvd., Gulf Shores; 251-948-7433) offers parasailing, personal watercraft rentals and banana boat rides. Chute em Up Parasail, offering a bird's-eye view of the Gulf aboard one of the area's largest most comfortable parasail boats, is located at Tacky Jacks (27212 Marina Road, Orange Beach; 251-981-7673) Chute for the Skye Parasail (251-979-2475) is located on Safe Harbor Drive in Orange Beach.
Sail With the Pirates or Take Off in a Hot Air Balloon
Come back down to earth and set sail with Orange Beach pirates when you take the Pirate Cruise (4575 S. Wilson Blvd., Orange Beach; 251-981-4127). Take your young pirates aboard for swashbuckling fun that includes water gun battles, singalongs, treasure hunts and contests. The two-hour cruise will take you on a fun-filled adventure around Terry Cove in Orange Beach. Be sure to take a camera along for many great photo opportunities.
Next, experience the scenic vistas of Alabama's beautiful coast from a unique vantage point when you climb aboard a hot air balloon with Taking Off Hot Air Balloon Company (14965 Gates Ave. Magnolia Springs; 251-970-3598). You'll soar 1,500 to 2,000 feet over the Gulf Coast. Flights are either early morning or late evening when the winds are light. The pilot can carry two to three passengers. A typical flight lasts one hour.
Fun on Land
After a day of outdoor adventure, you'll want to visit the Flora-Bama (17401 Perdido Key Drive, 251-980-5118). A roadside icon since the 1970s, this lounge, package store and oyster bar sits on the Alabama/Florida line and is considered one of the last great American roadhouses. Nightly entertainment includes live bands offering country, rock, blues and beach music. An especially good time to visit the Flora-Bama is during the last week of April when thousands gather for the annual Interstate Mullet Toss. In this nationally recognized beach party, beach-goers throw dead fish back and forth across the state line.
For added fun, plan a visit to historic Fort Morgan (51 Highway 180 W.; 251-540-5257) located at the mouth of Mobile Bay in Gulf Shores. Tour the remains of the brick Civil War fort that was pivotal in the Battle of Mobile Bay where Rear Adm. David Farragut coined the phrase, "Damn the Torpedoes, Full Speed Ahead." Guides will take you through the fort as you walk in the footsteps of Confederate soldiers. You'll hear stories and learn the history of the fight to protect Mobile Bay from Union troops. A living history program is conducted daily during summers as well as candlelight tours. Reenactments take place in April and August.
Where To Eat
Take a break for a bite to eat where the fun doesn't stop. Experience the thrill of tightrope walking on the Mountain of Youth Ropes Course high above Lulu's at Homeport Marina (200 E. 25th Ave., Gulf Shores; 251-967-5858) on the Intracoastal Waterway. The three-story climbing apparatus gives you a great view of LuLu's and it challenges your balancing skills. Dining outdoors while listening to live music nightly will give you a true sense of this popular coastal venue. The Cheeseburger in Paradise, named for a song by owner Lucy Buffett's brother, Jimmy, is always a hit on the menu.
Tacky Jacks (240 E. 24th Ave., 251-948-8881) is another popular eatery in Gulf Shores with live music on a nightly basis. King Neptune's (1137 Gulf Shores Pkwy., Gulf Shores; 251-968-5464) has been featured on such shows as Bobby Flay's "Food Nation," The Travel Channel's "Travel in the Deep South," as well as in Southern Living magazine and Travel USA. It has become known as the place to go in Gulf Shores when you're hungry for Royal Reds, ruby-red shrimp found in the deep waters of the Gulf.
Where To Stay
With more than 16,000 rooms, Gulf Shores and Orange Beach have a variety of places to stay, from hotels and condos to beach houses. Visit the Gulf Shores and Orange Beach website to find places to rest and relax from your daily adventures.
Hotels directly on the beach include: Island House Hotel (26650 Perdido Beach Blvd.; 251-981-6100), Perdido Beach Resort (27200 Perdido Beach Blvd., Orange Beach; 251-981-9811), Hampton Inn and Suites (25518 Perdido Beach Blvd., Orange Beach; 251-216-6021), Holiday Inn Express (24700 Perdido Beach Blvd., Orange Beach; 251-216-6023); and Hilton Garden Inn (23092 Perdido Beach Blvd., Orange Beach; 251-216-6022).
Don't Miss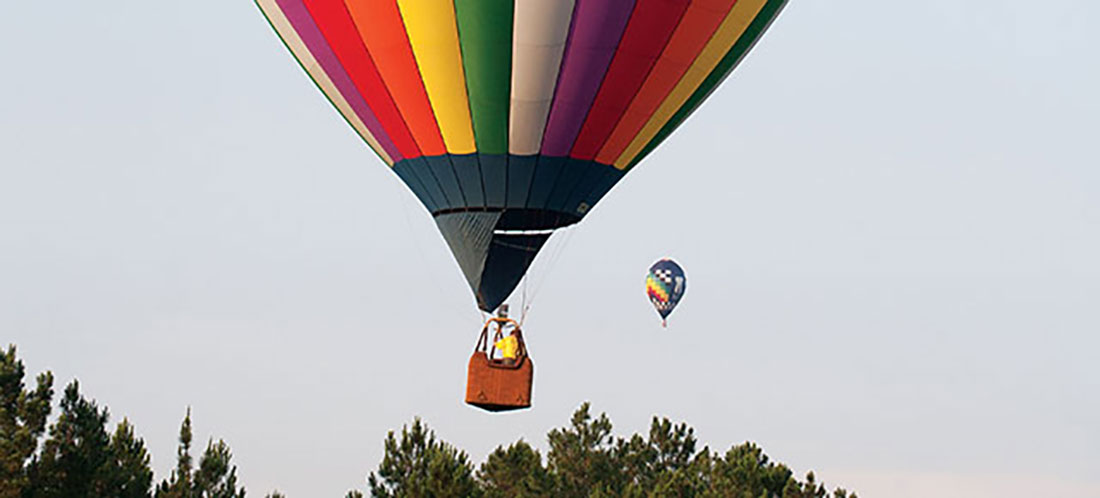 The Blue Marlin Grand Championship
Your fishing adventure continues at The Wharf Marina in Orange Beach with the Blue Marlin Grand Championship Billfish Tournament. You can enjoy a week of music events, parties and weigh-ins during "Billfish Week" in July as well as the Miss Billfish Contest and a concert at the amphitheater.
Gulf Coast Hot Air Balloon Festival
Held in Foley, the Gulf Coast Hot Air Balloon Festival (251-943-3291) features nearly 50 hot air balloons that float through the skies, providing spectacular balloon glows in the evenings.