Muscle Shoals Is Rock 'n' Roll Heaven
by Lee Sentell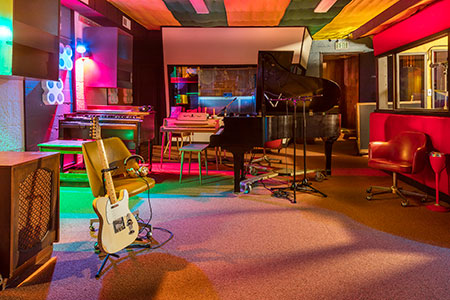 Thanks to the critically acclaimed Muscle Shoals documentary, music lovers are finding their way to the small town in northwestern Alabama where some of the world's greatest hits were recorded. This was the very town where, at Rick Hall's FAME Studios and the rival Muscle Shoals Sound Studios, Aretha Franklin found her groove, Paul Simon developed "Kodachrome" and Wilson Pickett cranked up "Mustang Sally."
In the documentary, Mick Jagger, Steve Winwood, Percy Sledge and Etta James, among others, recount tales of cutting some of their iconic hits in the Muscle Shoals area. Keith Richards stated his opinion about Muscle Shoals simply: "It's rock 'n' roll heaven."
Experience the Energy of the Shoals
There are numerous venues to experience the excitement and energy of music in the four towns flanking the Tennessee River that are known collectively as "the Shoals." Make the Marriott Shoals Hotel & Spa (10 Hightower Place; 256-246-3600) on the Robert Trent Jones Golf Trail your headquarters for a music-themed excursion.
Start your visit at the Alabama Music Hall of Fame (617 U.S. Hwy. 72 W.; 256-381-4417) in Tuscumbia to see exhibits of gold records, costumes from the Commodores and Hank Williams; life-size statues of Fort Payne's favorite band, Alabama; Tuskegee's Lionel Richie; and Montgomery's Nat "King" Cole. The museum is open Tuesday to Saturday, 9 a.m. to 5 p.m.
Drive a few minutes north to Sheffield to visit Muscle Shoals Sound Studios (3614 Jackson Hwy.). Its cinder block facade has appeared on numerous album covers. Performances of "Swampers" Jimmy Johnson, David Hood, Roger Hawkins and Barry Beckett drew recording artists like the Rolling Stones, the Staple Singers, Lynyrd Skynyrd, Bob Seger and Alicia Keys. The Swampers were originally the FAME house band during the early to mid-1960s.
Just a few blocks east of downtown Florence, a small venue behind Pegasus Records (612 E. Tennessee St.; 256-767-4340) called the Pegasus Garage showcases emerging talent on Friday nights. It's where Patterson Hood – son of "Swamper" David Hood and member of the Drive-By Truckers – discovered Alabama Shakes from nearby Athens. Grammy-winner John Paul White of The Civil Wars found and signed St. Paul and the Broken Bones, a Birmingham-based band that formed in 2012.
While in the area, a must-visit for music lovers is the W.C. Handy Home, Museum and Library (620 W. College St.; 256-760-6434). Check out the extensive memorabilia collection including instruments and sheet music belonging to W.C. Handy, the "Father of the Blues" and a Florence native.
The Shoals area celebrates Handy with the annual W.C. Handy Music Festival (256-766-7642), featuring blues, jazz and gospel music, educational events, coordinated art shows, athletic events, street parties, great food and more over a 10-day period each summer. During the tribute, great jazz and blues music can be heard at restaurants, theaters, malls, parks and other locations.
Where To Stay and Dine: Music and Golf Packages
Weekend music and golf packages are available at the award-winning Marriott Shoals Hotel & Spa. The lounge, called "Swampers," features live music most nights, and be sure to enjoy dinner at the revolving 360 Grille (800 Cox Creek Parkway S.; 256-246-3600) that overlooks the Tennessee River and Wilson Dam.
Usually one Thursday night a month at 8 p.m., Big River Broadcasting hosts and live streams a two-hour show of up-and-coming talent. The event, called Muscle Shoals to Music Row (256-764-8121), is at the Marriott Conference Center. Broadcaster Jerry Phillips, whose legendary father Sam Phillips recorded Elvis Presley, has produced the show for a decade. Tickets are typically priced around $10.
Don't Miss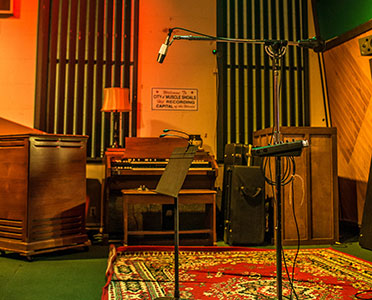 FAME Studios
Rick Hall's FAME Studios (603 E. Avalon Ave.; 256-381-0801) is the longest operating, one-owner studio in the world. Known as "the father of the Muscle Shoals Sound," Hall received the Trustees Award at the 2014 Grammy Awards at age 82. Aretha Franklin became the queen of soul in 1967 when she recorded "I Never Loved a Man (the Way I Love You)." Wilson Pickett, Otis Redding, Duane Allman, Clarence Carter, Paul Anka, Etta James and the Osmonds all created hits here. In addition, FAME has had songs cut by Tina Turner, the Beatles, Jet, Elton John, Ronnie Milsap, B.B. King, Tim McGraw, the Dixie Chicks, All-4-One, Leann Rimes, Travis Tritt and numerous others. Up-and-coming artists can make their projects shine by recording here in one of the top sounding rooms in the world alongside award-winning engineers, musicians, songwriters and singers.