Mentone: A Mountaintop Treasure
by Brian S. Jones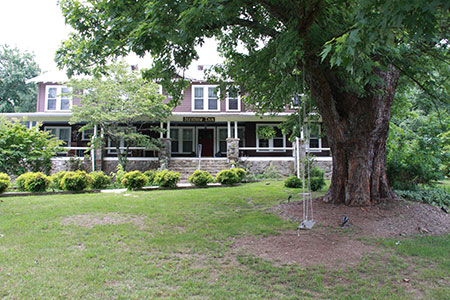 Mentone is best described as a mountain resort town with Southern manners and a unique artistic flair. The small town is located on Lookout Mountain in the northeastern corner of the state, just a few miles from the Georgia border. The Lookout Mountain Parkway is known for its beautiful waterfalls and great white-water kayaking. An especially popular time to visit is in autumn when native poplars, dogwoods, maples and hickories provide a dazzling blanket of vibrant red, yellow and orange across the mountain.
Lookout Mountain Parkway was named "One of America's Most Scenic Drives" by Reader's Digest.
Discover Mentone
Nestled in the woodlands atop the western brow of Lookout Mountain, the historic and scenic village of Mentone hosts antique stores, arts and crafts shops, galleries and restaurants. Also tucked away in the mountaintop town is the Mentone Inn, which opened in 1921. Just a short drive south on the tree-covered parkway, you will find DeSoto State Park and its gorgeous waterfall. This beautiful state park offers a lodge and restaurant, rental cabins and a renovated campground.This beautiful state park offers a lodge and restaurant, rental cabins and a renovated campground. "If you want to rent a cabin, Mentone has them. If beautiful scenery, waterfalls, pretty hikes, neat shops and restaurants sound good, then Mentone with its cool, clear mountain air is for you. And don't forget to look for three annual arts and crafts festivals in May, July and October," says John Dersham, photographer and DeKalb County Tourist Association's executive director.
Take in the History of Mentone
Mentone is every bit as picturesque as Dersham describes with the lands surrounding the town providing an element of romance and mystique. It is believed that the ancestors of the Creek and Cherokee tribes inhabited the area dating back as far as 8,000 B.C. Settlers arrived shortly after the Cherokee removal of 1838-1839. The first house, built by Robert Vernon, now forms the central structure of St. Joseph's-on-the-Mountain Episcopal Church.
The natural spring water from the mountain is said to have health-restoring properties because of its purity and iron content. The development and promotion of the area as a health resort dates from 1872 with the arrival of the John Mason family from Iowa and Dr. Frank Caldwell from Pennsylvania. Dr. Caldwell became convinced of the healing properties of the area's mineral water after drinking it while visiting the Mason family and having his own health restored. He returned to Pennsylvania and sold all his possessions so he could move back and build a hotel. Dr. Caldwell lived with the Mason family while building the structure. One night, he was telling the family of his dilemma in coming up with a name for his hotel when Alice, one of the youngest daughters, spoke up. She had just read of Queen Victoria's visit to the French town of Mentone and noted that the name meant "a musical mountain spring." Dr. Caldwell loved her suggestion and decided on the name Mentone Springs Hotel (which stood proudly in the town for 130 years until it fell victim to fire). The entire town soon became known as Mentone.
Wander Through Mentone
Find the Mentone Inn (6139 AL Hwy. 117; 256-634-4836) a 12-room bed and breakfast built in 1921 that features a large front porch and an outdoor meeting pavilion with a fireplace. The Mentone Inn hosts a year-round farmers market every Wednesday from 3-6 p.m. and on Saturdays from 10 a.m.-1 p.m. Area farmers set up their booths in the town square to the left of the Mentone Inn. The market features vegetables, fruits, flowers, plants, cage-free eggs, honey and other locally produced goods.
Directly behind the farmers market is St. Joseph's-on-the-Mountain Episcopal Church (21145 Scenic Hwy.; 256-634-4476). The current building grew around an original log cabin worship site that dates to around 1870. Over the years, additions were built using wood reclaimed from old buildings of the same vintage as the original cabin. Near the altar in the main worship hall are several long dark pews donated by the Advent Episcopal Church in Tuskegee. They were hand-finished by George Washington Carver, with a stain he made especially for them. St. Joseph's also has several tranquil garden areas for meditation and reflection underneath a canopy of trees. The church and its beautiful grounds have hosted numerous weddings and other events over the past generations.
A walking tour through downtown Mentone will lead you to the Hitching Post (6081 AL Hwy. 117; 256-634-4548). Housed within the Hitching Post are several businesses, including The Gourdie Shop, a gift and clothing boutique; Mountain Properties, a real estate office; and Crow's Nest Antiques. Built in 1896, the Hitching Post was originally a general merchandise store. By the 1940s, the site housed a cafe, gas pumps, a post office and a dance hall. The building began to be known as the Hitching Post because a group of fox hunters would hitch their horses to the building and eat an early breakfast in the cafe before their hunts. Weekend dances were held regularly in the second-floor dance hall during the 1940s and 1950s until the behavior of some of the participants began to get a little rowdy. Some of their post-dance behavior was also cited as perhaps a little "inappropriate" to be taking place so close to St. Joseph's Episcopal Church.
Across from the Hitching Post are the Log Cabin Village Shops (6086 AL Hwy. 117; 256-605-2571). These eight unique stores are housed in log cabins clustered on top of a small hill. You will find a large selection of pottery, art, antiques, gourmet coffee, food and more in these locally owned venues. The village is constructed from several log cabins from Piedmont, Ala., that were taken down and reassembled board by board. Make sure and stop in for an old-fashioned ice cream at the Cones of Mentone in the village.
Down the hill from the Log Cabin Village Shops is Kaw-Liga's Wood Carving. You may notice the sound of a chain saw running when you approach Kaw-Liga's. Don't be alarmed – that's just how they carve wood up here in the mountains. The wood sculptures range from busts to life-size bear carvings. About a three-minute walk down the street from Kaw-Liga's is the wonderful Wildflower Café and Country Store.
When visiting the Wildflower Café, make sure to try the loaded tomato pie and sample some of the great desserts.
Enjoy Art and Coffee at Kamama
A five-minute walk past the Wildflower Café brings you to Kamama (5951 AL Hwy. 117; 256-634-3001). This unique establishment is part fine art gallery, part antiques store and part coffeehouse. The sign out front with its large, colorful butterfly hints at the origins of the store's name: "Kamama" is the Cherokee word for "butterfly." Owners Ray and Sandra Padgett opened Kamama in the spring of 2012. The Padgetts have a 30-year history with Mentone and were previous owners of the Mentone Springs Hotel. The art gallery is a consignment venue for artists from all over the area. The antiques section called "Montevallo Road" features a treasure-trove of unique pieces. The perfect place to relax and enjoy yourself is at Twiggs, the in-house coffee shop. There you can enjoy a hot cup of your favorite blend, a delectable homemade dessert or some cool lemonade.
Explore Nearby Places
Miracle Pottery (7871 AL Hwy. 117; 256-635-6863) is about halfway up the mountain between Valley Head and Mentone. Miracle Pottery has a large selection of functional and decorative pottery and art. All of the pottery is made on-site by Valinda Miracle with stoneware or porcelain clay. Miracle used her art as therapy while recovering from health problems and now uses it as an inspiration to others. All of the pottery is food safe, dishwasher friendly, and oven and microwave safe.
A ski resort in Alabama? Sure there is. The Cloudmont Ski Resort (721 County Road 614; 256-634-4344) is located in Mentone just off Lookout Mountain Parkway. Since 1970, a collection of advanced snow-making equipment has produced a ski resort right here in the mountains of Alabama. Snow comes to Cloudmont as soon as overnight temperatures drop to 28 degrees or colder, allowing the manufacture of a deep-base snow. Cloudmont offers personalized instruction to skiers of all ages and abilities in both group and private lessons. Skis, boots, poles and snowboards are available for rent.
The resort offers a variety of chalets and cabin rentals year-round. If you are visiting during the summer, you can enjoy the adjoining golf course and the Shady Grove Dude Ranch. Alabama's only dude ranch offers horseback riding, wagon rides, square dancing and a real cowboy experience. The ranch includes 800 acres of beautiful wooded wilderness laced with miles of picturesque trails that are used by these part-time cowboys and nature enthusiasts for hiking or trail rides.
Don't Miss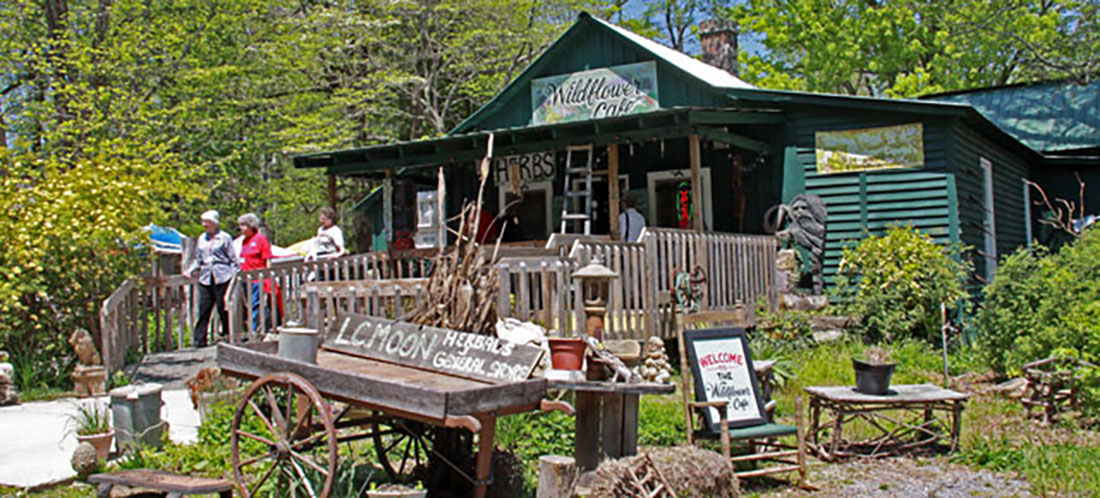 The Wildflower Café
The Wildflower Café and Country Store (6007 AL Hwy. 117; 256-634-0066) sits off the road in a restored 1887 house. The house is covered by a beautiful canopy of trees and is surrounded by a variety of plants, including wildflowers. The main entrance is located around the left side of the house at the back. A neat little wooden walkway brings you into the experience that is uniquely the Wildflower Café.
The story of the Wildflower Café is very much the story of its owner, L.C. Moon. Moon was growing tired of living in California and wanted to get back to her Southern roots. Her father recommended she move to the Lookout Mountain area, telling her, "If you love nature and beauty, you should go to Mentone." Moon describes her first visit to the town, saying, "When I topped the mountain, I knew I was home."
Moon's first years in Mentone were quite a change from living on Melrose Avenue in Hollywood. She moved into a small cabin with no power or running water and stayed there for three and a half years. Moon discovered her love of cooking by preparing organic dishes on the cabin's wood stove. She also started her own herbal company and began preparing homemade dishes using produce she gathered working in local gardens. The community encouraged her to open a shop where they could buy her creations on a regular basis. In 2002, Moon opened up a small store in the heart of Mentone where she sold herbs, health foods and gift items. The store changed locations in 2007 and combined with a local restaurant to become the Wildflower Café and Country Store.
The Wildflower retains all the offbeat funkiness of Moon's original store with the added benefit of having indoor seating for 60 people and outdoor seating for 30. It has a self-described "shabby chic environment," with the store featuring handmade soaps, natural foods, herbal products, teas, coffees and other country store essentials. The Wildflower also hosts live music and showcases a collection of local artwork on the walls. Moon is usually at the restaurant, either working in the kitchen or greeting patrons. She does take quick breaks sometimes from the kitchen heat for a dip at DeSoto Falls just a few miles down the road from her café.
Southern Living had this to say about the Wildflower Café: "The Wildflower has become something of an unofficial town center for both locals and tourists looking for a slice of local culture. Jazz, bluegrass and singer/songwriters play here, and you often find a mountain-music troubadour strolling from table to table. Local nature-based art, much of it for sale, hangs on every wall."