Get your camera ready for this Instagram-worthy tour through Alabama farmland to meet a few of the state's top artisanal cheese producers. Throughout Alabama's rich agricultural history, farmers have utilized the mild climate and fertile soil to create distinctive dairy products. Today, the artisanal cheese movement is in bloom with a new generation of innovators garnering much-deserved national attention and accolades.
This road trip takes you north to south through scenic rural areas showcasing a diversity of landscapes and micro-climates. With each stop, you'll compare and contrast how distinctive farming and grazing conditions and an individual producer's artistry work together to create unique flavors and styles. And you'll meet the torch-bearers who are carrying the art form into the future. It's a road trip that reveals Alabama as a foodie's paradise and a cheese lover's dream.
Day 1 – Take in Small-Town Allure: Elkmont
In the rolling hills of North Alabama, Elkmont is fast becoming a hot spot for foodie pilgrimages, thanks to the cheesemakers, aka artists, of Belle Chevre (18845 Upper Fort Hampton Rd.; 256-732-4801). A favorite saying here is "behind every great cheese…there's a story," and with more than 100 national awards to its credit, the "beautiful goat" has more than a few stories to share.
None is more fascinating than the tale of Alabama-native Tasia Malakasis who first tasted cheese from Belle Chevre while living in New York City. So intrigued by the idea of cheesemaking in her home state, she set out to buy the creamery and revolutionize goat cheese in the process. At Belle Chevre, everything is made by hand, from molding the popular Greek Kiss in grape leaves to creating delicious spreads such as Bacon Jalapeño (the creamery's latest flavor) and breakfast cheeses such as Honey and Fig. In quality and variety, this is nirvana for cheese lovers.
Belle Chevre's creamery, housed in an old cotton warehouse, lets visitors peek behind the curtain to see the magic firsthand. During guided tours, you'll learn how cheese is made, meet one of the cheesemakers and, yes, taste the goods! While here, pay a visit to the goats and soak in the bucolic setting.
Where to Eat
Although Elkmont – once a stop on the L&N railroad – may be tiny, what the town offers visitors is anything but small. Enjoy lunch at Belle Chevre's popular dining outpost, the Elkmont Cheese Shop & Tasting Room (18849 Upper Fort Hampton Rd.; 256-732-3577), where grilled cheese is elevated to high art with five cheeses, caramelized onions and prosciutto.
What To See & Do
After lunch, head across the street to the Richard Martin Trail. This 10.2-mile trail running along the former rail line is a haven for walkers, runners and horseback riders as well as history buffs. The trail goes over historic bridges and past an important Civil War site, the Battle of Sulphur Creek Trestle.
If seeing Alabama by kayak floats your boat, it's easy to arrange a trip along the Elk River. Fort Hampton Outfitters (256-431-8988) will pick you up at U.G. White Mercantile downtown for the two-hour excursion. Before leaving, check out the town's shops including Artisan South, a boutique featuring innovative works by Southern artists.
Where To Stay
Plans are underway to establish a bed-and-breakfast in Elkmont. Until those accommodations are available, travel down the road to Athens (256-232-5411) or Decatur (256-350-2028) for one last city fix before tomorrow's drive to the country.
Day 2 – See Where Cream Rises to the Top: Alexandria
A scenic two-hour drive through Central Alabama brings you to 200-acre Canebrake Farm in Alexandria, proud home of Wright Dairy (241 Cane Creek Farm Rd.; 256-820-1020) and a herd of the happiest cows you've ever seen.
Farmer David Wright admits his status as "cheesemaker extraordinaire" came along almost by accident. His family has been dairy farming for more than 40 years and has cultivated new ways to use the abundance of milk. First there was butter and then ice cream, but after the first experiment with cheese, Wright found his true passion.
Since then, he's been producing a range of the good stuff, from sharp Peaceburg Cheddar to smooth fontina-style Alexandria. Visit the farm store housed in the original milking barn to stock up on the many varieties, plus milk, lotion and soap. With any luck, you'll experience the leisurely parade of cows coming in from the fields for their twice-daily milking sessions.
What To See & Do
Love pairing cheese with wine? Plan an afternoon visit to White Oak Vineyards (1484 Dry Hollow Rd., Anniston; 256-231-7998). Tours are available Thursdays, Fridays and Saturdays and by appointment.
Where To Eat
For lunch, enjoy down-home cooking at nearby Beans and Greens (8314 AL Hwy. 144; 256- 770-7235) or make the short drive to Cheaha Brewing Company (1208 Walnut Ave., Anniston; 256-770-7300) for craft brews and sandwiches featuring the Wright Dairy cheese.
Reward yourself for supporting sustainable agriculture with a scrumptious dinner at Classic on Noble (1024 Noble St.; 256-237-5388), housed in one of Anniston's most historic buildings.
Where To Stay
Get some shut-eye in style at downtown Anniston's Parker House Bed and Breakfast (330 E. Sixth St.; 256-405-9262) in a beautiful Victorian home dating from 1889. You'll awake to a delicious breakfast featuring dairy products from – you guessed it – your friends at Wright Dairy.
Day 3 – Become a Goat Rancher for a Day: Harpersville
An hour's drive southwest brings you to the celebrated goat cheese producer Stone Hollow Farmstead (2006 Dead Hollow Rd. N.; 800-285-8950) in Harpersville. You know you're in prime farming country as you pass Morgan Creek Vineyards and the pumpkin patch and rows of Christmas trees at Old Baker Farm (184 Furrow Ln.; 205-672-7209) along the way.
As you continue down a dirt road under a canopy of trees, it's hard to believe the big city of Birmingham is a mere 30 miles away. At the driveway, the farm's Great Pyrenees dogs greet you as the s the rural beauty of the farm stretches out before you.
From horses, goats and chickens to herbs, flowers and vegetables, this working farmstead exemplifies sustainability and gives visitors a comprehensive taste of farm life. Owner Deborah Stone began with five goats that produced more milk than her family needed, so she began making cheese for friends. Glowing reviews followed, and an artisanal line of goat cheese was born.
Visit the rustic-chic store for a sampling of cheese with highly original flavors, including blackberry and wine, stinking rose (garlic) and rose petal. Tours are available by appointment on Tuesdays, Thursdays and Saturdays.
All ages can get a true country experience through "Life on the Farm" classes in which students learn the ins and outs of farming as well as producing delicious cheeses.
Where To Stay
For an ample dose of Southern hospitality, make reservations at Blue Spring Manor (2870 Hwy. 83; 866-672-9955) in nearby Vincent. With lawn games, a putting green and pool, you may never want to leave.
Day 4 – See Where It All Began: Elberta
A slightly longer driver delivers ample reward as you see firsthand where Alabama's artisanal cheese movement began: in Elberta. Enjoy the unique scenery of the state's southernmost point as you make your way to Sweet Home Farm (27107 Schoen Rd.; 251-986-5663), the first licensed farmstead cheesemaker in Alabama. It has been producing world-class creations from this small town for more than 30 years.
Follow the signs for cheese from the main road and see cows grazing in the field as you approach the farm store. Alyce Birchenough and her husband, Doug Wolbert, preside over the mom and pop operation that has inspired cheesemakers throughout Alabama and beyond. Using only milk from their own herd and growing all the herbs, garlic and peppers for the cheeses result in sophisticated offerings with the flavor and aroma of the surrounding terrain. As you sample the aged, unpasteurized cheeses such as Baldwin Swiss, Bayside Blue and Southern Fox (soaked in muscadine wine), a sense of place shines through. Be sure to try the cheese fudge, which Birchenough says reminds people of chocolate cheesecake. (Yes, please!)
Signs reading "Eat Well. Be Well." bid you farewell. And after four days of touring the state's farms, you'll take this philosophy to heart like never before.
What To See & Do
While in the area, be sure to visit a few more farms. Oak Hollow Farm(14210 Greeno Rd., Fairhope; 251-928-4840) offers horseback rides by appointment.
Where To Eat
For a great burger featuring Sweet Home Farm cheese, visit Locals (410 Fairhope Ave.; 251-517-9043), a Fairhope restaurant true to its name and mission of supporting local farmers.
Where To Stay
As a grand ending to the road trip, reserve a night – or maybe a few – at the Grand Hotel Marriott Resort, Golf Club and Spa (One Grand Blvd., Point Clear; 205-928-9201) for a distinctly Alabama experience on beautiful Mobile Bay.
Don't Miss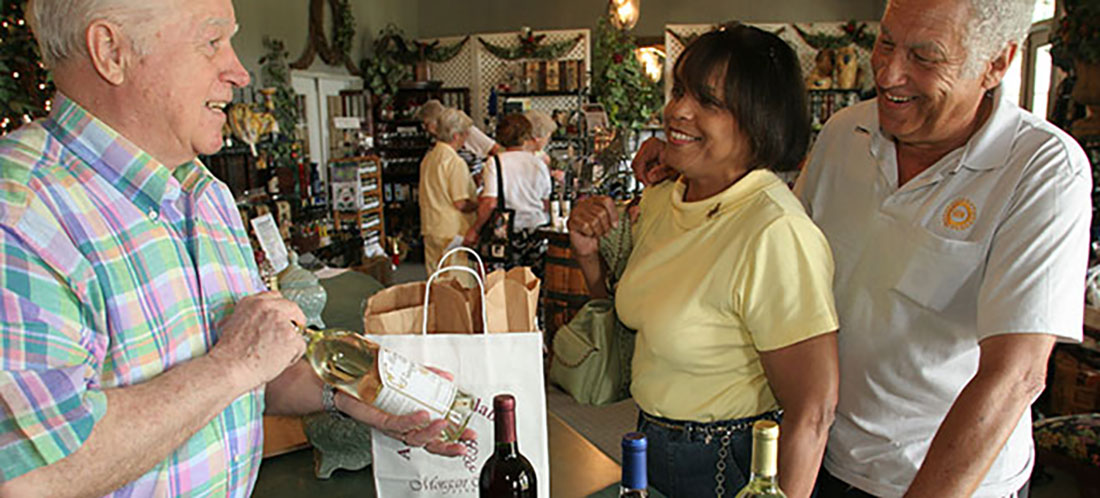 Strolling Through the Vineyards
In a boon for visitors, this Alabama cheesemakers tour intersects at points along the way with Alabama's official wine trail. After visiting Stone Hollow Farmstead, hop over to the farm's next door neighbor, the acclaimed wine producer Morgan Creek Vineyards (181 Morgan Creek Lane; 205-672-2053). Since 2000, the Brammer family has been crafting world-class wines from muscadines, peaches and blueberries including the dry, full-bodied Cahaba White and smooth, fruity Vulcan Red. Free tastings and guided tours of the vineyards are offered Monday – Saturday.