Irondale, Hanceville & Cullman: A Pilgrimage for the Soul
by Carolanne Roberts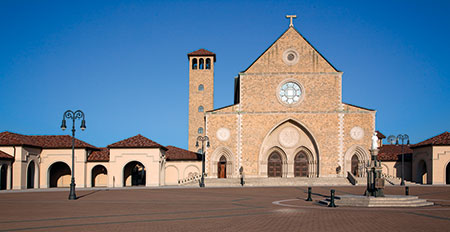 One cloistered nun – a determined soul who acted on miracles – paved the way for the spiritual journey you can experience today in Alabama, starting with the Eternal Word Television Network in Irondale and continuing north to The Shrine of the Most Blessed Sacrament in the rolling countryside outside Cullman, near Hanceville. Just 20 minutes farther along in Cullman, a German-born immigrant known as Brother Joseph left a legacy of miniature buildings at Ave Maria Grotto, a walking trail on the grounds of a Benedictine abbey. Pilgrims of all faiths journey from far corners of the globe to nourish spirits and deepen understanding at the three Alabama locations. You can travel with an organized pilgrimage group (special programs are available for 10 or more visitors) or merely drop by as an individual. Each stop is an easy drive from major interstates, but you'll feel transported to spiritual realms in your heart.
See EWTN in Action
The first thing you notice are the satellite dishes – a fenced-in collection of huge white dishes behind the world headquarters of the Eternal Word Television Network. Those big transmitters mean EWTN is broadcasting from this very spot 24 hours a day, in four languages, on 11 channels, and to more than 200 million viewers in more than 140 countries. On the daily tour here, you hear how Mother Angelica, a feisty Franciscan nun, started EWTN with a mere $200 in 1981. It is now one of the biggest religious media network in the world – programming also beams out on satellite and shortwave radio and EWTN also operates a newspaper and two wire services.
After seeing the welcome video, you're guided through the studios themselves, peering into production bays and at banks of monitors showing what's being seen in the Pacific Rim, Africa, South America, Europe or the U.S. at that exact moment. All visitors are invited to attend a live mass as it is televised in the EWTN Chapel (also open for personal prayer and contemplation). Faithful viewers who visit here will often see – and can engage with – favorite on-air friars as they move about the complex.
Access EWTN off Interstate Highway 20, Exit 133 (Kilgore Memorial Drive). Turn right at the foot of the ramp, continuing about a mile to Grants Mill Road. Turn right to 5817 Old Leeds Road and pass through a friendly checkpoint station.
You can reserve free tickets for live shows in advance at www.ewtn.com/pilgrimage/tickets or work with the pilgrimage department to customize a group visit, which can include catechetical talks by friars, healing services, and other activities.
Contemplation at the Shrine
In contrast to EWTN's constant activity, Mother Angelica set out to create a place – a more solitary place – for prayerful pilgrims to experience their faith. That site, a mere hour from the TV studios, is The Shrine of the Most Blessed Sacrament. The pastoral 18-mile drive off Interstate Highway 65 North helps you slow down – both physically as well as mentally. You follow several miles of pristine white fence past pastures of grazing horses and officially arrive at the shrine, consecrated in 1999.
Park in the ample lot and go directly into the shrine itself, walking across a circular stone piazza inspired by St. Peter's Basilica in Rome. Mother Angelica purposely planned the serene and scenic approach with the intention of shifting the pilgrim's mind from the temporal world to the spiritual one. As you near the entrance, notice the clay roof tiles, molded and fired in Colombia, and hear the 14 bells (more than 100 years old) chime from the 110-foot campanile.
Then push the doors open gently – and gasp. Almost everyone does. No photos, no words can prepare you for the reality and beauty of the sanctuary with its gleaming 24-karat gold leaf over cedar. The interior is simply stunning and it's easy to utter a prayer of thanks for those who labored across the world to create it.
"I never in my wildest dreams thought it would be so beautiful ... At every turn [Our Lord] would change it. It got bigger and bigger, and more and more beautiful." – Mother Angelica, reflecting on building the shrine.
Much of what you see – from the sanctuary to sacred vessels, altar rail, crucifix, confessionals and Stations of the Cross – was designed and constructed in Madrid, Spain. Inspired by the Romanesque-Gothic architecture of the great 13th-century Franciscan churches, the shrine rises from Italian marble floors inlaid with crosses of red jasper from Turkey. The altars are inlaid with mosaics of glass and gold, created using a 400-year-old method of hand chiseling and fitting. You'll notice light dappling the room from stained glass windows custom-made in Munich, Germany. Much of the marble work itself, however, was accomplished by the Alabama firm of Masonry Arts.
There's no bad time to visit. Life here begins early, at 6:05 a.m., with Divine Office (morning prayers) followed at 7 a.m. by the Nun's Mass. There's yet another mass at noon (10 a.m. on Sundays only) in the more intimate Lower Church, embellished with marble columns. Just outside this area is an exhibit based on the Shroud of Turin, worth the time either before or after the service.
To access the shrine from I-65, take Exit 291 onto State Route 91 for 14 miles. Turn right onto County Road 747 (0.9 miles) and right again onto County Road 548 (0.4 miles) and follow to the shrine. Well-placed signage helps.
More To See on the Grounds
Across the piazza, on the left as you leave the shrine itself, stop in the Crèche, a year-round depiction of the Nativity scene in a cave-like setting swelling with the choral sounds of Christmas. The lifelike figures are captured in the radiant joy of Christ's birth; rows of seats invite you to linger. Back outside, head to the Castle San Miguel, a medieval-inspired building whose major draw, beyond its embellished interior, is the expansive Gift Shop of El Nino (books, rosaries and other items). A refreshment area with vending machines is located on the lower floor.
Before you leave, follow the curving path down to the Lourdes Grotto by the rippling Warrior River. The replica depicts the setting where 14-year-old Bernadette lit a candle and prayed with a holy apparition in 1858 Lourdes, France. The tradition of candle lighting continues in this Alabama re-creation.
Groups of pilgrims are asked to book their visits and itineraries at least a month in advance. All visitors should dress to enter a house of God, meaning no shorts, sleeveless tops, skirts above the knee or hats (men). Photography is not permitted inside the shrine.
Among Brother Joseph's first creations was "Little Jerusalem," with its Gate of Herod leading into the grouping of miniature Palestinian-style buildings. You also see his rendering of St. Peter's Basilica, created using an old bird cage to form the dome. The monk, working from books and postcard images, reproduced Gethsemane, the resurrection, the Ten Commandments, Spain's Montserrat Abbey, Bethlehem and various other world missions; he also rendered Noah's Ark, the Tower of Babel, scenes from the Holy Land and graceful guardian angels. Brother Joseph forayed into such secular themes as Hansel and Gretel, a Temple of the Fairies (using cold cream jars), and the Statue of Liberty as a tribute to his adopted land.
The most breathtaking piece is the Ave Maria Grotto itself, a rendition of a cave with stalactites of colored glass and stone; a marble altar, encrusted with glass, pebbles and shells, sits beneath a statue of the Virgin Mary and the Christ Child.
To reach Ave Maria Grotto from The Shrine of the Most Blessed Sacrament, take County Road 548 from the gate, turning left onto County Road 278 West. Continue nearly eight miles to the intersection of U.S. 278 West, turn left and travel three miles. To access from I-65 North, take Exit 308 (Cullman) onto U.S. 278 toward the city of Cullman. Turn right onto State Route 74 East/U.S. 278 (which is also Fourth Street). After three miles, turn right onto St. Bernard Dr. Admission is charged.
Plan a Retreat
True pilgrims who desire an extended experience may stay at the St. Bernard Retreat and Conference Center (1600 St. Bernard Drive SE; 256-734-8281). Book with Brother Brendan. For a modest price (less than most chain motels), you sleep in a twin room with private bath. In keeping with the retreat concept, there is no television (rooms do offer land-line phones). If you're with a group, special pilgrimage activities, similar to the two previous stops, can be arranged.
Visitors also have access to 800 wooded acres, to St. Bernard Abbey itself (and its masses) and Ave Maria Grotto. Recreation includes nature trails, a gymnasium, tennis and volleyball. A cafeteria on the grounds serves breakfast, lunch and dinner. For fun, plan your trip to coincide with the annual Bloomin' Festival in April, started in 1984 to showcase arts, crafts and springtime in Cullman.
Eating and Lodging on Your Drive
While St. Bernard Abbey offers both food and rooms, your stops in Irondale (suburban Birmingham) and Hanceville take you off the grounds of the pilgrimage sites for sleep and food.
Irondale offers a selection of popular chain properties (Holiday Inn Express, Hampton Inn, Quality Inn) within 10 minutes of ETWN. Enjoy the famous fried green tomatoes at the Irondale Cafe (1906 First Ave. N.; 205-956-5258). This down-home eatery, which inspired Fannie Flagg's novel and film Fried Green Tomatoes, turns out 600 to 800 slices a day. For barbecue nearby, choose Golden Rule BBQ (2504 Crestwood Blvd.; 205-956-2678); and for big and juicy burgers, the answer to your prayers is Hamburger Heaven (1703 Crestwood Blvd.; 205-951-3570).
A smattering of guest houses sits near the gates of The Shrine of the Most Blessed Sacrament in Hanceville; request a listing from the Pilgrimage office or search online for selections. You can also opt for chain motels in either Hanceville or Cullman, some 20 minutes away. The closest food to the Shrine is Luna's BBQ (105 Main St. NW; 256-352-1952), Lupe's Mexican Restaurant (914 Main St. NE; 256-352-2272), and Carina's Pizza and Grill (202 Main St. NE; 256-352-9030).
Don't Miss
The Miniature World of Ave Maria Grotto
You don't need a lot of background information to appreciate the 125 miniature buildings and biblical scenes here – you just need your eyes and perhaps a camera to capture it all. But knowing a little history deepens the experience. Just imagine a diminutive German Benedictine monk, born in 1878, who came to St. Bernard Abbey in Cullman, Ala., at the age of 14. In time, he began to create his small wonders from cement, adding shells and shards of colorful glass. His little "miracles" began to attract attention (and crowds), so Brother Joseph was given leave to fabricate his tiny world, which he did virtually for the rest of his life. The collection of his works is known as Ave Maria Grotto.