Over the Railroad and Through the Woods: A Historic Christmas in East Alabama
by Auburn-Opelika Tourism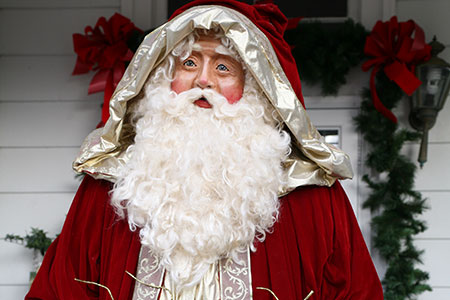 Christmastime in Alabama is truly an enjoyable experience, with many cities hosting parades, plays, garden tours and other special events throughout the holiday season. This is certainly true for the Auburn-Opelika area. Every year during the second week of December, Opelika turns into a charming Victorian wonderland and Auburn hosts the Loveliest Village Christmas Tour of Homes. The week culminates with the "Christmas in a Railroad Town" event. So if you're looking for the Christmas spirit, take a road trip to East Alabama.
Enjoy a Victorian Front Porch Tour
Opelika's extremely popular Victorian Front Porch Tour takes visitors through the town's Northside Historic District, where families lavishly transform the front porches of their elegant Victorian homes into magical Christmas showplaces. More than 60 early 20th century homes are decorated with life-size Santas, angels, toys, teddy bears and more.
Experience the Loveliest Village Christmas Tour of Homes
Some of the most beautiful historic and modern homes in Auburn are featured each year in the Loveliest Village Christmas Tour of Homes. The self-guided weekend tour is sponsored by the Auburn Preservation League and features a diversity of designs and architectural styles ranging from historic residences to Southern ranch houses. The event is a fundraiser for the league, which works to preserve and enhance the beauty of the Auburn community. Tickets can be purchased at various locations in Auburn or at the houses during the weekend. For more information about this event, visit the Auburn Preservation League website.
Auburn Christmas Parade
While you're in East Alabama for the Victorian Tour of Homes, you wouldn't want to miss Auburn's fun and festive downtown Christmas parade. Highlights include live music and special appearances by Santa and Auburn University's award-winning mascot, Aubie. After the parade, there is plenty of time for you to explore downtown Auburn, shop for that perfect gift (may we suggest a Toomer's Lemonade candle?) or dine at one of the area's great restaurants.
Downtown Auburn and Opelika are both family-friendly, with options for everyone. They have a lively nightlife, with everything from college haunts to sophisticated cocktail lounges to keep you entertained.
Places To Eat
Whether you're seeing the sights in downtown Opelika or enjoying the offerings of downtown Auburn, these two East Alabama towns have plenty of delicious dining options. For a full list, check out Auburn-Opelika's Best Bites.
Some local favorites include Ma Fia's (811 S. Railroad Ave.; 334-745-6266) in downtown Opelika. This charming Italian restaurant is decorated with funky elements and architectural oddities that create a unique and welcoming atmosphere. Ma Fia's uses only the freshest ingredients for its delicious pizza, decadent calzones and pasta. Be sure to try the creamy shrimp linguini or the vegetable lasagna.
The Hound (124 Tichenor Ave.; 334-246-3300) in Auburn has traditional Southern dishes with a special twist (like root beer-braised short ribs) and features the largest whiskey selection in the city. Styled like an Old South hunting lodge, this downtown landmark also features many other delicious dishes, including Mama Kate's mouthwatering meatloaf alongside butter-mashed Yukon gold potatoes. Another local favorite is the Bird Dog burger, made with pheasant sausage, whole-grain mustard and bacon, and served with hand-cut shoestring french fries.
Where To Stay
East Alabama has plenty of national hotel chains, RV parks and campgrounds to satisfy all of your lodging needs. However, if you're looking for something a little different, consider these options:
The Hotel at Auburn University and Dixon Conference Center (241 S. College St.; 334-821-8200). Located in downtown Auburn and directly across from the historic Auburn University campus, the hotel and conference center is the perfect blend of sophistication and comfort. It offers a restaurant and full bar downstairs and luxurious comfort upstairs. Located a short walk to the shops, restaurants and nightlife of downtown Auburn, the hotel is ideal for any traveler. To book, visit the website or call and let the friendly staff assist you.
Auburn's Crenshaw Guest House Bed-and-Breakfast (371 N. College St.; 334-821-1131) offers a quaint and comfortable atmosphere with all the modern amenities. Behind the main house are three hotel-style rooms and one two-room, standalone cottage.
Don't Miss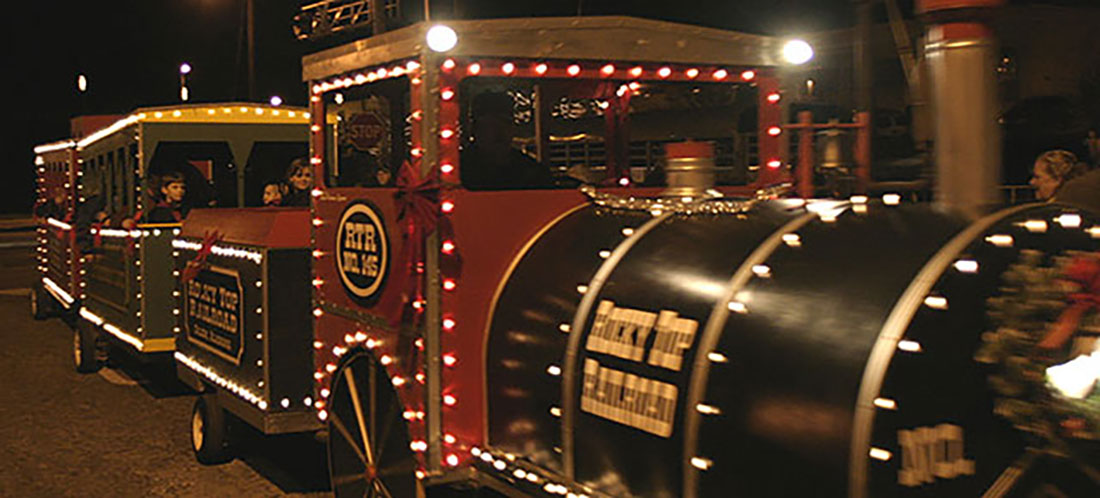 Christmas in a Railroad Town
Held on the same December weekend as the Victorian Front Porch Tour, Christmas in a Railroad Town converts Railroad Avenue in downtown Opelika into a true holiday wonderland. Activities for children include miniature-train rides, pony rides and time with Santa and Mrs. Claus as everyone enjoys live music, hot wassail and a variety of holiday treats. The event is traditionally held on Friday, from 6 to 9 p.m.
For more information, contact Opelika Main Street (1032 S. Railroad Ave.; 334-745-0466) or the Opelika Chamber of Commerce(601 Ave. A; 334-745-4861).