Henagar: The Sound of (Sacred Harp) Music
by Grey Brennan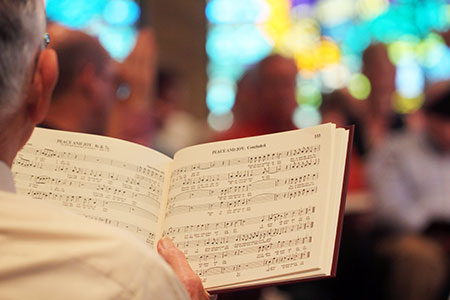 People have been coming to the hills of northeastern Alabama for more than a century to hear and sing the powerful a cappella four-part-harmony music called Sacred Harp. Alabama has been and continues to be in the forefront of making sure this traditional style of music does not fade away. On this road trip, you will hear the sound so associated with the South of the Civil War period and see the town where Sacred Harp songs were recorded for the movie "Cold Mountain." You can also stay in a Gone With the Wind-style antebellum bed and breakfast and visit nearby towns to experience the depths of a cave, hear moving stories of a pottery maker, enjoy views from atop Lookout Mountain and more.
Music History
Sacred Harp is an early-American a cappella singing style based on the fa-sol-la shapes of ovals, diamonds, squares and triangles. This old-fashioned music, sung in a compact formation called a hollow square with singers facing each other, was widely popular during the time of the Civil War. While Sacred Harp singing has faded in other parts of America, the tradition continues to echo in churches on Sand Mountain in Alabama.
There are two Sacred Harp songbooks that are widely used today, and both spring from the efforts of people from Alabama. Alabama singing school instructor Tom Denson and his brother, Seaborn, used the fa-sol-la shape note method to teach folks across North Alabama to sing this music from the late-1800s to the mid-1930s. Later, they founded the Sacred Harp Publishing Company and produced a songbook so widely associated with them that the songbooks are referred to as Denson books, even though several editions have been published since their deaths. The 1991 Denson Sacred Harp songbook has more than 573 pages and is the book of choice around the world for this type of music. A second well-known Sacred Harp songbook is The Cooper Book, first authored in 1902 by W.M. Cooper of Dothan, Ala.
The Epicenter of Sacred Harp Singings
While many churches and conventions hold Sacred Harp singings, one of the most traditional settings is Sand Mountain in the northeastern corner of Alabama. This is where you should start your road trip. Grammy-winning music director "T Bone" Burnett, who also produced the soundtrack to "O Brother, Where Art Thou?," recorded nearly 40 Sacred Harp tunes at the small rural Henagar Liberty Baptist Church (1500 Liberty Road; 256-657-1826) for the movie "Cold Mountain." He chose two of the songs for use in pivotal points in the movie. The song "I'm Going Home," is sung when the Civil War is announced, and "Idumea," is used during the horrific battle scene set in Petersburg, Va. In addition, this area of Alabama is where much of "Awake, My Soul," a documentary about the history and traditions of Sacred Harp singings, was filmed.
A major singing, called a convention, takes place at Liberty Baptist Church each summer. The two-day Henagar-Union Convention is held annually on the first Sunday in July and the Saturday before. During the singing, the windowpanes at the church vibrate from the sound of more than 100 singers. Some liken it to a wall of sound that hits you when you enter the church.
Go Inside and Be a Listener
The singings at Liberty start in the morning and last to midafternoon with a different person called up to lead each song. This is a most sought out honor, as the leader stands in the middle of the group and enjoys the full force of all the voices directed at that one point.
"The singing inside Liberty Baptist feels like a solid force so strong you could stand up and walk on it."
As a visitor, you can go inside and have a seat in one of the church pews where there is no escaping the music. Those who have attended are quoted as saying the singing feels like a solid force so strong you could stand up and walk on it. Others recall the church vibrating and the singing invading their entire body. "Uplifting," "joyful" and "spiritual" are other words used to describe the experience of hearing the gathering of voices in this small Alabama church.
There are short breaks each hour making it easy to come and go as you please, but you will probably want to stay the entire day, as there is a community lunch at noon each day. Bring some food and join this social event. This social gathering is so popular that some come to the church just for the food. Make friends with the singers and you may be invited to the Saturday night party held in the home of a Henagar Sacred Harp singer, another social event where you may hear traditional mountain music complete with banjoes, fiddles and guitars.
The Sand Mountain Potato Festival
The singing at Liberty Baptist Church is held close to Independence Day when the people of Sand Mountain celebrate the mountain's farming heritage at the Henagar Town Park. The annual Sand Mountain Potato Festival is held each Fourth of July and includes live music, arts and crafts, and an evening of fireworks.
Learn To Sing
Also during the summer months, the Sacred Harp Musical Heritage Association conducts summer camps to teach people how to sing Sacred Harp. One camp is held in June at Camp McDowell, a retreat in northwestern Alabama near Jasper, while another is held in July at Camp Lee near Anniston. The five-day events are called Camp Fasola, named after the singing notes fa-sol-la. Either of these camps combined with the singing at Liberty Church in Henagar make for a complete Sacred Harp experience.
Other Times To Visit
For those who want to visit in cooler times of the year, Liberty Baptist Church in Henagar and the nearby Antioch Church (844 County Road 783; 256-632-3830) in Ider hold smaller Sacred Harp singings during the fall and winter. Liberty's is on the first Sunday night of the month at 5:30 p.m. from October to April while the singing at Ider's Antioch Church is on the second Sunday night at 5:30 p.m. from October to March. On the second Sunday of October, a Sacred Harp singing is also held at the Chestnut Grove Baptist Church (434 County Road 743; 256-922-8090) near Ider starting at 10 a.m. While smaller in size, these singings are equally impressive.
The leaves change around mid- to late-October in this area of Alabama, making fall an ideal and popular time to visit. Starting around the second weekend in October the mountains are full of brightly colored leaves.During the peak, you can attend the annual Mentone Colorfest (888-805-4740), a seasonal festival with arts, crafts, food and live entertainment held the third weekend in October. Make reservations in advance if you plan to visit during this popular vacation season.
Sunday Service With Sacred Harp
There are three Sand Mountain churches that use Sacred Harp exclusively in their services. Two of them are Liberty Baptist Church and Antioch Baptist Church. The third is the Old Shady Grove Baptist Church (County Road 408; 256-657-4073) near Dutton. While Shady Grove meets every Sunday, Liberty meets only on the second and third Sundays of the month and Antioch on the fourth Sunday. Visitors are welcome at all three churches.
Two Popular 1960s-Style Stops
While experiencing Henagar, your trip will take you by another type of entertainment from the past – a drive-in theater. These theaters were popular in the early 1960s and you can still watch a movie projected on a large outdoor screen while seated in your car at the Henagar Drive-In Theatre (168 Gourge Road; 256-657-1340).
Valley Head
Travel to Valley Head to watch Valinda Miracle make her brilliant colored pottery. Miracle, who is also a painter and author of the book "The Dead Don't Bleed, Those Who Are Alive Do," operates Miracle Pottery (7871 State Route 117; 256-635-6863) in the foothills of Lookout Mountain near Mentone.
Where To Stay
There are multiple hotels and cabins in Mentone and Fort Payne. DeSoto State Park (1299 Blalock Drive NE, Fort Payne, 256-845-5380) with its many cabins, lodges and campsites and the Shady Grove Dude Ranch and Cloudmont Ski and Golf Resort (721 County Road 614, Mentone; 256-634-4344).
Natural Wonders and Mountaintop Village
Nearby, you'll find Fort Payne, DeSoto State Park, Little River Canyon National Preserve and the mountaintop village of Mentone. All are worth a visit. Learn more about these areas in Road Trip #27 Fort Payne: The View From Lookout Mountain.
Don't Miss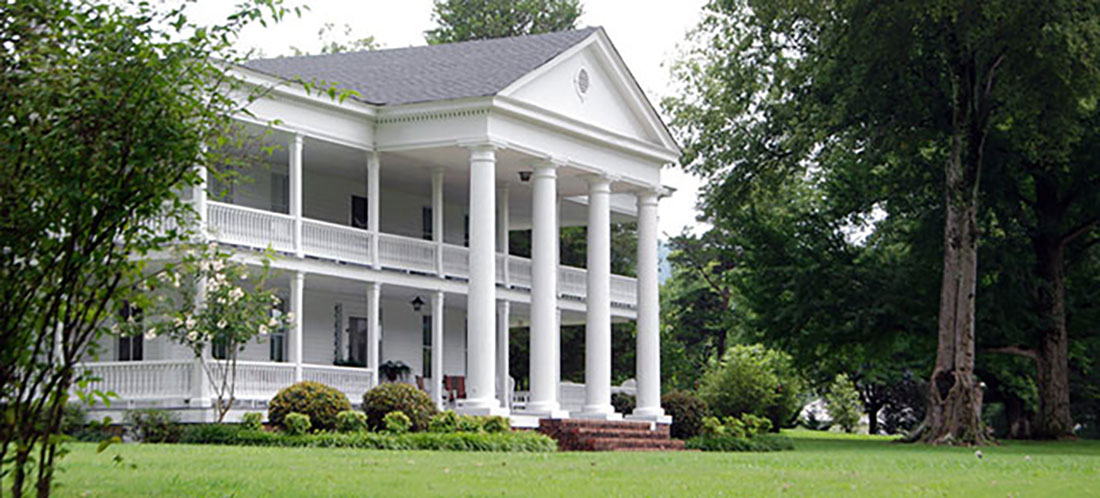 Looking as if it came from the set of Gone With the Wind, the Winston Place Bed and Breakfast (353 Railroad Ave., Valley Head; 256-635-6381) is one of Alabama's most beautiful historical mansions and one of the few where you can stay overnight. Enjoy the large verandas and elegant rooms in this 1831 home located just two miles from Mentone.