Florence: Alabama's Renaissance City
by Brian S. Jones
Florence is a handsome river city tucked into the northwest corner of Alabama where you can visit the birthplace of blues musician W.C. Handy, enjoy a meal at one of the oldest soda fountains in the South, shop for men's fashions at award-winning designer Billy Reid's original shop and visit the resident lion at the University of North Alabama.
Over the Bridge and Across the River
Coming into Florence (about an hour and half from Huntsville via U.S. Highway 72), you will cross over the Tennessee River on the O'Neal Bridge. If you look to your left, you will see McFarland Park (200 James Spain Drive; 256-760-6416). This area has been a local favorite for about the past 10,000 years, dating back to when the river drew archaic hunter-gatherers. Mound builders, who later inhabited the area, also enjoyed the site.
Present-day McFarland Park has 60 campsites, a driving range, fishing piers, a playground and picnic area, walking trails, a floating restaurant, a lighthouse, beach area and soccer fields. This is a perfect place to enjoy some time on the river as well as special events such as the Trail of Tears Motorcycle Ride and the Bassmaster Fishing Tournament.
Heading Downtown
Court Street is the main street of Florence. It takes you right into the downtown area. You'll know you are heading in the right direction when you start seeing purple paw prints on the street. They represent the lion mascot of the University of North Alabama, which is the center of academic and sports excellence in this part of the state. Be sure to take notice of the historic architecture along Court Street.
Florence boasts an old-fashioned downtown area with businesses lining a wide street leading to the University of North Alabama. The best way to experience this lovely downtown area is to park your car on one side of Court Street and start exploring.
If you catch the aroma of freshly ground coffee, it is from Rivertown Coffee Co. (117 N. Seminary St.; 256-765-7128). This local shop serves some of the best coffees, lattes and cappuccinos around, along with a full weekday menu of delicious sandwiches, muffins, soups and more. If you feel like having a cool libation, check out nearby On the Rocks (110 N. Court St.; 256-760-2212). Located in a two-story historic building, this pub features great afternoon specials and live music later at night.
Across the street you can experience a true slice of Italy at Ricatoni's (107 N. Court St.; 256-718-1002). Opened in 1996, Ricatoni's has become a local favorite with several signature items, including pizzas cooked in a wood-burning oven, freshly baked bread with herbs and olive oil and "old country"-style entrees. The man behind it all is owner Rick Elliott, better known as Ricatoni Valentino from his numerous TV commercials. Next to Ricatoni's is City Hardware (105 N. Court St.; 256-275-3666). Don't come looking for nails and light bulbs at City Hardware though. This restaurant/cafe features seafood, roasted chicken, burgers and sizzling steaks with outside seating on an upstairs deck to catch the evening breezes.
High Fashion With a Southern Flair
No trip to downtown Florence is complete without visiting award-winning designer Billy Reid's store (114 N. Court St.; 256-767-4692). Reid was named best new menswear designer in America by GQ magazine and won the 2012 Menswear Designer of the Year award from the Council of Fashion Designers of America.
Offering the latest fashions with a unique Southern flair, it's no wonder Billy Reid has garnered numerous awards, including being named 2012 Menswear Designer of the Year.
Reid's designs for both men and women capture classic Southern elements of fashion in lively fabrics that he showcases in his flagship shop and studio. The store itself is interesting to walk through and experience. It is a converted turn-of-the-20th-century bookstore furnished with Reid family heirlooms. Among his selections of shirts, suits, dresses, shoes and jeans, you'll also find designer T-shirts he created to help promote organizations like the Alabama Seafood Marketing Commission that sports logos like "Make Cornbread Not War" and "Eat Oysters, Love Longer."
Following the Brick Road to Seminary
After your fashion tour, head back down Court Street until you reach Mobile Street. It's a wonderful old brick road that will take you past the Chicago Cafe (106 E. Mobile St.; 256-764-3640), offering flavors of the "Windy City."
Continue down Mobile Street to the stylish art deco Shoals Theatre (123 N. Seminary St.; 256-764-1700) on the corner of Mobile and Seminary. Across from the theatre is a waterfall sculpture in the shape of nearby Wilson Dam, the only neoclassical-style dam in the TVA system, integrating themes of ancient Roman and Greek architecture into the modern structure. It spans the Tennessee River between Lauderdale and Colbert counties. The quad-cities of the area are represented on the dam sculpture: Tuscumbia (founded in 1820), Florence (founded in1826), Sheffield (founded in 1885) and Muscle Shoals (founded in 1923). Right behind the sculpture is Legends Steakhouse (201 N. Seminary St, 256-766-5072).
Wilson Dam is the only neoclassical-style dam in the TVA system, integrating themes of ancient Roman and Greek architecture into the modern structure.
Walking down Seminary Street you will come to Ye Ole General Store (219 N. Seminary St.; 256-764-0601), which has been in operation since the 1940s. Named one of the 25 Best Vintage Stores in America by GQ magazine, the store has a little bit of everything including long johns, work gloves, socks, overalls, boots and even skillets. Don't be surprised if proprietor Gordon O. Glasscock comes out to talk with you. When Mr. Glasscock comes out to greet you, he actually wants to talk with you and not just sell you something.
"The Father of the Blues"
Across the street from Ye Olde General Store, you will see a statue of "Father of the Blues" W.C. Handy, who was born in Florence in 1873. Handy's most famous recording was "Beale Street Blues." The W.C. Handy Home, Museum & Library (620 W. College St.; 256-760-6434) is less than a mile away and houses a collection of memorabilia, including musical instruments, personal papers and original sheet music.
Experience Wilson Park
Just past the W.C. Handy statue downtown is Wilson Park (N. Woods Ave at E. Tuscaloosa St), a one-block park between Seminary Street and Wood Avenue named for President Woodrow Wilson. The park is the site of several annual events including the Alabama Renaissance Faire that draws 40,000 people to the area each October to enjoy some medieval entertainment.
A short walk will take you past a large European-style fountain in the center of the park to a great view of the replica of the historic Forks of Cypress plantation (321 N. Seminary St.). The original Forks of Cypress, completed in 1822 on a knoll five miles from Florence, was the only Greek Revival house in Alabama to feature a two-story colonnade, composed of 24 ionic columns around the entire structure. It was struck by lightning and burned in 1966. The replica was built in 1983 and is now the city headquarters for Regions Bank.
As you walk past the Forks of Cypress, you will be headed back to Court Street where you'll see Rosie's Mexican Cantina (302 N. Court St.; 256-767-5599) on your left. Known for its fresh, authentic Mexican food and wide variety of margaritas, Rosie's is only about a five-minute walk from the University of North Alabama.
Taste Trowbridge's signature orange-pineapple ice cream and you'll quickly discover why Travel + Leisure magazine listed it among its "50 Reasons to Love the USA."
University of North Alabama: Where the Lions Roar
The University of North Alabama (UNA) (One Harrison Plaza; 800-TALK-UNA) is the state's oldest four-year public university. It opened its doors in 1830 and was the first state-chartered institution to begin operation in Alabama. UNA was re-established in 1872 as the first state-supported teachers college south of the Ohio River and a year later became one of the nation's first coeducational colleges. Throughout the year, UNA offers a variety of cultural events, such as the George Lindsey UNA Film Festival, named for alumnus George Lindsey of The Andy Griffith Show fame. It is also home to cultural organizations such as the Entertainment Industry Center, where many students have taken their first steps toward careers in music and entertainment.
Rogers Hall, a Greek Revival mansion built in 1855, is the first building you'll see as you are walking toward UNA on Court Street. Turning right and following the sidewalk, you will soon be at the main entrance (a visitors' parking lot is off to the right if you decide to drive). Just past the entrance is the president's house on your right and in front of you will be a large Italian limestone fountain at Laura Harrison Plaza in front of Bibb Graves Hall.
Don't be alarmed if you think you are hearing the roar of the jungle – you are! UNA boasts the only two live lion mascots in the country. During spring and fall days, professors often leave windows open in their classrooms and it is not uncommon to hear the roar of the lions echo across campus.
Mascots Leo III and Una reside on the campus in the 12,764-square-foot climate-controlled George H. Carroll Lion Habitat that is to the right of Bibb Graves Hall. UNA's live lion mascot tradition began in 1973, when then-President Dr. Robert Guillot personally acquired a 12-pound lion cub, now known as Leo I, from a Knoxville zoo. Since then, the cub's birth date, April 14, has been celebrated as the official lion mascot birthday – an annual event that attracts kindergarten and elementary school children from throughout the region. After making friends with the king of the jungle, you'll want to continue to explore the historic campus that spreads out over 130 acres and includes Wesleyan Hall where infamous Civil War General William Tecumseh Sherman coined the phrase "War is hell."
Afternoon Delight
After strolling through the UNA campus, wander back down Court Street for a tasty end to your exploration. Trowbridge's Ice Cream and Sandwich Bar (316 N. Court St.; 256-764-1503) has been a Florence institution since 1918. The old-fashioned diner still has a lunch counter and serves up malteds. Taste Trowbridge's signature orange-pineapple ice cream and you'll quickly discover why Travel + Leisure magazine listed it among its "50 Reasons to Love the USA."
Where To Stay
Inspired by Southern hospitality, the Marriott Shoals Hotel & Spa (10 Hightower Place; 800-593-6450) is a AAA four-diamond hotel with a relaxing European spa, great dining in its rotating restaurant, and live music in Swampers lounge featuring live music. Set in the Tennessee River Valley, the resort also offers great views from each room's private balcony and features two championship Robert Trent Jones Golf Trail courses. For a list of other lodging and dining options in the area, visit Florence Lauderdale Tourism (One Hightower Place, 200 Jim Spain Drive; 888-356-8687).
Don't Miss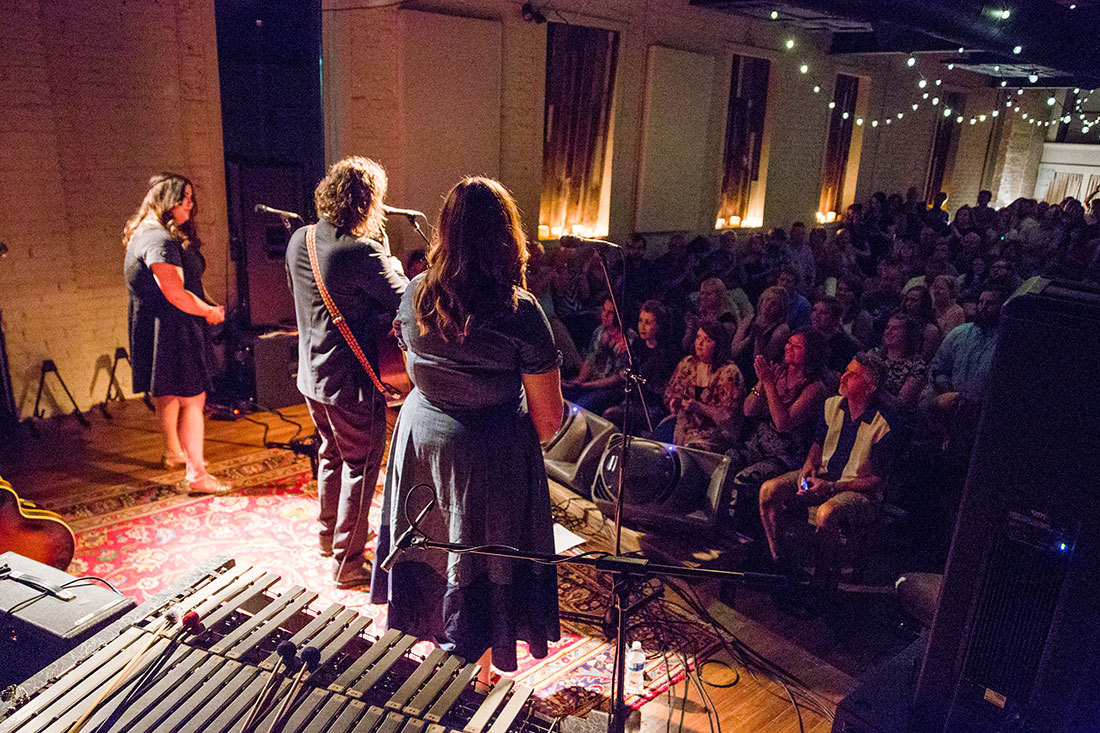 W.C. Handy Festival
The Florence area celebrates Handy with the annual W.C. Handy Festival (256-766-7642), featuring blues, jazz and gospel music, educational events, coordinated art shows, athletic events, street parties, great food and more over a 10-day period each summer. During the tribute to the "Father of the Blues," great jazz and blues music can be heard throughout The Shoals at restaurants, theaters, malls, parks and other locations.
Altogether, the festival features more than 100 events, including the popular Street Strut, Handy Nights and the Handy Run, which makes it a great all-around family-oriented celebration. Some of these events require admission, but most are free. The event is held around the last full week in July and draws about 150,000 people. In addition to the Handy Festival, downtown Florence comes alive with art, music, shopping and family entertainment during First Friday celebrations from March through December.