Exploring Alabama's Rural Studio
by Nick Kaye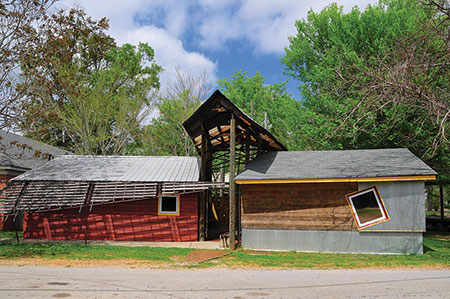 Smack in the middle of Alabama's Black Belt stand multiple buildings, none of which look like they go together. But they do. All part of Auburn University's Rural Studio, these homes, event centers, play structures and community buildings – some built using tires, wooden pallets or hay bales – comprise a philanthropic and educational effort by the university's architecture department. Leave the interstate behind to tour the students' innovative and whimsical results.
The Campus Scene
Any visit to Rural Studio should start at the Morrisette House (8448 AL Hwy. 61; 334-624-4483) in Newbern. This two-story farmhouse dating from the 1890s was donated to the studio to serve as its headquarters. During office hours – 7:45 a.m. to 4:45 p.m., Monday through Friday – the staff will give you a warm welcome and a map of the studio's projects for a self-guided tour.
Want a guided tour? Studio staff members lead daylong group tours of area projects for a charge of $250 for as many as 10 people. Additional tour participants pay $20 each, and meals may be catered for $15 a person. Advance booking by phone is required.
Should you choose to tour on your own, keep in mind that many Rural Studio projects are private houses, so it's imperative that you take care to not disturb those who call these livable works of art home.
The six acres surrounding Morrisette House make up the studio's campus and are dotted with remnants of past projects and the makings of new ones. Take time to check out the soaring, 144-foot-long Supershed, which shelters funky pods that serve as student housing. Just up the road is Subrosa, an underground memorial to Rural Studio founder Samuel Mockbee.
Nearby, you'll find the first public building constructed in the tiny town in the last century: the award-winning Newbern Fire Station. Inside, its airy layout and dramatic height lend the space the feel of a cathedral. The station is complemented by the newer town hall building and public library, located in the same area. These structures were also Rural Studio projects.
Catfish Capital
Nine miles north of Newbern is Greensboro, the seat of Hale County and the self-described "Catfish Capital of Alabama." Incorporated in 1823, the town is home to roughly 2,500 residents, sprawling antebellum mansions and a quaint downtown filled with historic storefronts.
Just south of downtown you'll find Lions Park, the county's largest public park. In 2004, local civic and community leaders asked Rural Studio to redesign the park, and the studio began by constructing baseball fields around the park's center. In 2007, the park was closed to vehicle traffic and graphic elements were added, including a mustard-yellow gate that doubles as an eye-catching sign. That same year, the studio built restrooms. Silo-like vertical culverts capture rainwater runoff, and gravity does the rest to run the plumbing.
Later came a full skate park and the shiny steel concession stand that opens like a mouth to reveal its counter. A colorful playground was cobbled together like a Lego sculpture from donated 55-gallon mint-oil drums, and a log-cabin-style scout hut was also added.
While Rural Studio receives operating funds from Auburn, the university by law cannot subsidize building construction, so the studio must rely on donations from alumni and others to fund its projects. For more information, visit supportruralstudio.com.
It's hard to miss the Hale County Animal Shelter (20 Correction Dr.; 334-624-8120) off Highway 14 just northwest of the center of Greensboro. Designed and built by four students at the request of the county, which previously was without a single animal shelter, the hangar-like building is cloaked in corrugated aluminum, under which a crisscrossing wooden lamella system forms its soaring roof. The strikingly modern building is a design marvel, but it's equally beautiful. In the evening when it's all lit up, a warm glow emanates from within.
Making your way around the back roads of the Black Belt you'll notice a fixture of rural poverty: boxy, generic trailer homes. They're everywhere. To provide a viable alternative to the trailers, since 2005 Rural Studio has been building what it calls 20K Houses, livable homes designed simply and efficiently enough to be built by contractors on a large scale for just $20,000. To see some of the houses, head to Greensboro's North Ward Village north of Main Street, where you'll find an enclave of 20K Houses, but be sure to not disturb any of the residents.
You can't visit Greensboro without stopping for lunch at PieLab (1317 Main St.; 334-624-3899). This little shop turned heads far and wide in 2010 by garnering a nomination from the James Beard Foundation for best restaurant design. It's a good example of the ripple effect that Rural Studio has had on the area, not to mention a place to get a darn good slice of pie.
A Walk in the Park
For roughly 30 years, Perry County's 600-acre Perry Lakes Park sat unused, having been closed after a drowning there in the 1970s. But thanks to Rural Studio and local officials, the park – which sidles up next to the Cahaba River off AL Highway 175 about seven miles northeast of Marion – has been reborn. It now features a pavilion, updated restrooms, a covered bridge and a birding tower.
The pavilion's massive, angled roof swoops up through the trees like an oversized awning, with panels of aluminum on its underside to brighten the gathering space. The uniquely designed restrooms are connected to the pavilion by an elevated walkway. The seemingly floating covered bridge spans a creek and provides access to previously hard-to-reach parts of the park. Visitors are free to explore large swaths of cypress and tupelo swampland to see showy Cahaba lilies in bloom.
The birding tower is a decommissioned fire tower from Mississippi that was taken down piece by piece, regalvanized in Birmingham and carefully assembled not far from the bridge. It rises exactly 100 feet up through the canopy, offering a dizzying view over the turtle-dotted lake to distant ridges that line the horizon.
Alabama Gothic
When the citizens of Cahawba – Alabama's state capital from 1820 to 1826, situated not far from Selma in Dallas County – packed up and abandoned the flood-prone settlement at the confluence of the Cahaba and Alabama rivers in the years that followed the Civil War, they took the St. Luke's Episcopal Church with them 15 miles west to Martin Station. Decades later, following a painstaking, two-phase process by Rural Studio of disassembling the majestic old building and cataloging its antique components, the church once again stands near its original site at Old Cahawba Archaeological Park (9518 Cahaba Rd., Orrville; 334-872-8058).
The striking gothic church is right across the street from the park's visitor center. While visiting, be sure and make time to explore the park, where a handful of historic structures remain amid a forest draped in Spanish moss.
Where to Stay
Nestled away on the farm, Bailey's Bed and Breakfast (8687 AL-61, Newbern; 334-624-8455) is a cozy place to stay on your trip to Newbern. There is comfortable space for a single person, couple or small family and the property is located near the Rural Studio. Ask about a tour of the rural studio or the latest happenings in town. This quiet and intimate stop is will feel like home only after a few nights stay with the friendly and helpful staff to show you around.
Don't Miss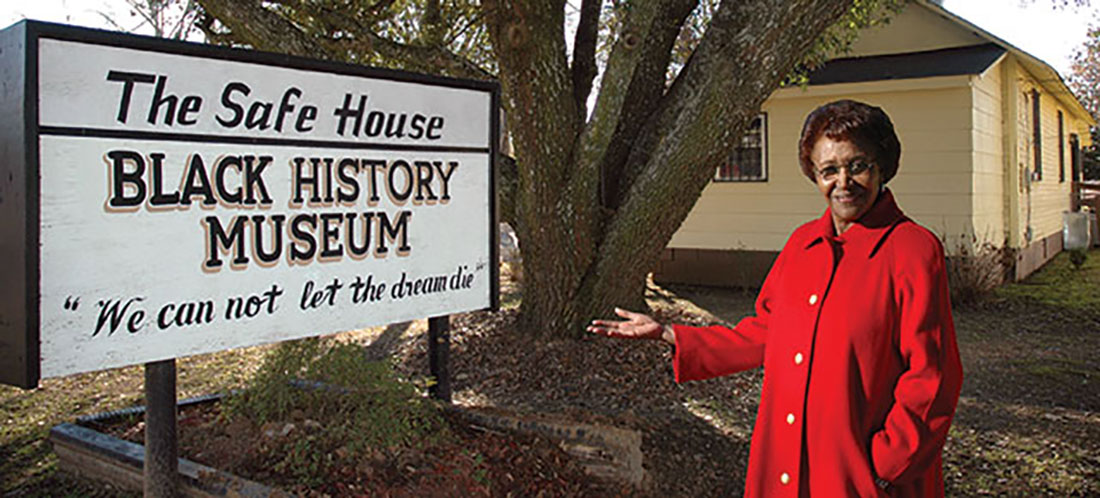 The Safe House Museum
The Safe House Black History Museum (2401 Davis St.; 334-624-2030) is not to be missed. Housed in a shotgun house situated near downtown Greensboro and up the street from the hulking Old Depot, the museum is where Martin Luther King Jr. spent the night of March 21, 1968, hiding out from the Ku Klux Klan after speaking at a church nearby. Theresa Burroughs, whose family owned the house, turned it into a nonprofit museum in 2002. A foot soldier of the Civil Rights Movement, she has helped to fill the museum with artifacts, including mug shots of protesters on their way to jail. Rural Studio connected the house to a similar one next door with a glass-walled passageway, creating space for community gatherings and a gallery featuring works by African-American artists.