Experiencing Montgomery beyond Downtown
by Marilyn Jones Stamps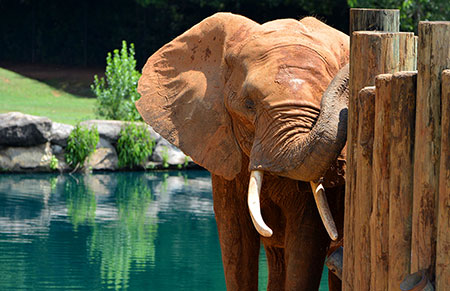 With dozens of museums, a beautiful riverboat and baseball stadium, historic homes and churches, and great lodging, entertainment and dining venues, it's no surprise that downtown Montgomery is a mecca for tourists. But why not explore all Montgomery has to offer?
Enjoy Professional Theater at the Alabama Shakespeare Festival
The Alabama Shakespeare Festival (1 Festival Dr.; 334-271-5353), located in east Montgomery, is the largest professional theater in Alabama and one of the largest Shakespeare festivals in the world. It first opened in 1972 in Anniston but after a fire in its costume warehouse was on the verge of bankruptcy by the mid-1980s. That's when it moved to Montgomery and began to rebound, thanks to the generosity of local philanthropists Winton and Carolyn Blount.
Unable to bear the thought of the state losing such a wonderful cultural organization, the Blounts put up $21.5-million to give the theater a new home in the heart of Wynton M. Blount Cultural Park. Located in a beautiful performing arts complex, the Carolyn Blount Theatre houses the 792-seat Festival Stage and the 262-seat Octagon Theatre.
ASF has being going strong ever since. "Ain't Nothin' But the Blues," a production co-created by ASF, was nominated for four Grammys and Tony Award–winning actor Norbert Leo Butz and Emmy Award–winning actor Michael Emerson both trained at ASF. ASF puts on more than 300 performances annually. The productions that it has put on include all 37 of Shakespeare's plays, and its own Southern Writers Projects in which it works with top Southern playwrights to create original productions. The Southern Writers Project culminates each spring with a three-day festival hosted by ASF. It includes never-before-seen theater, delicious food, and opportunities for the audience to mix and mingle with writers and performers. In addition, ASF offers lectures, camps and backstage tours that allow guests to learn more about the workings of a professional theatre company. Currently ASF is the only theater in the Southeast that has been licensed to stage its own productions of Disney classic musicals, such as "The Little Mermaid" and "Mary Poppins."
ASF's Box Office is open Mon.-Sat. from noon-5 p.m. It stays open until 8 p.m. on performance nights and is open on Sundays from noon-2:30 p.m. whenever there is a performance.
Tip 1: Inquire about ASF's Playcation or Stay-N-Play packages. The theatre has teamed up with several hotels to allow theatergoers to get performance tickets and lodging all in one packaged deal.
Tip 2: ASF often has a repertory season in May, usually featuring its Shakespeare productions, so out-of-town visitors can come and see three or four different productions during a single weekend.
Explore the Arts at the Montgomery Museum of Fine Arts
Set amid the Blount Cultural Park near the Alabama Shakespeare Festival is the Montgomery Museum of Fine Arts (One Museum Dr.; 334-240-4333), the state's oldest. Founded in 1930, the museum is committed to exhibiting artworks of national and international significance, as well as works by talented local artists. Its collection includes European and American fine art from priceless artworks from such masters as Rembrandt, Whistler, Edward Hopper, Winslow Homer and John Singer Sargent as well as sculptures, decorative arts, crafts, historical objects, and Southern regional, folk and outsider art.
In addition to its wonderful art exhibits, the museum has expanded its offerings over the years to include Artworks, a participatory art gallery and studio for children; concerts, artist demonstrations, lectures, tours, and more. The annual Flimp Festival, held each May, provides a day of fun and activities for visitors while students from the Booker T. Washington Magnet School showcase their choral, dance, theatre and musical theatre performance skills.
Admission to the MMFA is free, except for guided tours. Hours are Tu-Sat., 10 a.m.-5 p.m., Th 10 a.m.-9 p.m. and Sun., noon-5 p.m.
Tip 3: Before leaving the MMFA, be sure and stop by the Museum Store and enjoy lunch at Café M, "an artful bistro" tucked in a corner inside the museum. Café M is also a lovely place to stop for Saturday brunch. In addition to a beautiful view, their summer brunch menu features delicious options made from fresh, local ingredients.
Spend an Afternoon with the Animals at the Montgomery Zoo
A fun-packed and educational adventure awaits your visit to the Montgomery Zoo (2301 Coliseum Pkwy.; 334-240-4900). You'll see elephants, tigers, giraffes, monkeys, birds, reptiles, and more as you maneuver through the 40-acre site featuring more than 750 animals.
Viewing areas are well planned to allow you to experience the zoo from many vantage points, get up close and personal and actually interact with the animals. You can feed River Otters, Asian Koi Fish, or an 18-foot giraffe. You can feed and interact with birds in Parakeet Cove. You can watch a lion training session, learn from the elephant keepers, and even pet a collection of African Pygmy Goats. There is also a sky lift for an aerial view and a train that runs throughout the zoo.
In addition to what you'll see every day, there are a number of special activities that take place at the zoo throughout the year. Highlighting the schedule are Animal Enrichment programs, Zoo Weekend in the spring, Zoo Boo in October and the Christmas Lights Festival.
Tip 4: When visiting the Montgomery Zoo, be sure to take along some extra cash. Zoo admission is modestly priced but you'll want to have money for a ride on the sky lift, food for the animal encounters, and for lunch at the Overlook Café.
The Mann Wildlife Learning Center
Dedicated to wildlife conservation and education, the Mann Museum at the Montgomery Zoo represents one of the most complete presentations of North American and Alabamian wildlife --animals, birds, fish, and reptiles -- in mounted format. Originally located in Opelika, the museum was the realization of a dream by trophy hunter George Mann, who spent a lifetime devoted to the study of wildlife and the outdoors. In 2003, the Montgomery Zoological Society purchased the museum collection and moved it to its present home.
The Montgomery Zoo and The Mann Wildlife Learning Museum are open year-round, seven days a week. The zoo is open from 9 a.m.-5:30 p.m. and the museum is open from 9 a.m.–5 p.m.
Shopping and Dining
Shoppers and diners have a lot to get excited about in east Montgomery. The Shoppes at EastChase is an open-air fashion and lifestyle center with more than 50 stores located at I-85 and Taylor Road. It features several well-known retail stores.
A Farmer's Market, classic car shows, walks, runs and live music are all a part of the offerings at EastChase.
There are plenty of great places to eat both at EastChase and in the surrounding area. Charles Anthony's Restaurant at the Pub, whose legacy and wonderful Greek flavors date back to 1972 is on Chantilly Parkway within a few minutes drive. So is Martha's Place (7798 Atlanta Hwy.; 334-356-7165). Previously located in downtown Montgomery, the Montgomery staple now located in the Somerset Shopping Center, has been serving downhome country meals since 1988. The menu is buffet-style, truly delicious, and well worth the stop, not just for the food but to hear the inspiring story of the woman behind it, entrepreneur Martha Hawkins.
Where to Stay
The Montgomery area has plenty of lodging. To find the best options for your budget and travel needs, log onto the city's tourism website at visitingmontgomery.com.
Don't Miss