Elkmont: Goat Cheese Heaven
by Brian S. Jones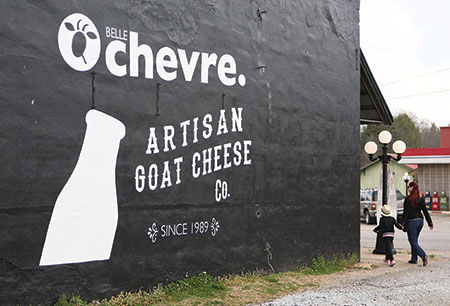 Elkmont is best known as the home of an internationally acclaimed goat cheese maker. It is also a place to explore Civil War history, pick, grin and dance the night away at an old railroad depot, or listen to country music by Nashville entertainers inside a little red caboose.
The Tasty History of Belle Chevre
Begin your tour of the area at Belle Chevre (18849 Upper Fort Hampton Rd.; 256-732-3577), owned by Tasia Malakasis. The company is intentionally small, and each cheese is handcrafted by passionate cheese makers, resulting in an artisanal product with unparalleled taste and texture.
Belle Chevre has received numerous national awards from the American Cheese Society and the American Dairy Goat Association, and has been featured in many top culinary books and magazines. Its products are featured in top cheese retailers around the country, including Dean & DeLuca in New York City and The Cheese Store of Beverly Hills.
Malakasis discovered Belle Chevre nearly 20 years ago. She had spent about 10 years working as a marketing executive with a series of Internet startups and, wanting to try something new, began taking classes at the Culinary Institute of America in Hyde Park, N.Y. On a trip to Manhattan in 2001, she stopped in at Dean & DeLuca and found Belle Chevre cheese – and learned that it was made only 15 miles from Huntsville where she was raised.
A few months later, she was offered another Internet marketing job and moved to Philadelphia, but she remained intrigued with Belle Chevre. Over the next few years, she regularly contacted the owners and founders of the company, Liz Parnell and her husband, Tom, who was a NASA astrophysicist in neighboring Huntsville. A friendship formed. In 2006, Malakasis decided it was time to make a change and came home to Alabama. She worked as an unpaid intern with Parnell for six months and learned the art of making goat cheese. When Parnell told Malakasis that she was ready to retire, Malakasis convinced the owner to sell the business to her.
Belle Chevre and Malakasis have been featured on the Today show several times and in publications including Southern Living, Better Homes and Gardens, O! The Oprah Magazine, Taste of the South, Cooking Light, Garden & Gun, Specialty Food and Forbes. Along with her other projects, Malakasis has written Tasia's Table: Cooking with the Artisan Cheesemaker at Belle Chevre, a book that features recipes and stories about both her Southern and Greek heritage.
The Land of Goat Cheese
Malakasis states on her website that she "could not be more excited to highlight a great product that is not only from Alabama but is of Alabama." The milk for Belle Chevre cheeses comes from a farm just down the road from the creamery where goats feed on grasses enriched by the fertile limestone soil. In fact, the county where Elkmont is located is named Limestone County after the creek that flows through it, the bed of which is made of hard limestone.
Malakasis writes, "The mild but distinctive flavor of our cheeses is directly related to the terrain on which the goats are raised and the cheese is created. Limestone County, Alabama, is a big part of what is special about Belle Chevre. The French use a term, terroir, to speak mostly about why wine is so special from a certain region – the soil, the climate, the chemical and alchemical sense of place – and it is the same with Belle Chevre's cheeses."
After taking over the creamery, Malakasis used her background in marketing to expand the distribution of the product into Kroger, Publix, Costco, Whole Foods and other large-volume retail grocers, which has more than tripled the creamery's year-to-year revenue. Chefs around the country, including Birmingham's Frank Stitt, have become huge fans. Stitt, a James Beard Award-winning chef, uses Belle Chevre cheeses in dishes at all of his restaurants – Highlands Bar and Grill, Chez Fonfon and Bottega.
The creamery outgrew its original production facility and opened a new space in the fall of 2013. It is located in an old 8,000-square-foot former warehouse right behind the Belle Chevre Cheese Shop & Tasting Room. The warehouse was previously used to store cotton waiting to be loaded onto trains that ran on tracks adjacent to the building. The tracks have now been converted into the Richard Martin Trail, a Rails-to-Trails project that provides walking and riding trails.
Get the Full Experience: Tour and Taste
Belle Chevre products include classic goat cheese, fromage blanc, pimento chevre and sweet, spreadable breakfast cheeses. Other special varieties offered are olive oil-marinated chevre with herbs and sun-dried tomatoes, cheesecake and even ice cream. All of this, plus some of the best grilled cheese sandwiches in the South, are available at the Belle Chevre Cheese Shop & Tasting Room.
Dancing on the Rails-to-Trails
The Elkmont Depot (Railroad Street; 931-427-6296) is a wooden trail depot built by L&N in 1887. It is now the town's community center and is the place to go for live music and dancing every Monday night at the Elkmont Pickin' and Grinnin'.
The depot is also a trailhead at the midway point of the Richard Martin Trail of the Alabama Rails-to-Trails project. The 10.2-mile trail is perfect for walking, mountain biking and horseback riding. The trail winds its way past Civil War sites, wetlands and an array of natural beauty.
The Red Caboose (25483 Railroad St.; 256-306-6201) between Upper Fort Hampton Road and West Church Street is another great entertainment spot. Nashville songwriters are brought in to perform on various dates during the month.
Learn About the Battle of Sulphur Creek
Elkmont is the closest place to access the trail leading to the site of the Battle of Sulphur Creek Trestle, the bloodiest battle of the Civil War fought in North Alabama. The battle centered on Sulphur Trestle Fort, which was constructed on a gently sloping hill alongside the railroad tracks about one mile south of Elkmont and which protected the Union railroad supply line.
The Alabama and Tennessee Railroad connected Nashville, southern Tennessee and North Alabama to Decatur. To protect this vital supply line, Union forces constructed forts at strategic points along the length of the railroad. Confederate forces under the command of Gen. Nathan Bedford Forrest attacked the Sulphur Trestle Fort in September of 1864. By the end of the battle, more than 200 soldiers had been killed and the Union was forced to surrender the fort, thereby cutting off its supply line.
Where To Stay and Eat
In addition to the Belle Chevre Cheese Shop, there are several other places to eat in Elkmont and nearby Athens. For both dining and lodging options, visit the Athens-Limestone County website or call 256-232-5411.
Don't Miss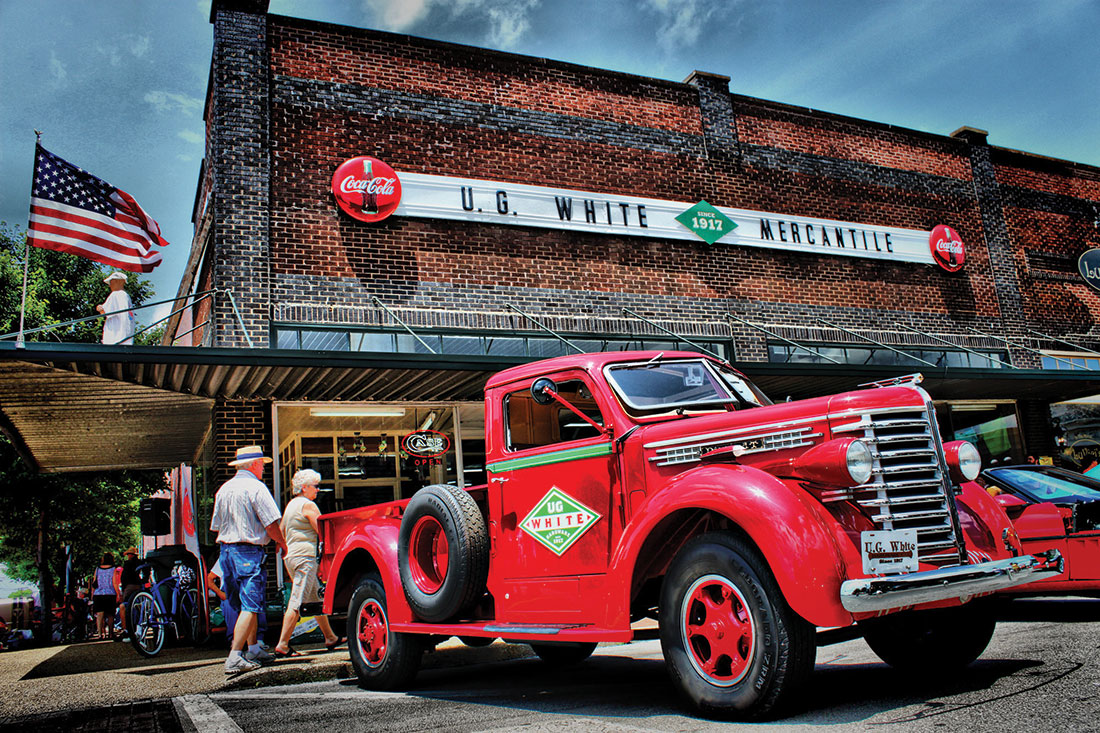 The U.G. White Mercantile Store
The U.G. White Mercantile Store [101 N. Jefferson St.; 877-UGW-1917 (849-1917)], located in nearby Athens, has been an anchor of that city's downtown square for nearly a century. The U.G. White Hardware and Implement Company was started by Ulysses Grant White in 1917. White had moved to the area from Tennessee and decided to open the store after being injured in a farming accident. He sold everything from tractors and horse-drawn plows to radios, heating stoves and cast-iron skillets. The store passed through four generations of White's descendants, from the Aycocks to Derrick Young and Johnny Furline. Today, visitors can roam the hardwood floors of the historic store looking at the vintage signs and shopping an eclectic blend of old and new offerings.
Also located inside the U.G. White building is LuVici's (105 N. Jefferson St.; 256-233-5550) specializing in genuine Southern cooking.