Rocking and Rolling on the Mountains: A Driving Tour Through Steele, Ashville and Springville
by Grey Brennan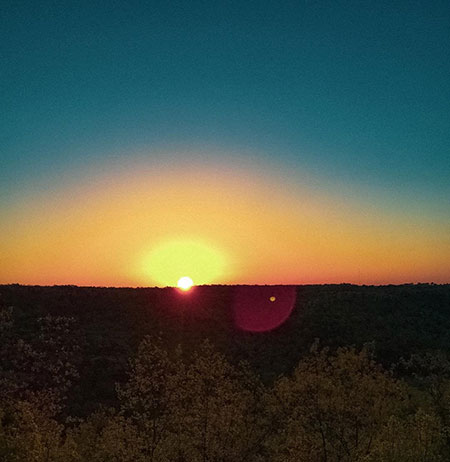 Get off the stretch of interstate that lies between Birmingham and Gadsden for a wonderful road trip where you will find beautiful mountains, historic towns and one of the best bouldering sites in America as well as attractions, shops and restaurants operated by local townspeople. The Schultz family owns and operates a nature park on Chandler Mountain near Steele. Near Springville, the Whites of White's Mountain have built a bluegrass music festival park while another family of Whites on Pine Mountain cut off-road vehicle adventure trails on their land. And in the city of Springville at Homestead Hollow, thousands come for the annual arts and crafts events. A visit to attractions along Interstate 59 just northeast of Birmingham will allow you to race or climb your way to adventure and enjoy traditional bluegrass music, all on top of a mountain. This entire trip is off three adjacent I-59 exits: 166, 156 and 154 near the towns of Steele, Ashville and Springville.
Explore a Nature Park Atop Chandler Mountain in Steele
Start this road trip in Steele at Horse Pens 40 (3525 County Road 42, Steele; 256-538-7439), a privately owned outdoor nature park located atop Alabama's third-highest mountain, Chandler Mountain. The park got its name from the original deed that allocated the land into three sections: the home 40, the farming 40 and the horse pens 40. Each tract contained 40 acres of land. To find Horse Pens 40, take I-59 exit 166 to U.S. Highway 231/County Road 35 and start watching for signs.
Horse Pens 40 is known among the rock climbing community as a premier bouldering site and the site for one of the legs of the Triple Crown Bouldering Series, the largest bouldering competition in the United States. Held each fall, the Triple Crown attracts 700 competitors and spectators during the one-day event. On other days of the year you will find this nature park more low-key. It is home to several bluegrass music festivals with many in the area remembering hearing Emmylou Harris perform on a small stage, which is still standing among a field of large boulders.
You don't have to love rock climbing or bluegrass music to enjoy the park. Horse Pens 40 is a great nature and history lover's destination. It is said the only peace treaty ever made between the Creeks and the Cherokees was signed on this property. In later years moonshiners and outlaws used the land, which adds an element of mystique and intrigue to the site.
Even if you don't climb rocks, it's enjoyable to stroll through one of the most interesting boulder fields in the world.
There are also many types of rare plants and trees in the park so even if you don't climb rocks, it's enjoyable to stroll through one of the most interesting boulder fields in the world. There are hundreds of weird shapes and faces to be seen in the 600-million- to 1.3-billion-year-old rocks that are found here. Walk through the park and look for rock formations such as Turtle Rock, Mushroom Rock and both Little and Big Elephant Rock. Local legend is that Native Americans would celebrate spring on the day sunlight poured through the trees and rock formations, striking an eagle-shaped rock.
Photo Tip: On the western edge of Horse Pens 40 is a lookout. Go at sunset for a wonderful photograph of the sun dropping below the adjacent mountains.
Travel to Ashville To Visit History Museums and a Quilt Shop
From Horse Pens 40, return to the I-59 exit 166. Cross over the interstate and go south to Ashville (205-594-4151). Just before you reach Ashville's historic square, you will see the large yellow Box-Drake House, which is home to the Ashville House Quilt Shop (35 Third St.; 205-594-7046), open Wednesday through Saturday.
When you reach Ashville's square, take a leisurely drive around the courthouse and locate Jilly Beans (120 Sixth St.; 205-594-3357), the local ice cream and fresh produce store. Other stops within walking distance are the Old Ashville Masonic Lodge and Mattie Lou Teague Crow Museum (Seventh Street; 205-594-2116), which is open by appointment.
You can also visit the Ashville Museum and Archives (78 Sixth Ave.; 205-594-2128) where the local tourism office is located. The John Looney House Pioneer Museum (4187 Greensport Road/County Road 24; 205-594-2116) is open Saturday and Sunday afternoons and is located five miles west of Ashville and the Judge Elisha Robinson House (20 Rose Lane; 205-594-4366) is on U.S. Highway 231, south of AL Highway 23.
The Whites of White's Mountain
Tommy White and his wife, Sibyl, are both bluegrass musicians, and when their jam sessions outgrew their living room their fellow pickers persuaded them to build a bluegrass park on their land. Located on the edge of St. Clair Springs, a former resort community with a long history of traditional music, the couple pledged to incorporate the natural surroundings into an outdoor music festival. They built a stage, amphitheater, a large refreshment area and a general store on their land, appropriately called White's Mountain, and started White's Mountain Bluegrass (40 White's Mountain Lane; 205-467-6927). Their bluegrass festivals, one held in summer and another in the fall, feature the music they and their audience love while their Chimney Corner Celebration, held on the last weekend of October, focuses more on the mountain traditions of the area.
To get to White's Mountain from Ashville, go back to I-59 and exit 166. Travel south (toward Birmingham) and get off at the next exit (exit 156). From exit 156, travel south on AL Highway 23 for 1 1/2 miles to reach a dirt road called White's Mountain Lane. Drive up this road to get to the festival location. RV and tent camping is available.
Visit Ice Cream and Candy Shops and Stroll Through Antiques
Return to I-59 and travel south to the next exit to reach the city of Springville (205-467-2339). From exit 154, travel less than one mile until you reach the four-way stop sign that marks the intersection of Springville's main street, which is also AL Highway 11. From this point you will find interesting stops left, right and ahead of the stop sign.
If you turn right at the four-way, you will immediately be in Springville's downtown where you will find Laster Sundries (Main Street; 205-467-2076), a store that has sold ice cream and candy to generations of children and adults. Also along Main Street you will see a sign with the word "antiques" hanging from the awning of the old Washington Feed Store that operated for more than 100 years. Today this building contains the Springville Antique Mall (5630 Main Street, US Hwy 11; 205-467-0612) with 35 vendors.
You will find several local restaurants along Springville's Main Street including Main Street Italian Bistro (6470 U.S. Highway 11; 205-467-7656) and Casa Del Sol (6468 U.S. Highway 11; 205-452-2140).
Once you have left the city's town center, turn around and go back to the stop sign and continue (turn left if you are just arriving from the interstate). Headed in this direction on AL Highway 11, you will find Blackwood Gallery and Studio on your right (5715 U.S. Highway 11; 205-467-7197). Dean and Sharon Black are both artists and offer their works, as well as works by other local artists, in the gallery. Attached to the gallery is Dean's wood studio where he can often be found working on his next project. He is a master craftsman and has been commissioned to do work for the Birmingham Museum of Art and other destinations.
Homestead Hollow
Turn around and travel back to the four-way stop sign. Turn left (or from the interstate go straight through the intersection). You are now on Muphrees Valley Road where you will find two major Homestead Hollow arts and crafts festivals in the spring and the fall (1161 Murphees Valley Road; 205-467-3681). These and other annual arts events at Homestead Hollow draw thousands.
The Whites of Pine Mountain
Continue on Murphrees Valley Road and you will reach the top of Pine Mountain where another family with the last name of White operates an off-road riding park that caters to motorcycle, four-wheeler and side-by-side riders. Greg and Susan White and their family have 45 miles of exciting dirt tracks at their place called The Ridge (8745 Pine Mountain Road; 205-467-0142). Open most Fridays through Sundays, The Ridge includes a store, rental ATVs and overnight accommodations. The Ridge offers separate trails for the youngest of riders and rock climbing classes for adventure seekers who would rather climb than ride.
The Ridge has been used by many off-road vehicle companies to demonstrate their new models of four-wheelers and dirt bikes. The location was even used by one company as a location for filming their television commercial.
To reach The Ridge, continue on Muphrees Valley Road from Springville for four miles. The road will take a U-turn halfway up Pine Mountain. When you reach the top of Pine Mountain, take a left onto Pine Mountain Road and look for the "The Ridge" sign on your right.
Spend the Night
You can camp or spend the night in one of the seven small, cozy one-room cabins at Horse Pens 40 (3525 County Road 42, Steele; 256-538-7439) or stay at the Roses and Lace Bed & Breakfast (20 Rose Lane; 205-594-4366) within walking distance of Ashville's town square. The Ridge (8745 Pine Mountain Road; 205-467-7433) has rooms to rent as well as camping sites.
Don't Miss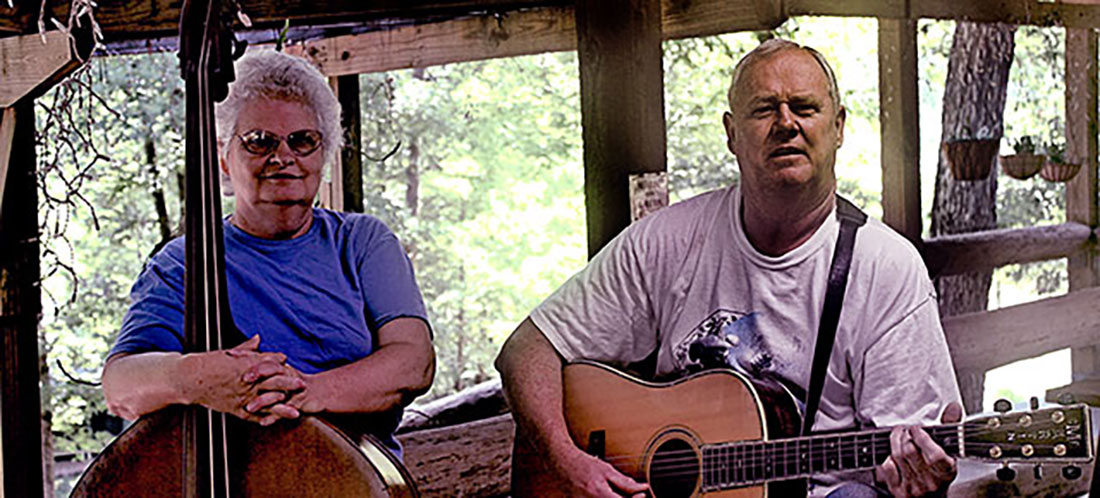 Bluegrass on the Mountain
There are plenty of bluegrass events on this tour, with Horse Pens 40 offering bluegrass festivals in May and October and White's Mountain hosting bluegrass festivals in Springville in June and October. White's Mountain is also the location of the annual Chimney Corner Celebration in October.