Discover Dothan: The Heart of Alabama's Wiregrass
by Marilyn Jones Stamps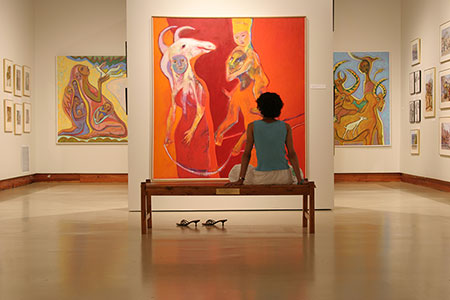 Dothan is an ideal place for a fun and affordable family vacation. Symbols of a bygone era await your visit at a 135-acre park on the outskirts of town. Art and history can be found in giant colorful murals painted on downtown buildings, and numerous shopping and dining options await your travel downtown and along historic Ross Clark Circle. Known as the "Peanut Capital of the World," Dothan is home to the National Peanut Festival each fall and pays homage to its agricultural heritage through a series of whimsical and "nutty" statues scattered around town. There is also a monument downtown dedicated to Dr. George Washington Carver.
Explore Landmark Park
Begin your tour of Dothan at Landmark Park (430 Landmark Dr.; 334-794-3452). The 135-acre park was built to preserve the natural and cultural heritage of southeast Alabama's Wiregrass region. The 1890s living history farm allows visitors to observe a variety of farm animals, such as sheep, mules, cows, chickens, goats and pigs. It also features a collection of historic structures, including an old farmhouse, a smokehouse, a cane mill and syrup shed.
During your visit, you can drift back in time and experience the simple pleasures of a bygone era. Relax in a Victorian gazebo. Enjoy a refreshing drink at the soda fountain in the old-fashioned drugstore. Sift through the wares of a country store or stroll through a one-room schoolhouse. You can also experience the solitude of a turn-of-the-century church, take a nature walk through the woods on an elevated boardwalk, explore the night skies inside the Digitarium Planetarium or visit the interpretive center to see wildlife exhibits.
A covered picnic area and the Barnyard, a large playground, provide a perfect setting for picture taking and even more family fun time at Landmark Park, so be sure to pack a picnic lunch and take your camera along for your visit.
In addition to showcasing period attractions, Landmark Park plays host to several special activities throughout the year, ranging from folklife festivals, antique car shows and traveling exhibits to ice cream socials, concerts and workshops. In March, you can get up close and personal with the animals during Spring Farm Day. The Wiregrass Heritage Festival in October lets you learn how peanuts were harvested in the region more than a half-century ago. And during Victorian Christmas, you can enjoy the sights, sounds and smells of an old-fashioned holiday gathering, complete with hot chocolate, handmade decorations, music, crafts and a seasonal message delivered by a circuit-riding preacher on horseback.
Experience the Wiregrass Museum of Art and Mural City Art Fest
After touring the murals, don't miss the opportunity to enjoy other downtown attractions. The Wiregrass Museum of Art (126 Museum Ave.; 334-794-3871) showcases six galleries featuring changing exhibits of visual and decorative arts. A good time to visit the museum is the first Saturday in May when the Mural City Art Fest takes place. During this spring event, artists, musicians and dancers gather on the grounds and entertain visitors throughout the festival. Children can enjoy crafts, games and other activities while the adults mingle with vendors and search for the perfect piece of artwork to take home.
During your visit, you can drift back in time and experience the simple pleasures of a bygone era.
Visit the Carver Museum, a Hardware Store and More
Located within walking distance of downtown shops and restaurants is the G.W. Carver Interpretive Museum (305 N. Foster St.; 334-712-0933). The museum commemorates the life and legacy of Dr. George Washington Carver and provides a comprehensive look into the historical influences of African-Americans in science, space exploration, the military and other areas. Hailed as an agricultural genius, Dr. Carver developed more than 300 uses for the peanut, more than 100 for the sweet potato, and many others for the soybean – including soybean plastic for car parts. Also downtown, you'll find the E.R. Porter Hardware Museum (136 E. Main St.; 334-792-3158). Porter Hardware operated 125 years – closing in 2014 – and then was reopened in 2018 as a museum. For antique lovers, Dothan also boasts more than 10 different shopping venues downtown and along Ross Clark Circle. Each offers a plethora of treasure-hunting experiences to spice up your road trip.
A Must-Stop: World's Smallest City Block
First-time visitors to Dothan might find maneuvering around the city to be a bit challenging, especially with the downtown area somewhat removed from the main thoroughfare known as Ross Clark Circle. Visitors with a sense of humor, however, might delight in discovering the World's Smallest City Block. From downtown, where U.S. Highways 84 and 431/231 intersect, drive east three blocks along Main Street to Museum Avenue. Turn left and drive north one block to the intersection of North College Street, North Appletree Street and East Troy Street. This triangular piece of land, recorded in the Guinness Book of World Records as the "World's Smallest City Block," features a stop sign, yield sign, street signs and even a monument denoting the block's claim to fame.
State Route 210, also known as Ross Clark Circle, or simply "The Circle" to locals, is a much longer stretch of highway overlaid by U.S. Highways 84, 431/231. The divided four-lane highway encircling Dothan is highly developed and heavily used both by those who live and work in the area and by motorists who use it as a bypass of the city. With a number of antique shops, quaint boutiques and eclectic restaurants lining the thoroughfare, Ross Clark Circle has become a popular retail hub for visitors from Alabama, Georgia and Florida.
Discover the "Peanuts Around Town"
While exploring Dothan, you'll quickly discover it's a town that loves peanuts. In fact, the folks here love peanuts so much that they've created a citywide art project centered on the little goobers. Peanuts Around Town, a novel and nutty public art exhibit to promote downtown Dothan in coordination with local businesses and organizations, enables the citizens of Dothan to celebrate the peanut and the agricultural heritage of the Wiregrass all year long. The project consists of more than 70 peanut sculptures (with others constantly in the works), thematically decorated by local artists. Visitors to the city are encouraged to take the challenge to find all the peanut sculptures, some of which are located in front of local businesses and restaurants, inside museums, in green spaces, on street corners and in parks. Those who want help can find several sites online that have many of the peanut locations mapped out.
Among the popular statues on the tour are: "The Peanut Man," which honors Dothan's own peanut peddler, Byron "Cotton" Traywick who sold boiled peanuts from a stand on Main Street for more than 25 years. Printed on the barrel of the statue placed in his memory on the corner of Ross Clark Circle and West Main Street is one of Traywick's favorite sayings to his patrons, "Have a good day and let the Lord ride with ya." Another favorite is the "hunk of burning love" statue of Elvis Presley that greets tourists at the Dothan Visitors Center. Employees there say the King of Rock 'n' Roll is perhaps the most popular of the peanut characters, as he cost about $2,500 and was known to be taken without permission several times before he was given a permanent home inside the visitor center.
Another nut statue is of a gentleman standing downtown on the corner of North Foster and Main Street. Sporting a gray suit and wide-brimmed hat, he hails travelers to come explore downtown businesses, such as the Poplar Head Farmers Market, which opens each summer. Maps detailing all the sculpture locations are available through The Downtown Group and at the Dothan Visitors Center.
Approximately half of the peanuts grown in the United States are grown within a 100-mile radius of Dothan, AL, which makes the area a natural destination for the nation's largest peanut festival.
Celebrate the National Peanut Festival
The National Peanut Festival (5622 U.S. Hwy. 231 S.; 334-793-4323) is held each fall at the fairgrounds on U.S. Highway 231 S. just three miles south of the Ross Clark Circle to honor peanut growers and to celebrate the harvest season. Numerous fun-filled family events are a part of the festivities, including amusement rides, animal acts, agricultural displays, live music concerts, beauty pageants, arts and crafts displays, contests, food, a parade and, of course, tons of peanuts. The National Peanut Festival dates to 1938 and has grown from a three-day local event to a celebrated agricultural fair encompassing 10 days of activities for people from throughout the region.
More To See and Do in Dothan
When visiting Dothan, you'll find plenty of entertainment for both children and adults. Other road trip options include the Dothan Area Botanical Gardens (5130 Headland Ave. off U.S. Highway 431 N.; 334-793-3224), consisting of 50 acres of cultivated gardens, nature trails and undeveloped, wooded landscape. Adventureland Theme Park (3738 W. Main St.; 334-793-9100) is a family entertainment center featuring two jungle golf courses, go-karts, bumper boats, batting cages and an arcade. Fun Zone Skate Center (465 Westgate Pkwy.; 334-678-7529) houses an indoor skating rink, a laser tag arena and a softplay gym. Water World (401 Recreation Rd.; 334-615-3750), a seasonal attraction which opens each May, offers a giant wave pool, a 400-foot triple-flume water slide, a kiddie pool and the Great White Water Slide.
Not far from Dothan and well worth the 30-minute drive is the U.S. Army Aviation Museum (Bldg. 60000, Novosel St.; 334-598-2508) in Fort Novosel. The museum offers the largest collection of Army helicopters, airplanes and unmanned aircraft in the county. It features historic military artifacts, photos, video kiosks and films and an extensive archives and gift shop.
Where To Eat and Stay
If you're in Dothan's downtown area, stop by the Basketcase Café (228 S. Oates St.; 334-671-1117; map) for an outstanding lunch. While it is noted for its homemade soups, guests will tell you that every item on the menu is absolutely delicious. The Basketcase Café is featured in Alabama tourism's "100 Dishes To Eat in Alabama Before You Die" brochure. Another popular dining destination, Old Mill Restaurant (2557 Murphy Mill Rd.; 334-794-8530; map) is just outside the city. The restaurant has served steaks and seafood — including its popular grouper fingers — in Dothan for more than 20 years.
For your overnight lodging, Dothan offers more than 30 outstanding accommodations for every budget. For more information on dining, lodging and shopping in the area, go to www.VisitDothanAL.com.
Don't Miss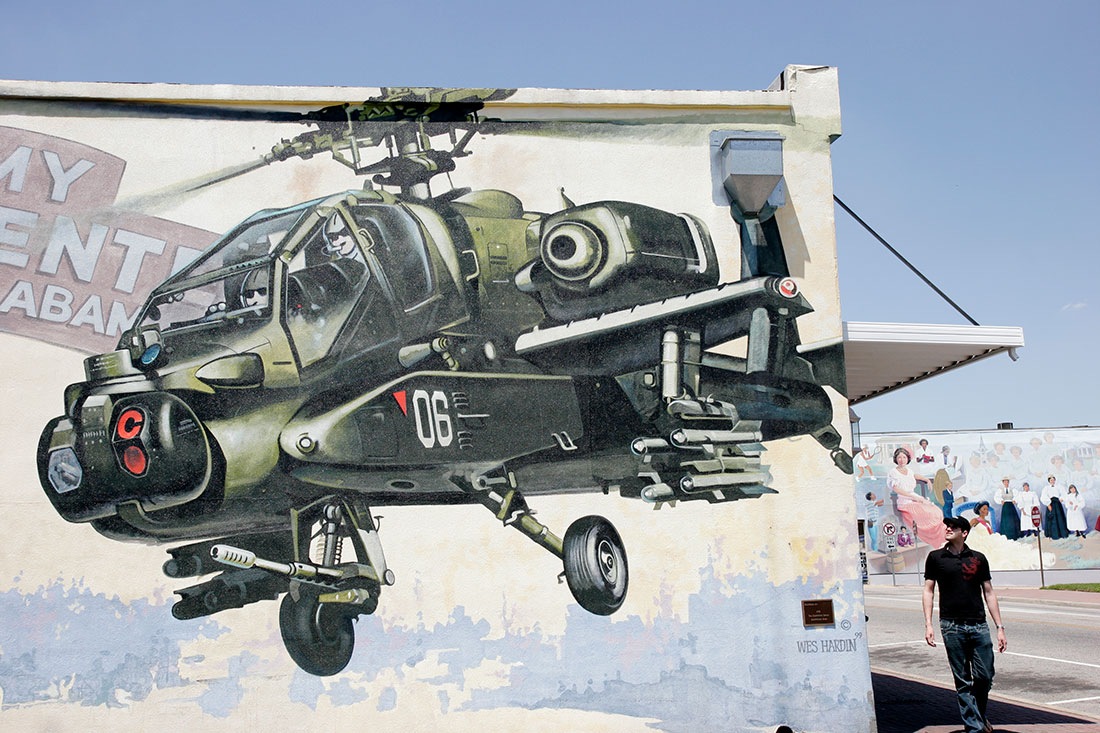 Murals of the Wiregrass
From Landmark Park, head to the heart of Dothan, now known as "Alabama's Mural City." The Murals of the Wiregrass, an ongoing outdoor art project, features 22 murals painted on downtown buildings by nationally and internationally acclaimed artists. Depicting the history of the Wiregrass, the murals range in subject matter from "DeSoto's Journey Throughout the Wiregrass Region" and "Salute to the Peanut Industry" to "Fort Novosel" and "Wiregrass Music."
Captured in the murals are renderings of country and pop singer/songwriter Bobby Goldsboro who grew up in Dothan in the 1940s and football player-turned Hollywood actor Johnny Mack Brown, who was born in Dothan in 1904, played football for the University of Alabama and went on to have a string of hits on the silver screen in country and Western films.