Cullman: Alabama's German Village
by Brian S. Jones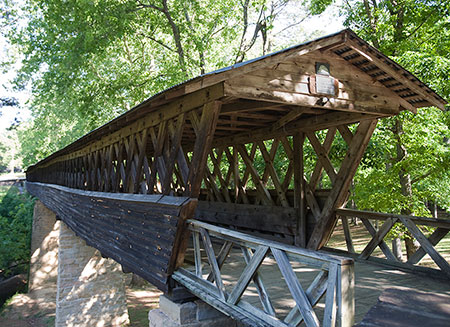 From its Native American and Civil War past to proud heritage as the site of an authentic 1870s German village, Cullman offers travelers plenty to see and do. You can visit a museum dedicated to the town's German founder, explore a local treasure filled with Civil War memorabilia or stroll the grounds of a Benedictine Abbey where miniatures of some of the world's most famous religious shrines can be found. The town is home to three Alabama governors: Jim Folsom, Guy Hunt and Jim Folsom Jr. Cullman is also the site of the Cullman Oktoberfest each fall. Whatever you choose to do on this road trip, you'll quickly discover why Cullman was selected by bestselling authors Gerald Sweitzer and Kathy Fields as one of "The 50 Best Small Southern Towns."
Col. Cullmann and his German Influence
Your starting point for a tour of Cullman is downtown at the Cullman County Museum (211 Second Avenue NE; 256-739-1258). The museum is a replica of the home of Col. Johann G. Cullmann, who founded the town. It houses thousands of historical items dating to the early 1800s. Displays include the Archeological Room with Native American artifacts, a clothing store with outfits from the 1800s, a Main Street exhibit with 19th-century storefronts, and a photo gallery. Located just outside the museum is a brass statue of Col. Cullmann, who is credited with recruiting more than 10,000 German immigrants to come to this country.
Born in the Bavarian region of Germany, Cullmann traveled to America in the late 1860s to escape the revolutions sweeping across Europe. He first settled in the Philadelphia area and then moved to Cincinnati with the goal of one day setting up his own German colony in America, which he eventually did in Cullman. On his travels, he met former Alabama Gov. Robert Patton who suggested that he settle in North Alabama. Cullmann was convinced the location was right for his colony, finding that the geography of the Tennessee Valley reminded him of his native Rhine Valley.
"After traveling around the country and arriving in North Alabama the impression was made upon my mind that if this country was filled up with good farmers, it would be the garden spot of America. I found here all that I had been looking for, all that I regarded as necessary to make good homes: there was here combined these things to an extent not equaled by any other place I had seen." – Col. John G. Cullmann, 1877
In April of 1872, Cullmann and five German families, 10 people in all, left Cincinnati to make the trip to Alabama. By the next year he had recruited 125 families to join the fledgling colony. Land sold for only $1.25 an acre, so each family could afford a small farm of their own. Homes and businesses soon sprang up in the new town center. Cullmann built his own house on a half-block lot at the corner of First Avenue and Third Street Southeast. A hotel was built next to his house at First Avenue and Fourth Street Southeast. Together the two structures made for a very impressive first view of the town when visitors arrived at the nearby train depot.
The city blocks were laid out in perfect squares with wide streets according to Col. Cullmann's specifications. He also had land donated for parks and Protestant and Catholic churches. Cullmann developed a set of zoning laws written to allow shopkeepers to have their businesses on their property and to live there as well. This made for a downtown very similar to a European village. German was the predominant language spoken in the city for decades. The impact that Col. Cullmann had on North Alabama and the German influence he brought to the area is celebrated annually during Cullman's Oktoberfest.
Cullman Oktoberfest began as a one-day festival in 1977 to celebrate Cullman's German heritage. It has grown to a weeklong festival that features authentic German food, costumes, and music. The festival is held the first Saturday in October in Depot Park.
Other Things To See and Do In Cullman
Across the street from the Cullman County Museum is the Cullman Railroad Depot (309 First Ave. NE; 256-739-2948). This pueblo-style stucco building was once used for passenger and freight service. It was fully restored in 1997 and named a Historic Landmark on the National Register of Historic Places. The lobby of the railroad depot has several displays of vintage railroad-related items. A restored red caboose is on display on the east side of the depot, facing Depot Park. This wonderful downtown park has plenty of walkways and a beautiful fountain in the middle.
Downtown Cullman has three historic districts. The downtown business district features unique specialty shops. The residential district of Die Deutsche Kolonie Von Nord Alabama means "the German Colony of North Alabama." It consists of mostly Victorian-type architecture. The nearby Betz Addition Historic District is composed of 72 residential structures dating from the 1800s.
For outdoor enthusiasts, a variety of water recreation awaits at Smith Lake. This 21,000-acre lake has more than 500 miles of shores and deep, clear waters. Access to the lake is easy from Cullman at Interstate 65, exits 299 and 304.
Learn About the Battle of Day's Gap and More
For Civil War buffs, Cullman County offers visitors an opportunity to walk the grounds of an old battle site and tour a museum filled with war memorabilia. During the Civil War, the Cullman area was the site of the Battle of Day's Gap. This battle was part of a set of skirmishes known collectively as Streight's Raid that were fought between the Union forces of Col. Abel Streight and Confederate Gen. Nathan Bedford Forrest. The battle site where Forrest and Streight clashed offers visitors a historic frame of reference for visually recreating the skirmish that left 65 Confederates and 23 Union soldiers wounded. The building known as Penn Cabin was used as a makeshift field hospital for soldiers wounded during the battle. The Battle of Day's Gap was fought just a few miles from present-day I-65 in a community named Battleground. To get there, from I-65 take exit 310, go north on Highway 157 for eight miles and turn west on County Road 1101 to 1082.
Visit the Crooked Creek Civil War Museum In Nearby Vinemont
Travelers wishing to enhance their Civil War experience are encouraged to visit the Crooked Creek Civil War Museum (516 County Road 1127; 256-739-2741) in nearby Vinemont. The museum features displays of numerous authentic Civil War memorabilia, including uniforms and currency. It is housed in an old log cabin on the site of one of the battles between Forrest and Streight. Following a trail that leads from the hilltop museum to the banks of the creek, you can see areas where Union soldiers entrenched themselves for protection from enemy fire. Some of the trenches still have rocks piled around them that were stacked by the Union soldiers. There are picnic tables and covered pavilions near the site.
Where To Eat
The All Steak Restaurant (323 Third Ave. SE; 256-734-4322) has been open in Cullman since 1938. The restaurant was initially called All Steak Hamburgers, until original owner Millard Buchman went to have the sign made and didn't have enough money to add the word "Hamburgers" to it. All Steak quickly became a well-loved gathering place for the residents of Cullman, as well as a traditional stop for many travelers on I-65. The Birmingham News described All Steak as "the place where 'half of Cullman' comes to talk about politics and football." The restaurant is famous for its delicious orange rolls – named as one of the "100 Dishes To Eat in Alabama Before You Die" by the Alabama Tourism Department.
For More Information
For more information on Cullman contact Cullman Area Chamber of Commerce (301 Second Ave. SW; 800-313-5114).
Don't Miss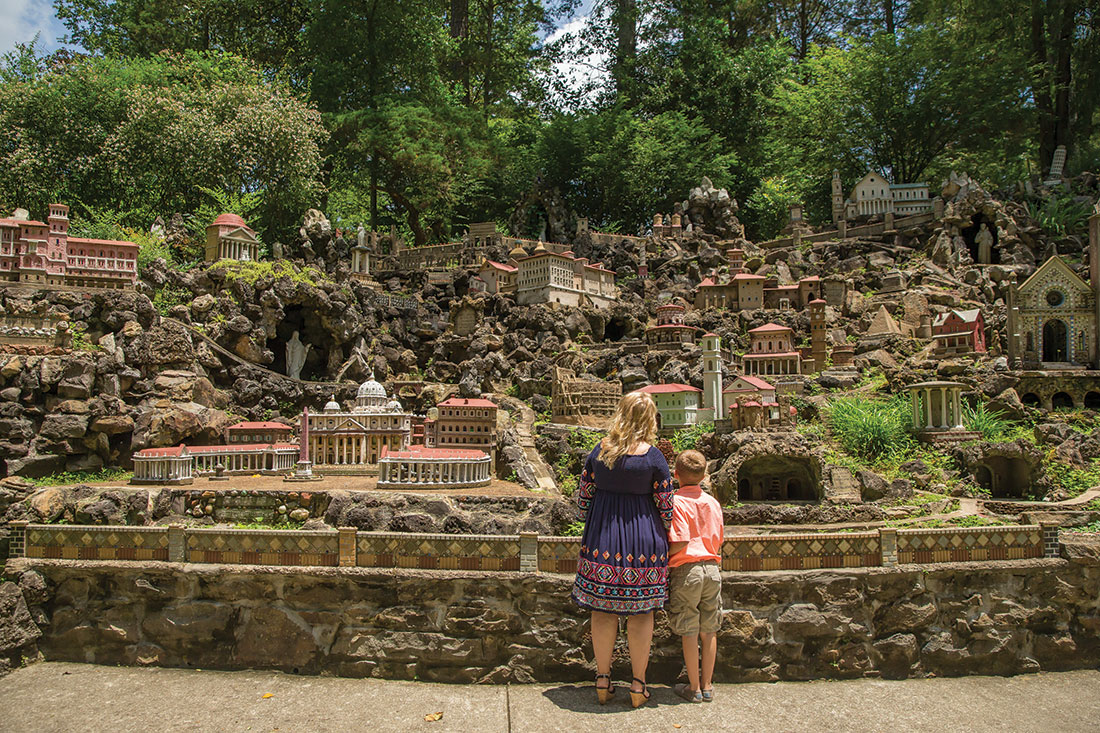 Religious Sculptures in Miniature
About 15 or 20 minutes from downtown is the Ave Maria Grotto (1600 Saint Bernard Drive SE; 256-734-4110), a four-acre, landscaped park on the grounds of St. Bernard Abbey. The Grotto provides a garden setting for 125 miniature reproductions of some of the most famous religious shrines in the world created by Brother Joseph Zoettl, a Benedictine monk.