Create Your Own Classroom on Alabama's Gulf Coast
by Annette Thompson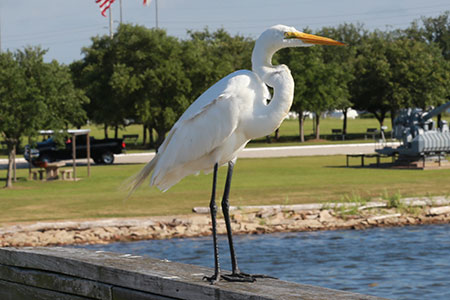 Discover a whole different state of learning along Alabama's 32 miles of white sand and blue waterways. These waterfront classrooms offer core subjects to enrich any student's curriculum.
Combining travel with learning increases the educational value for students at any level. A new study by The Wagner Group for the U.S. Travel Association showed that travel deepens students' understanding of the world and expands their career possibilities.
So pack up your kiddos and plan a beach trip that benefits their reading, writing and arithmetic skills. You can guide students into discussions that teach and enhance their learning while adding educational fun to their travels.
Language Studies
Begin by examining the impact that the Spanish, French, English and Native Americans had on the coastal region. A good start for any educational level is to note the background of place names. Take Mobile, for instance. When Spanish explorer Hernando de Soto visited the area in 1540, he encountered Muscogee natives living in the community of Mauvila. Unfortunately, de Soto's forces burned the village, but the name stayed and evolved to Mobile.
Nearby Dauphin Island was named for an heir to the French crown. The island's New World name came about as a more peaceable moniker than "Isle du Massacre," or Massacre Island, which is what the island was first called when explorers uncovered a mass grave. It was discovered later that the remains were from a burial mound destroyed by storms.
History Lessons
Along the Alabama coast, history lessons abound. The most well-known stories are the Battle of Mobile Bay and the Siege of Fort Morgan (110 State Hwy. 180, Gulf Shores; 251-540-5257). Each year in early August, interpreters reenact the Union's attack during the Civil War. If you can't attend this event, try to visit on Tuesday evenings during June and July when period-costume-clad reenactors lead candlelight tours.
Next, get a glimpse of the past at the city of Foley's 1905 train depot, home of the Foley Railroad Museum's O-gauge model train exhibit (125 E. Laurel Ave.; 251-943-1818). The quarter-mile track provides teaching opportunities to discuss a time when railroads played a major role in local prosperity. Train cars heading out of this coastal agricultural area were generally stacked with potatoes, corn and local flowers such as gladiolus. Add in some mathematical fun by asking questions about proportions on the train's gauge, the amount of cargo in each car and time or distance equations.
Have a student interested in medicine? Also in Foley is the Holmes Medical Museum (111 W. Laurel Ave.; 251-943-1300), located in Baldwin County's first hospital. See a midcentury operating room, surgical instruments, pharmacy and examination rooms.
Visit an Orange Beach schoolhouse from 1910, which is also home to the Indian & Sea Museum (25805 John Snook Dr.; 251-981-8545). Exhibits display snapshots of life at the turn of the 20th century and beyond, with memorabilia from families of early fishermen and farmers. There's also a collection of Native American artifacts.
Science Explorations
The Alabama Gulf Coast is like one big biology classroom. There are plenty of opportunities to learn about animals, environments and marine sciences. A visit to the Alabama Gulf Coast Zoo (1204 Gulf Shores Pkwy.; 251-968-5732) connects visitors with 300-plus wild residents. The zoo's interaction program invites you to hold a kangaroo, let a lemur perch on your shoulder or even play chase with tiny tiger cubs.
For an even wilder experience, explore Bon Secour National Wildlife Refuge (12295 AL Hwy. 180, Gulf Shores; 251-540-7720) where 7,000 acres serve as a rest-and-rehabilitation facility for birds migrating south in the fall and north in the spring. More than 370 bird species have been identified and banded here during migratory seasons. From large ospreys and herons to seven species of hummingbirds, you'll spot feathered friends of all sizes. Take your own brood out with binoculars for a bird count in the maritime forest, sand dunes and swamps or by saltwater and freshwater lakes.
Take a fishing trip to explore another type of school: one of sustainable fish. Many charter captains are certified in sustainable fishing and can teach fun, memorable lessons about the importance of maintaining fish populations. One of the nation's largest artificial reefs sits offshore and includes Lulu, a sunken 271-foot coastal freighter that makes the ideal spot for fishing and scuba diving. Look to orangebeach.com to start your search for a local fishing guide.
You could spend an entire trip focusing on the biological diversity and the importance of wetlands in the region. Start your research at Graham Creek Nature Preserve (23460 Wolf Bay Dr., Foley; 251-952-4011) to wander trails or paddle a canoe or kayak into the wild. Afterward, head to Gulf State Park's Nature Center (20115 AL Hwy. 135; 251-948-7275) for programing that explores coastal eco-zones, plants and the impact of weather. The center features a bog filled with pitcher plants (plants that eat bugs – always a hit with kids), and in spring and fall, the annual monarch butterfly migration fills the trees with the orange and black beauties.
Take a dolphin cruise to study the largest sea mammal in the region. Capt. Bill Mitchell of Cetacean Cruises (251-550-8000) plies the waters of the Intracoastal Waterway on his 52-foot catamaran. Meanwhile, Capt. Ellis Calvert (251-269-0073) pulls up shrimp nets full of wriggling sea life onto the decks of his pontoon boat.
Be sure to check out Ocean Camp (251-802-8605), which offers spring and summer camps that teach lessons on marine and environmental sciences. Director Belinda Ringpfeil sets up half-day, full-day and overnight camps at the Gulf Shores Beach Retreat for ages 5-12.
Art and Play
A well-rounded education includes the arts -- and playtime too. Start at the Coastal Arts Center of Orange Beach (26389 Canal Rd.; 251-981-2787) with glass-blowing sessions with resident artist Adam Burges. Get your hands muddy as you build and throw pots on a pottery wheel, and learn about painting and glazing finished works too.
Get in touch with your playful side on Alabama's beautiful beaches. Teach the kids about tide charts as well as the interdependencies of humans and wildlife. Build a sandcastle, look for shells, walk the fishing pier and observe wild sea oats that help conserve the dunes and protect the area from invasive storm surges and flooding.
Where To Eat
While you're learning about sustainable seafood in your travels from one end of the beach to the other, be sure to drive home the lesson of good health when you stop to eat. LuLu's (200 E. 25th Ave., Gulf Shores; 251-967-5858) is especially kid-friendly, with its own ropes course, plenty of boat watching along the intracoastal waterway and a popular gift shop for scooping up souvenirs. Another can't-miss are the fresh catch dishes at Gulf Shores Steamer (27267 Perdido Beach Blvd., Orange Beach; 251-948-6344), offering a large menu for kids and adults.
Where To Stay
One of the best places to lodge along the coast is in a rental house or condo. You save money by having your own kitchen and you have access to a washer and dryer along with a bit more room to relax in privacy. Start your search at gulfshores.com.
When only a resort will do, the two blue towers in Orange Beach known as Turquoise Place (26302 Perdido Beach Blvd.; 800-210-7914) offer stylish and comfy accommodations. The three- and four-bedroom units boast full luxury amenities – a grill and hot tub on the balcony overlooking the Gulf, gourmet kitchen and a private bath for each bedroom.
Don't Miss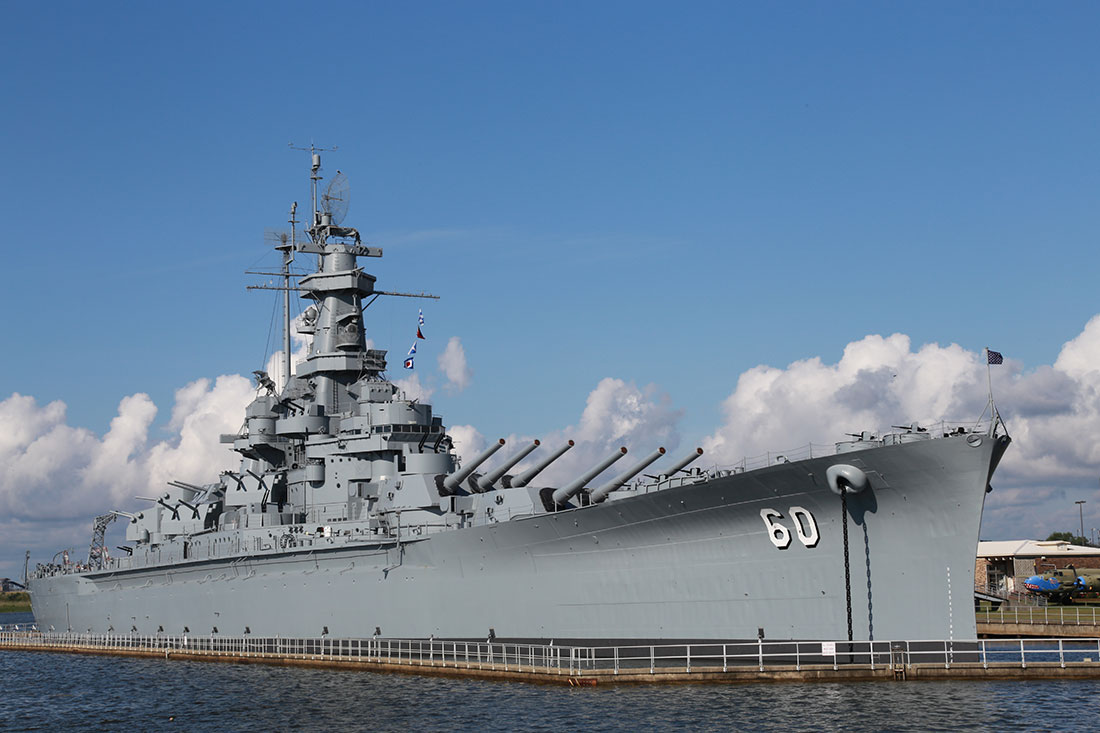 USS Alabama
Get a lesson in 20th-century warfare at Battleship Memorial Park (2703 Battleship Pkwy.; 251-433-2703) in Mobile. Walk the decks of the USS Alabama, go below in a World War II submarine, and view aircraft, tanks, a Vietnam War-era river patrol boat, and a plane like those flown by the Tuskegee Airmen.