Crave the Coast: A Gulf-Side Trip for Food Lovers
by Dana Kasuba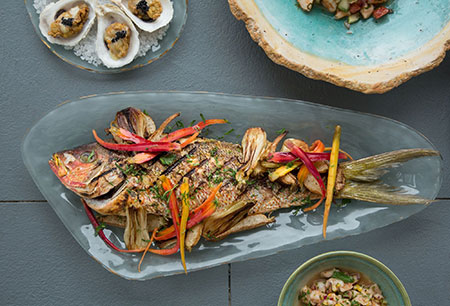 Next time you visit the pristine beaches of Alabama's beautiful Gulf Coast, up the culinary ante with the delicious destinations and dishes the area has to offer. Local chefs are turning up the heat on coastal dining, combining original flair with the region's rich seafood traditions. In restaurants casual and upscale, a new crop of culinary darlings is taking prized fresh, wild Alabama seafood in many deliciously unexpected directions. Savoring all the new flavors is best done over the course of a weekend. So pack your bags and your appetite!
Big, Bold Breakfast
Begin your foodie trek through Baldwin County with breakfast at the delightful Brick & Spoon (24705 Canal Rd.; 251-981-7772), just east of The Wharf. This popular, casual eatery makes good on its mantra of "expanding your culinary comfort zone." The fresh-roasted coffee and expansive list of barista-fashioned java drinks are delightful. But don't miss the Big Spoon Bloody Mary, a massive, build-your-own concoction that's almost a meal in itself. You can choose from among 50 traditional and unique ingredients, including bacon, pepper jack cheese or a seafood-stuffed egg.
The restaurant also serves traditional omelets, crepes and shrimp and grits. But inventive hits such as Korean BBQ Eggs Benedict and "Deviled on the Bayou" – tasso-deviled eggs topped with fried oysters – deserve your taste buds' attention. And try the crab beignets with Creole mustard aioli for a satisfying and savory foil to the well-known, sugar-dusted confection.
Coastal Cuisine Gets Creative
After 12 years exploring New Orleans' robust culinary scene, Johnny Fisher returned to his native Alabama with a passion for raising the bar on coastal food offerings. He is the creative genius behind several successful restaurants in the area – most recently his namesake at Orange Beach Marina, Fisher's (27075 Marina Rd.; 251-981-7305). Fisher's is actually two restaurants in one: Dockside, the casual lower-level eatery, and the sophisticated Upstairs, which is open only for dinner. Executive Chef Bill Briand (mentored by Emeril Lagasse and Donald Link of New Orleans' Couchon) masterfully combines simple flavors into spectacular dishes using seafood from local fishermen and vegetables from local farmers.
Fisher's Upstairs offers a lovely dinner experience, and reservations are recommended in the peak season. Start with the perfectly tart and sweet Saltwater Margarita. Made with fresh-pressed lemon and lime juices and topped with fluffy, homemade saltwater foam, this inventive cocktail delivers the right balance of sharp citrus and refreshing sweetness with each sip.
For a little Creole flair, order the ham and green onion hush puppies, but save room for the seared jumbo scallops. These premium, dry diver scallops are paired with roasted cauliflower and ginger herb salad. The West Indies-inspired décor deserves as much praise as the food. Walls the color of water, breezy white drapes and mahogany trim transport you to a whole new level of vacation.
A True Field Trip
Point your car north for a scenic field trip through the patchwork farms of central Baldwin County to procure locally made fare. Head north on Highway 59 to your first pit stop at Kitty's Kafe (3800 Gulf Shores Pkwy., Suite 100; 251-948-5233), where you'll fuel up with a hearty Southern breakfast. Don't let the setting in an outdoor shopping center fool you: Locals lap up Kitty's soulful, hearty dishes such as Kountry Eggs Benedict, made special with the addition of fried green tomatoes. Fluffy biscuits, loaded omelets and flapjacks also await.
Now that you're powered up for the day, head back to Highway 59 and drive north to the intersection of Highway 98 in downtown Foley. Turn right and continue east on 98 about eight miles, passing pecan orchards, rolling hills and grazing horses. Eventually, you'll see a handmade sign on your left announcing Sweet Home Cheese. Step inside the cozy shop at Sweet Home Farm (27107 Schoen Road, Elberta; 251-986-5663) where the real prize awaits: 16 varieties of homemade cheese aged for a minimum of 90 days. For 30 years, husband-and-wife farmers Doug Wolbert and Alyce Birchenough have been happily serving samples and selling cheese from this postage-stamp-sized shop.
Where to start? Try the Tuscany, a mild cheese perfectly seasoned with basil, tomato and garlic. Along with traditional favorites like feta, jack and cheddar, the variety known as Elberta – a slightly tangy and creamy house recipe – is quite popular. You can pick up crackers, jams and jellies here to accompany your cheese purchase too. But your Sweet Home sojourn simply isn't complete without a sample of the cheese fudge, the perfect chocolate dessert. Avoid the regret: Buy a half-pound of this creamy confection for later!
The next stop on your culinary expedition? The Coastal Alabama Farmers & Fishermen's Market (20733 Miflin Rd.; 251-943-1545). This impressive outdoor market opened in 2013 to rave reviews. Browse the stalls where knowledgeable growers eagerly speak about their provisions, from just-plucked seasonal vegetables and links of European-style sausage to homemade breads, pies, jams and preserves. From the assortment of fresh-never-frozen seafood, you can choose from Gulf shrimp, bay shrimp, oysters, tuna steaks, lump crabmeat, crab claws and soft-shell crabs. Seasonal nuts and hand-picked fruits make healthful eating an easy choice.
End the day savoring Baldwin County's greatest treasure: sunsets. The Gulf (27500 Perdido Beach Blvd.; 251-424-1800) provides an expansive view. This eclectic outdoor paradise overlooking Alabama Pass offers an open-air bar and simple, farm-fresh food. The chalkboard menu changes regularly, but the fare is always solid, whether you choose a citrus-topped salad, po'boy, Kobe-beef burger or grilled fresh catch. Place your order at the window, then grab a seat for a memorable alfresco dinner. Upstairs offers the best panoramic views, but downstairs, the comfy white sofas and picnic tables lit by palm-strung lights ensure a charming, coastal vibe.
Learn the Art of Cooking: Gulf Coast Style
Faulkner State Community College offers hands-on cooking classes throughout the year in the well-outfitted kitchens of its Gulf Coast Culinary Institute in Gulf Shores. Class topics change, but past aspiring gourmands have been treated to the Essentials of Provençal Cooking (think rustic tapenades and aromatic stews), the Essentials of Tuscan Cooking (favorites like flavored risotto and anise biscotti) and a host of cake and confection options. Most classes last three hours, have a maximum of 15 participants and are a great value at just $30 to $55. To learn more, call 251-990-0445 or 251-968-3101, extension 0445.
Where To Stay
For an off-the-beaten path choice, historic Magnolia Springs Bed & Breakfast (14469 Oak St.; 251-965-7321) offers Southern hospitality in a storybook, small-town setting about 25 miles northwest of Gulf Shores.
Don't Miss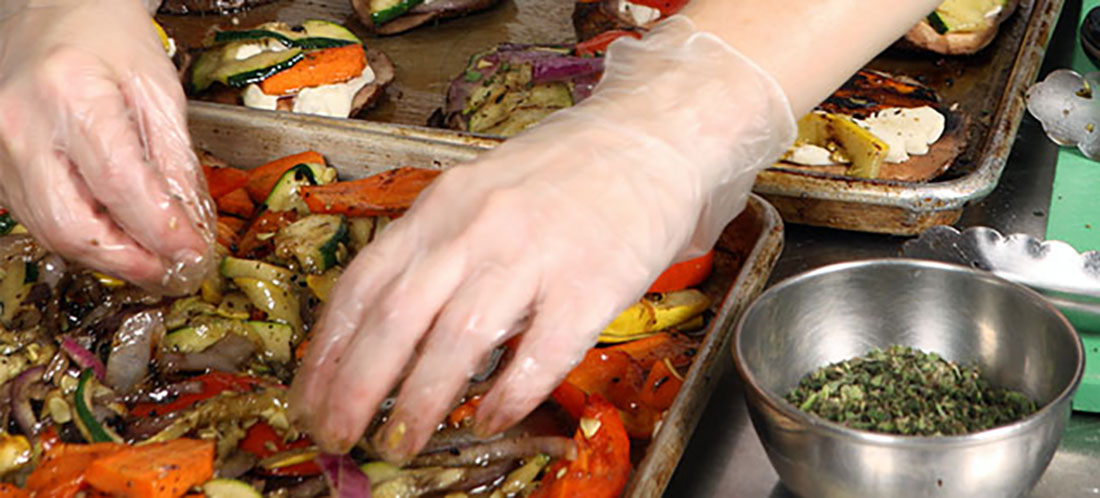 Alabama Festival of Flavor
Celebrate the best of Alabama coastal cuisine at the annual Alabama Festival of Flavor the third Saturday in October. Set in the quaint streets of downtown Foley, the free festival offers a bounty of interactive epicurean experiences. You'll learn secrets of traditional Southern recipes from notable local chefs, acquire tips on creating an organic garden and sample a cornucopia of fresh, flavorful local foods. For more information, contact the South Baldwin Chamber of Commerce at 251-943-3291.