Get ready to travel to Birmingham, Alabama's largest city, for a stroll through historic downtown. On this walking tour, you will go to the place where hot peanuts have been sold for more than 100 years and stroll through shops filled with memories. You will also visit important civil rights sites such as Sixteenth Street Baptist Church and the park that was the staging ground for protest marches during the Civil Rights Movement of the 1960s. You will stand at the very spot where buildings were constructed on each corner of the street that were so tall for their day they were called skyscrapers and the location became known as the "Heaviest Corner on Earth."
Where To Stay
Once you arrive in Birmingham, check into any of the wonderful downtown hotels such as the historic Tutwiler (2021 Park Pl.; 205-322-2100), Birmingham's oldest hotel, or the Redmont (2101 Fifth Ave. N.; 205-957-6828), Birmingham's oldest continually operating hotel and where Hank Williams' last night in Alabama was spent in room 907 before his death in West Virginia on Jan. 1, 1953.
This is an approximately four-mile daytime walk and a one- or two-day experience, depending on the time you spend at each stop. Only major restaurants and night-life establishments are open after 5 p.m.
Discover Birmingham's Oldest Churches
The Tutwiler and Redmont are located a block apart, close enough that in many of the rooms you can look out your window and see the other hotel. From either of these historic hotels, walk south on Richard Arrington Jr. Boulevard North., where you will quickly come to First Presbyterian Church (2100 4th Ave. N.; 205-322-5469). Turn left and walk east on 4th Avenue to go past the front of the church.
First Presbyterian is one of Birmingham's first churches, dating to 1872. The present red brick, Victorian Gothic-style church building was built in 1888 with other enhancements being added through the years. Twenty-five bells manufactured in England were placed in the bell tower in 1924.
Continue east on 4th Avenue North to the corner of 22nd Street North, turn right and walk one short block to 3rd Avenue North and turn right. By now you should have noticed another one of Birmingham's first churches, The Cathedral of St. Paul (2120 3rd Ave. N.; 205-251-1279).
Known for its many elegant stained-glass windows, The Cathedral of St. Paul, completed in 1893, has been called "the most highly developed Victorian Gothic structure in the South."
Enjoy Unusual Shopping
From The Cathedral of St. Paul, continue walking west on 3rd Avenue North to find some unusual stores in the middle of the next block between Richard Arrington Boulevard North and 20th Street North.
Walking in this direction, you may first notice the old Goodyear Shoe Hospital sign hanging outside that establishment (2016 3rd Ave. N.; 205-252-7346). Walk inside and ask for Rhonda Patton. She can tell you a lot about Birmingham and repair your shoes at the same time.
Across the street is Alabama's first fair trade store, Sojourns (5520 Crestwood Blvd.; 205-323-5680). This store is filled with items from artists around the world and a pledge that they receive a living wage for their work. Meet owner Melissa Kendrick inside.
Check out the Loft District
Ironically, to visit Birmingham's famous store What's On 2nd (2323 1st Ave N.; 205-322-2688) you must head over to 1st Ave. N. While Reed Books and the Museum of Fond Memories is more of a paper-based collectible store, What's On 2nd contains more quirky collectibles and random treasures. On Saturdays, the curious store, Birmingham Oddities (101 23rd St N.; 205-664-5347) opens. This store houses many collectibles that cannot be seen anywhere else in Birmingham, such as handmade voodoo dolls, tribal human trophy skulls, and pieces from local artists.
But that's not all that's on 2nd Avenue. You can check out more than a dozen food stalls and restaurants at The Pizitz Food Hall (1821 2nd Ave N.; 205-939-3111), which The New York Times called "foodie's heaven." Opened in the newly restored Pizitz Building it offers not only the best Southern food, but more than 10 stalls serving international cuisine.
Explore Railroad Park, Regions Field and Cobblestoned Morris Avenue
Check out the Rotary Trail (2098 1st Ave. S.; 205-251-1995) where visitors can take a half mile walk in the city. After this, head to Railroad Park (1600 First Ave. S.; 205- 521-9933) only a couple blocks away. This 19-acre green space located downtown is sometimes called Birmingham's living room. This is a great place to take a walk, run or enjoy a summer picnic. Each winter an ice rink is set up so the public can enjoy some public ice skating. Walk through this beautiful park and make your way to Regions Field (1401 First Ave. S.; 205-988-3200). Check out the Birmingham Barons baseball team. Access their schedule to be sure you can catch a game during your visit. After the game, take a short walk to the Good People Brewing Company (114 14th St. S.; 205-286-233) for samples at the taproom.
Visit the "Heaviest Corner on Earth" and McWane Science Center
From Regions Field, retrace your steps till you get back to Morris Avenue and 20th Street. Turn left and go one block to First Avenue North. Look around and you will see four buildings that were finished within a few years of each other: the Woodward Building (1902), Brown Marx Building (1906), Empire Building (1909) and the American Trust and Savings Bank Building (1912). At the time, the height and mass of the buildings were so impressive that the intersection of 1st Avenue North and 20th Street was proclaimed the "Heaviest Corner on Earth." The Empire Building has become the Elyton Hotel (1928 1st Ave. N.; 205-731-3600), which preserves details such as the marble staircase, antique chandeliers and exterior carvings and columns, while creating a boutique hotel with a posh restaurant called The Yard and a casual rooftop bar and eatery named Moon Shine. To experience what life must have been like when the skyscrapers were built, eat in the fine dining Café DuPont on 20th Street North near the corner (113 20th St. N.; 205-322-1282).
The only way to photograph all four buildings in one shot is to stand on one of the corners and point your camera directly skyward. If your camera has a wide frame of view, you should be able to at least get the tops of what were once the skyscrapers of their day.
From 20th and 1st Avenue, walk north up 20th Street to 3rd Avenue and turn left. Keep walking, and when you reach 19th Street and Third Avenue North, you will see the McWane Science Center (200 19th St. N.; 205-714-8300), located in the former Loveman's department store.
Check Out the Theatre District
Next up on the tour is the Theatre District of Birmingham. This district is located toward 3rd Ave. N. and 18th St. N. Here, the historic Alabama Theatre (1817 3rd Ave. N.; 205-252-2262) has been beautifully restored, so be sure to check the marquee to see if a performance is scheduled during your stay.
After the show, cross the street from Alabama Theatre to Revelator Coffee (1826 3rd Ave. N.; 205-252-2262) for coffee and donuts. On the corner of 3rd Ave and 18th Street, the Lyric Theatre has been beautifully restored to its former splendor. The The Red Mountain Theatre Company (1600 3rd Ave S.; 205-324-2424), with its Cabaret Theatre located on the bottom floor of the historic Kress Building, is also nearby if you wish to attend a performance.
Explore Historic 4th Avenue and the Civil Rights District
Walk north on 18th Street for one block and then turn left at 4th Avenue North and walk into Eddie Kendrick Memorial Park. It will be easy to find because you will hear Temptations music playing. Kendrick, who was born in Birmingham in 1937, added an "s" as his stage name and was a lead singer for The Temptations.
You are now in the 4th Avenue North Historic District, a place that was once the black business district. At the next corner, walk inside the visitor's center at the Urban Impact non-profit agency (319 17th St. N.; 205-328-1850). They will be happy to provide you with the history of the district. Be sure to inquire about the one-hour tour of the area.
Across the street is the Alabama Jazz Hall of Fame (1631 4th Ave. N.; 205-254-2731). This art-deco museum honors great jazz artists such as Nat "King" Cole, Duke Ellington, Lionel Hampton and Erskine Hawkins. Be sure to go upstairs and look through the window facing the Masonic Temple building where great jazz performers once played. From the Alabama Jazz Hall of Fame walk cross the street to read the historic sign at the northeast corner of 17th Street North and 4th Avenue North.
Next walk one block north on 17th Street and enter Kelly Ingram Park at the corner of 17th Street North and 5th Avenue North where you will see a limestone sculpture depicting three ministers – John Thomas Porter, Nelson H. Smith and A.D. King, kneeling in prayer. You are now in the heart of Birmingham's Civil Rights District.
The four-acre park you are now walking in was the staging ground for large-scale demonstrations during the Civil Rights Movement in Birmingham. Bronze statues depict the historic events. In 2017, the Birmingham Civil Rights District was designated as a national monument. The designation includes not only the park but the A.G. Gaston Motel, the neighboring Birmingham Civil Rights Institute, the 16th Street Baptist Church, Bethel Baptist Church, the Colored Masonic Temple, St. Paul United Methodist Church and portions of the 4th Avenue Business District.
Be sure to call ahead to the key destinations you plan to check out to make sure they will be open during the time of your visit.
At the opposite corner of the park, you will find a statue of Dr. Martin Luther King Jr. facing the Sixteenth Street Baptist Church (1530 6th Ave. N.; 205-251-9402), where four young girls died from a Ku Klux Klan bombing. Walk inside the church and ask when the next tour starts. There are no tours on Sunday, but the congregation welcomes you to worship with them.
Across the street is the Birmingham Civil Rights Institute (520 16th St. N.; 205-328-9696). Go inside to see the cell where Dr. King was imprisoned when he wrote "Letter from a Birmingham Jail," part of the museum's Civil Rights Movement experience.
From this area, walk three blocks east on 6th Avenue North to the corner of 19th Street North. Here, you will pass by another of Birmingham's historic churches, First Church (518 19th St. N.; 205-254-3186), founded in 1872.
Walk Around Linn Park
At the corner of 19th Street and 6th Avenue North, turn left and walk the short block to Park Place. Walk east on Park Place where you will quickly see Linn Park. Walk diagonally through the park to the Birmingham Museum of Art (2000 Rev. Abraham Woods Jr. Blvd.; 205-254-2565). Considered one of the finest regional museums in the United States, you can spend half a day touring. If you have only one hour to visit, the museum has a list of the top 12 works of art that are a must-see.
From the Museum of Art, take the brick-lined pedestrian path between the museum and Boutwell Auditorium. This walking path will take you safely under Interstate 20/59 to the Birmingham-Jefferson Convention Complex (2100 Richard Arrington Jr. Blvd. N.; 205-458-8400). As you exit the pedestrian walkway, you will see the Birmingham-Jefferson Convention Complex directly in front of you. Turn right and walk one block to the Sheraton Hotel. Turn left and walk along the sidewalk of Richard Arrington Jr. Boulevard North. The street and sidewalk will bend to your right. At the next intersection, on your left you will see the Alabama Sports Hall of Fame (2150 Richard Arrington Jr. Blvd. N.; 205-323-6665). Displayed inside are over 5,000 sports artifacts. See if you can find those from Jesse Owens, Hank Aaron, Joe Louis, Willie Mays and Carl Lewis, five of the top 15 ESPN North American athletes of the 20th century.
From the Alabama Sports Hall of Fame, continue on Richard Arrington Jr. Boulevard north for one more block to arrive at the Uptown Entertainment District (2221 Richard Arrington Jr. Blvd. N.; 205-323-6665). Currently located in Uptown is The Westin Birmingham (2221 Richard Arrington Jr. Blvd N.; 205-307-3600). Todd English P.U.B. (2221 Richard Arrington Jr. Blvd. N.; 205-307-3700) is owned by the four-time James Beard Award winner, Todd English, who puts a delicious spin on traditional comfort foods as well as provides and expansive bar selection.
Close to this area, on 12th Avenue near Carraway Boulevard, a Topgolf (1111 24th St. N.; 205-847-5757) facility opened in December 2017.
From Uptown, return to the corner with Alabama Sports Hall of Fame on the opposite side of the street. You are at Richard Arrington Jr. Boulevard North and 22nd Street North. If you take a left and walk one block toward I-20/59, you will come the office of the Greater Birmingham Convention and Visitors Bureau. Go inside for tourist information.
Exit from the Visitors Bureau and walk down Ninth Avenue North back toward the Birmingham Birmingham-Jefferson Convention Complex to safely walk under I-20/59 and return to Linn Park.
Walk back through Linn Park, this time along the east side. There are many statues in the park, but along this route you will find a miniature Statue of Liberty, a statue of Thomas Jefferson and a marble statue honoring teacher Mary Cahalan just outside the entrance to the Linn-Henley Research Library.
Built in 1927, the Linn-Henley Research Library building itself is a work of art, but be sure and see the large mural paintings on canvasses hung high inside and notice the library's beautiful ceilings.
In case you need to rest from your walking tour, the Tutwiler Hotel is directly across the street and the Redmont is one block way, south on Richard Arrington Jr., Blvd North.
Try the Best Peanuts in Town
After walking around downtown, head across the highway to try the famous peanuts from Alabama Peanut Company for complete tourist information (2016 Morris Ave; 205-538-7422), where they have been roasting peanuts for more than 100 years using antique roasters and their time-honored method of not adding oils or preservatives.
Getting Around
Most everything downtown is within walking distance, but to make getting around a little easier, Birmingham introduced the Zyp Bike program. With this program, you can activate a pass to borrow a bike for 45 minutes or less, then you can return it to any Zyp station located all around the city.
If you'd like transportation that requires a little less zip on your part, The Blue Line Dart Trolley runs north and south on 20th Street downtown with a turnaround at Cobb Lane on the south end and the Birmingham-Jefferson Convention Complex on the north end. The cost is only a quarter. There are also two other trolley circle routes, a red and green line, that operate in downtown Birmingham. Go to the Greater Birmingham Convention and Visitors Bureau for complete tourist information (2200 9th Ave. N.; 205-458-8000).
The Birmingham Parking Authority (205-254-2330) operates 10 parking garages downtown and two surface lots. There is also metered street parking.
Memories of the Magic City
Don't forget to document your memories in the Magic City with photos. Near Railroad Park, you can make your way to Morris Avenue, just past 1st Ave. N., to discover one of the most photogenic places in Birmingham. Snap a photo on the cobblestoned roads that will take you to a different time and place. Another place to snap an unforgettable picture is at the famous "It's nice to have you in Birmingham" mural (112 Richard Arrington Jr. Blvd N.) Lastly, during your evening travels, take a selfie at the color tunnel (99-1 14th St. S.). This tunnel creates some of the most amazing-and color-filled pictures in Birmingham.
Don't Miss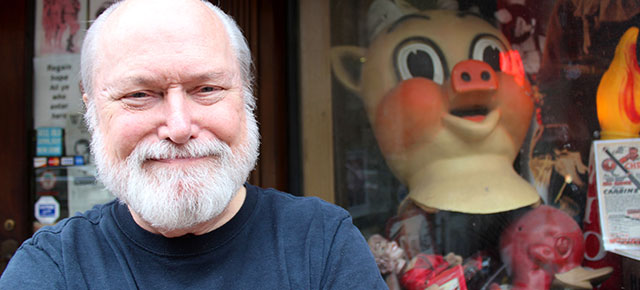 Jim Reed Books and the Museum of Fond Memories
At Jim Reed Books and the Museum of Fond Memories (2021 3rd Ave. N.; 205-326-4460), you will find owner Jim Reed among the rows of collectible items. Rare books, movie posters, old newspapers and an assortment of other items fill the store. There are almost 50,000 items inventoried here with another 250,000 not cataloged, which makes browsing through the aisles easily a one-hour stay.
Until the items are sold, the storefront windows display an original telephone switchboard, the exact model used by Lily Tomlin as she gave her famous line "one ringy-dingy" on the TV show "Rowan and Martin's Laugh-In"; a large Piggly Wiggly grocery store costume head; and a one-leg lamp like the one in the movie "A Christmas Story."
Take the time to ask Reed if you can hold one of his sheepskin leather-bound books dating back 400 years. Just the feel of holding a book that was around when your ancestors were alive will take you back in time long before iPads and Kindles, when owning books was a sign of wealth.