Take Off on Alabama's Aviation Road Trip
by Debbie Wilson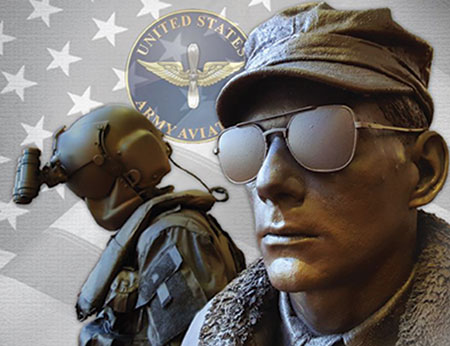 Point your compass to sites around Alabama where generations of creative minds dreamed of soaring high above the earth. From the pioneering Wright brothers who opened the nation's first civilian flying school on the outskirts of Montgomery in 1910 to the brave Tuskegee Airmen who fought against racial injustice in the skies during World War II and the rocket scientists of the 1950s who transported astronauts to the moon, you will find Alabama's aviation stories inspiring. Your close encounters with Huntsville's magnificent rockets, Mobile's battleship and submarine, Tuskegee's fighter planes and Birmingham's "everything aviation" museum begin on the ground and in your car. So get ready to soar through the state.
Battleship Memorial Park in Mobile
Begin your road trip through aviation history in Mobile, Alabama's oldest city that dates back to 1703. The USS Alabama Battleship (Battleship Memorial Park, 2703 Battleship Pkwy.; 251-433-2703) is moored in Mobile Bay surrounded by one of the most impressive military parks in America. Before boarding the battleship, visitors are invited to stroll through Alabama's "history with wings" inside the park. Check out the Mach 3 A-12 Blackbird super-secret spy plane, the B-52 bomber named "Calamity Jane" and the Tuskegee Airmen's P-51D Mustang. Additionally, there are 22 other aircraft and weaponry from all branches of the military to explore.
Aboard the battleship, you will discover how this historic vessel won nine battle stars during World War II. Outfitted with 129 guns, four engine rooms, four propellers and armor as thick as 18 inches, the USS Alabama was a powerful force. Although the world celebrated the growth of aviation for the general population, the danger of attacks from the air was a cause of great concern during the war.
The USS Alabama launched numerous rounds of ammunition from her deck and used massive guns to defend our country from aerial attacks. Expert sailors utilized the ship's state-of-the-art radar system to find and shoot down enemy warplanes. All hands were on deck as her mighty guns were aimed skyward.
Detailed exhibits will enlighten you about the complexities of building a fortress on water as you tour this grand structure. A tour of the seamen's quarters will give you a feel for what life was like for the multitude of sailors who called the ship home.
Battleship Memorial Park, located just off of I-10 at exit 27 or 30 on Battleship Parkway (Highway 90/98), offers a variety of experiences for guests, including overnight stays and special events.
U.S. Army Aviation Museum, Fort Rucker
One of the largest collections of military helicopters in the world is at the U.S. Army Aviation Museum (6000 Novosel St.; 888-276-9286) in Fort Rucker. Get a feel for the technological advances of rotary-wing aircraft with an up close and personal view of the special operations chopper dubbed "Razor's Edge." The helicopter was on the battlefield in Afghanistan in 2012 as part of the 160th Special Operations Aviation Regiment.
In addition to this special aircraft, more than 160 military aircraft are displayed throughout the museum, offering aviation enthusiasts exploration aplenty. To enhance your visit, stop by the Enterprise Community College nearby to learn about Alabama's only comprehensive Federal Aviation Administration certified aviation maintenance training program.
All visitors to Fort Rucker ages 16 and older must have a photo identification. Vehicle operators must present a valid driver's license, vehicle registration and proof of insurance to drive onto the base. For security reasons, access to Fort Rucker may be restricted at times, so call ahead before making your final travel plans. Guided tours are available by request but must be arranged in advance.
The Wright Stuff, Montgomery
From Fort Rucker, head to Montgomery, where in 1910 Orville and Wilbur Wright established the nation's first pilot training school. The brothers were engineers and tinkerers who founded the Wright Cycle Company in Dayton, Ohio, in 1892. While the bicycle business sustained them, they began to experiment with kites, gliders and other flying machines and carried out their first successful piloted flight at Kitty Hawk, N.C., in 1903. Within a few years of that extraordinary feat, the brothers relocated to Montgomery. Although their stay in Montgomery was short-lived (less than a year), the brothers ushered the city into aviation history by conducting the first recorded night flight at the site now occupied by Maxwell Air Force Base.
Before beginning the next phase of your adventure, stop at Martin's (1796 Carter Hill Rd.; 334-265-1767) for a lunch of home-cooked Southern classics. Don't miss the fried chicken – it alone is worth the trip.
At Wright Brothers Park (544 Maxwell Blvd.; 334-625-2300), you can enjoy a picnic and see a full-scale replica of the Wright Brothers flying machine while taking in a view of the Alabama River. The strip from Maxwell Air Force Base to the heart of downtown Montgomery near Riverwalk Stadium has been completely revitalized with walking and biking paths and refurbished businesses replacing old housing projects and used car lots, which makes for a scenic drive any day of the week. To reach the park, take Exit 72 off of I-65 to Heron Street and North Holt Street to Maxwell Boulevard.
Stay the night in Montgomery at the Red Bluff Cottage Bed & Breakfast (551 Clay St.; 334-264-0056) and enjoy all the comforts of a luxurious getaway without compromising on a prime downtown location.
Tuskegee Airmen National Historic Site
From Montgomery, head east to the Tuskegee Airmen National Historic Site(1616 Chappie James Ave.; 334-724-0922) to learn about the brave African-American pilots who flew with distinction during World War II. As the 332nd Fighter Group of the U.S. Army Air Corps known as "Red Tails," the Tuskegee Airmen fought Nazism overseas and segregation at home to become some of the most decorated pilots of all time. The movie Red Tails, released in 2012 and available on DVD, shows on the big screen the exploits and heroism of the all-black unit.
The flying adventures of the Tuskegee Airmen started at Moton Field, an airport built between 1940 and 1942. Trained and mentored by the legendary Charles "Chief" Anderson, instructor for the military flight-training program at Tuskegee, the airmen inspired revolutionary reform in the armed forces and paved the way for full-scale integration in all branches of the military. These brave men confronted and overcame many obstacles to prove they had the right stuff to succeed in the world of aviation. They were awarded numerous awards and citations for their bravery in combat, including the Congressional Gold Medal.
Visit the museum site operated by the National Park Service and you will see aircraft and photographic exhibits and read inspiring stories that detail the significance of the Tuskegee Airmen in our military, aviation and civil rights history. Let your imagination take flight in Hangar #1, which houses two training airplanes – a PT-17 Stearman and an A J-3 Piper Cub, the type of aircraft in which first lady Eleanor Roosevelt took her historic flight with Chief Anderson. To reach the Tuskegee Airmen National Historic Site, take Exit 38 off I-85 and follow the signs.
Want To Know More
The Southern Museum of Flight hosts a variety of educational activities for school groups, scouts and more. The facility also serves as a venue for special occasions and events, including birthday parties and weddings. Summer camps are offered for young flyers and junior aviators. The museum is located off I-59, Exit 129, two blocks from the Birmingham-Shuttlesworth International Airport.
Fly, Rocket, Fly!
Next stop, Huntsville. Scientist Wernher von Braun and his German rocket team arrived in Huntsville in 1950 to work for the U.S. Army, marking the beginning of Alabama's major role in space exploration.
The U.S. Space & Rocket Center (One Tranquility Base; 800-637-7223) serves as your gateway to learning about the achievements of Alabama's aviator warriors as well as the greatest aviators worldwide. Its the largest and most comprehensive space flight museum in the world and its interactive exhibits allow visitors to touch, ride and sit inside them to experience what it is like to be an astronaut, a rocket scientist or a spectator in man's age-old dream of space exploration.
Mission accomplished! At the U.S. Space & Rocket Center, check out the desk where Wernher von Braun worked as a director of the Marshall Space Flight Center. On the desk is his 1969 calendar on which he penciled on July 20 "lunar surface achieved."
The U.S. Space & Rocket Center, located off I-565 at Exit 15, includes Rocket Park, an IMAX Theater, the Davidson Center for Space Exploration, and Space Camp. The camp was conceived by von Braun as a place that would inspire generations of space explorers from all parts of the country. It opened in 1982 and today has participants from all 50 states, territories and more than 60 foreign countries. Space Camp offers an immersive experience and includes classroom instruction and hands-on training and simulations. Camps are available for students in fourth grade through high school.
Follow up your out-of-this-world tour with a meal at G's Country Kitchen (2501 Oakwood Ave. NW #5; 256-533-3034), an establishment that encourages families to forgo the premade kids meals of other eateries in favor of G's made-to-order burgers, fish and a large variety of homemade sides. There's something for everyone on this menu full of good home cooking.
Want To Learn More?
Other contributors to Huntsville's aviation story include the U.S. Army's Redstone Arsenal and NASA's Marshall Space Flight Center, which is located at the arsenal. While tours of Marshall are not currently available to the general public, you are invited to spend extra time at the U.S. Space & Rocket Center, which serves as Marshall's visitor information center. Here, you can learn more about Marshall's legacy and explore interactive exhibits and unique artifacts that demonstrate its critical role in supporting the breadth of NASA's missions.
Don't Miss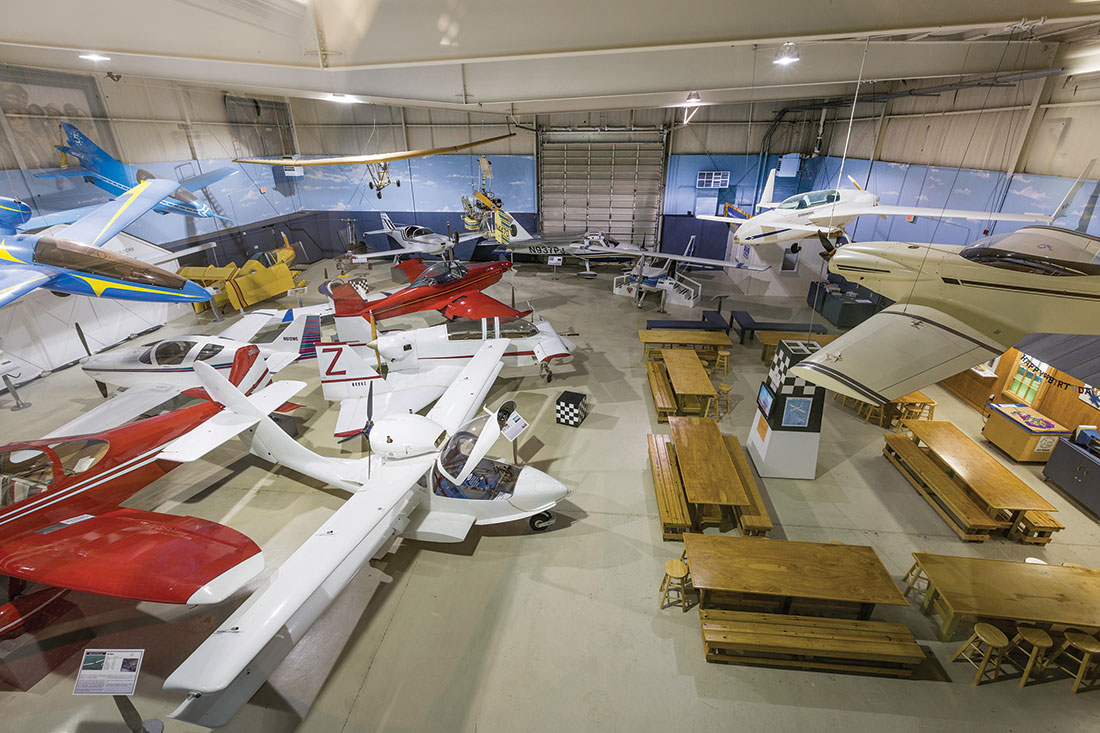 The Southern Museum of Flight, Birmingham
No road trip through aviation history would be complete without a visit to the Southern Museum of Flight (4343 73rd St. N.; 205-833-8226) in Birmingham, where more than a century of Southern aviation history is on display. Founded as a small, regional air museum in the mid-1960s and housed at Samford University, The Birmingham Museum of Aviation – as it was then called – encompassed only six display cases. Renamed the Southern Museum of Flight and relocated to its current spot, the museum officially opened to the public in the fall of 1983.
Today, after decades of growth and expansion, the museum continues to investigate, preserve and promote the rich stories of Southern aviation and provide enjoyable, experiential and educational programming for all ages. The museum features 90 indoor and outdoor exhibits in a highly interactive environment and is filled with a variety of trailblazing aircraft and stunning murals depicting history-making moments in America's aviation story.
Among the highlights of the collection is a stunning diorama of the Tuskegee Airmen. It features a number of World War II-era trainers, including a North American AT-6 Texan, a Vultee BT-13B Valiant and a Fairchild PT-19 Cornell. The Vietnam War era is represented by a diorama depicting the true story of heroism within Troop C, 16th Cavalry Regiment. The exhibit pays tribute to all branches of the military and honors those who made enormous sacrifices in this war.
The Korean War Jets Exhibit highlights two of the primary fighter jets that became adversaries during the Korean War era – the F-86 Sabre and the MiG-15. Weather geeks will marvel at the exhibits detailing weather forecasting using interactive activities, forecasting tools and green screens.
Finish your visit to the museum with a stroll through the large outdoor exhibit area that showcases a variety of rare and vintage aircraft, including an A-12 Blackbird.
While you're in the area, make a stop at the Irondale Cafe (1906 First Ave. N.; 205-956-5258), the inspiration behind Fannie Flagg's novel Fried Green Tomatoes. Get your own plate of golden-fried deliciousness and refuel after a morning of discovery.