Auburn-Opelika: A Center of Arts and Culture
by Auburn-Opelika Tourism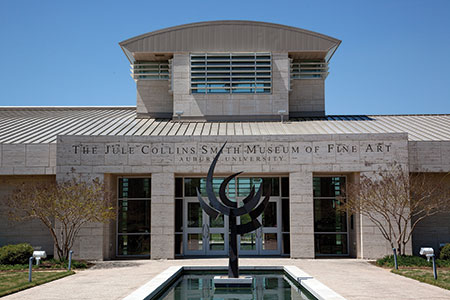 Located just 30 minutes shy of the Georgia border, Auburn-Opelika is a bustling city with a small-town feel. Nestled in rolling hills, thick forests and beautiful plains, it is home to historic and beautiful Auburn University and a culturally diverse and richly endowed artistic community. Among the offerings are quaint museums, distinguished dining and excellent shopping. On this road trip, you're invited to step back in time to an old railroad town, visit art and history museums, and refuel with a glass of lemonade at an old-fashioned drugstore and soda fountain.
Explore an Old Railroad Town
Begin your tour in Opelika, which got its name from the Creek word opillako, meaning "big swamp." Opelika didn't become a major city until Charles Byrd and L.P. Grant saw the potential for a railroad there in 1848. Miles of railroad tracks were later destroyed in a raid by Gen. Lovell Rousseau during the Civil War.
Although hard to picture now, train passengers once had to duck flying bullets when passing through Opelika. The raucous city was noted for its numerous saloons and rampant corruption. Today on a peaceful stroll through this scenic and historic town, you will see buildings along Railroad Avenue that were erected in the 1880s after a disastrous fire in 1868. Pretty storefront facades, an old railroad station and museums are the main attractions now, the results of an ongoing revitalization effort that began in 1987.
Hints to Opelika's industrial past can be found in beautiful buildings such as the old Coca-Cola bottling plant, now The Bottling Plant Event Center (614 N. Railroad Ave.; 334-705-5466), and the overall manufacturing plant currently being renovated. (1001 Ave. B). Former saloons that once lined the railroad tracks have given way to fantastic boutiques, art galleries, antiques stores and fabulous restaurants.
To learn more about the history of Opelika, visit the Museum of East Alabama (121 S. Ninth St.; 334-749-2751). With exhibits ranging from the impact of World War II on the area and the nearby former prisoner of war camp to the origins of pine needle basketry in the region, the museum offers interesting insights into Opelika's past. The museum is open Tuesday–Friday from 10 a.m. to 4 p.m. and on Saturday from 2 to 4 p.m. Admission is free, but donations are accepted to help with the upkeep of exhibits.
Across the street from the museum is the Lee County Courthouse (215 S. Ninth St.), which was constructed in 1896 for a mere $24,000. Listed on the National Register of Historic Places, its Classical Revival style architecture makes it the most historically significant building in downtown Opelika.
As you explore, take note of the historical markers that tell the stories of the town. If you wander toward Eighth Street, you'll find Café 123 (123 S. Eighth St.; 334-737-0069). This building, which used to be Haynie's Drug Store, housed a pharmacy and a soda fountain from 1907 to 1994. During its heyday in the 1940s and 50s, Haynie's was the local hangout for teenagers, thanks to its malts and milkshakes. Café 123 still boasts the retro décor and now features a casual but sophisticated menu of contemporary and Continental cuisine.
The train depot at the end of Railroad Avenue is another major landmark. It saw goods arrive during the Civil War, soldiers kiss their sweethearts goodbye, and the comings and goings of famous statesmen like President Roosevelt. The depot has been fully restored and is now home to Opelika Main Street (1032 S. Railroad Ave.; 334-745-0466), a downtown revitalization group, and the Opelika Arts Association (334-705-5545). The last passenger train left the depot in 1970, but freight trains still rumble through the town from time to time.
While visiting Opelika, be sure and pay a visit to The Gallery on Railroad (809 S. Railroad Ave.; 334-749-2462). It showcases art and home décor with a perfect Southern hometown feel. Many cute boutiques line the streets of downtown Opelika, so take some time to explore and enjoy them all.
Where To Eat in Opelika
If you get hungry, grab a bite at Ma Fia's (811 S. Railroad Ave.; 334-745-6266) or Zazu Gastropub (112 S 8th St.; 334-203-1747). Ma Fia's is an authentic Italian restaurant, with delicious food and a romantic atmosphere to match. Be sure to try a glass of wine from the restaurant's custom wine cellar. Zazu Gastropub is "fine dining" in a relaxed atmosphere. The restaurant partners with local produce providers for the freshest fruits and vegetables.
Afterward, walk or drive over to O Town Ice Cream (700 2nd Ave.; 334-737-5700) for lunch or a sweet treat. Ice cream flavors are named after the people and places in their small town, telling the story of Opelika.
Experience the Art, History and Culture of Auburn
After leaving Opelika, head to Auburn where you'll discover that there's more to this college town than the trophy-winning football team it is noted for. The Jule Collins Smith Museum of Fine Art (901 S. College St.; 334-844-1484), located on the campus of Auburn University, is the only university art museum in the state of Alabama.
Museum collections range from photography and magnificent works from artists such as Renoir and Matisse to the hand-sculpted Dale Chihuly chandelier. The three-tiered masterpiece is made of more than 600 individual pieces of hand-blown glass and serves as the focal point of the museum's vaulted entrance. In addition, the museum hosts a permanent collection of European and American art from the past two centuries. The museum is open Tuesday – Sunday and admission is free.
Once you leave the museum, continue down College Street through campus and into downtown Auburn. On your right, you'll pass The Hotel at Auburn University (241 S. College St.; 334-821-8200), home to the Italian restaurant Ariccia (334-844-5140) and the cocktail lounge Piccolo, famous for its unique drinks, appetizers and live jazz. On your left, you'll pass Samford Hall, Auburn's iconic architectural centerpiece.
Downtown offers street parking as well as a municipal parking garage for convenient access to restaurants and shops. Be sure to stop in at Auburn Art (102 N. College St.; 334-887-7788) for some great gifts and Auburn-themed merchandise, which will make perfect keepsakes from your trip.
Where To Eat
Downtown Auburn has a variety of great dining options. Hamilton's on Magnolia (174 E. Magnolia Ave.; 334-887-2677) offers Chicken Provençal and filet mignon, favorites with the locals. Amsterdam Café (410 S. Gay St.; 334-826-8181), famous for its crabcake and avocado sandwich, is also an excellent dining choice.
Fun Festivals
The Auburn-Opelika area is home to many arts and crafts and music festivals. On the Tracks is held twice a year in spring and fall in downtown Opelika and encompasses a wine trail, food, shopping and music. The Old 280 Boogie takes place each spring in nearby Waverly. What began as a local neighborhood celebration in honor of the new diversion of U.S. Highway 280 around the small community of Waverly has now grown into a regional celebration of Southern music and culture. Auburn CityFest, held the last Saturday in April, is the town's largest free outdoor festival and features arts and crafts, vendors, special traveling acts and lots more.
Music and Nightlife
Staying for the evening? Auburn offers a hot spot for everyone, from college hangouts to distinguished cocktail lounges. The Avondale Bar and Tap Room (106 N. College St.; 334-329-7039) is a quiet, sophisticated place to relax and enjoy a handcrafted cocktail away from the students. For a bit more Southern vibe, head to The Hound (124 Tichenor Ave.; 334-246-3300) and try the Cecil, a modern twist on the whiskey sour, which landed The Hound on Southern Living's list of Top 100 Bars in the South.
Where To Stay
The Auburn-Opelika area has plenty of national hotel chains to fit your lodging needs. You can view all of them and even book your stay online. Other suggested options include The Hotel at Auburn University and Dixon Conference Center, with its blend of sophistication and comfort, and Auburn's Crenshaw Guest House Bed-and-Breakfast (371 N. College St.; 334 821-1131). Both make for great getaways and provide perfect alternatives to traditional lodging.
Don't Miss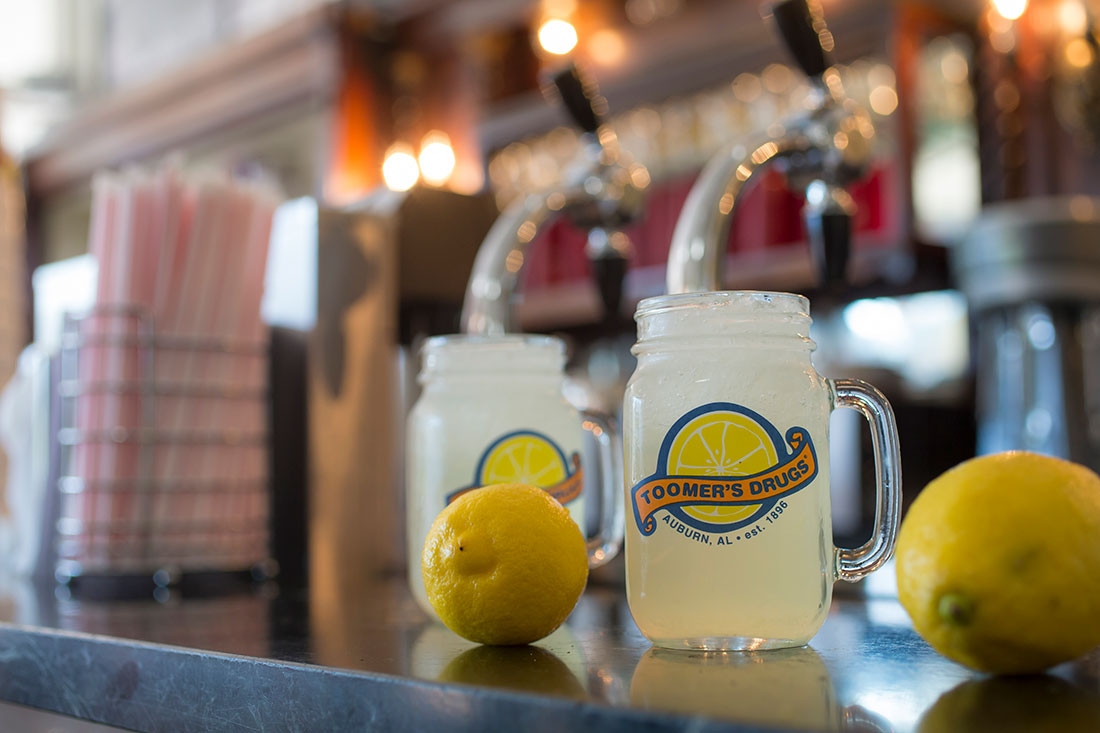 Toomer's Drugs
Thirsty? Even if you're not, don't miss Toomer's Drugs (334-887-3488), on the corner of South College and Magnolia, where you can treat yourself to a world-famous Toomer's lemonade. Ranked No. 1 in Esquire magazine's "162 Reasons It's Good To Be an American" in 2001, the tart and tangy concoction hits the spot no matter the season or the reason.