Alabama's Coastal Connection National Scenic Byway
by Colette Boehm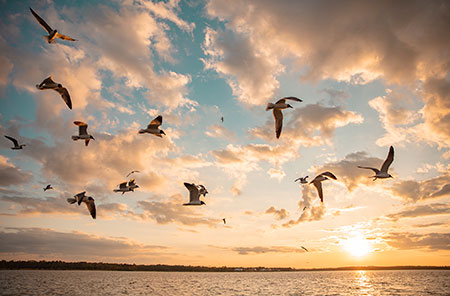 Beautiful beaches, authentic downtowns, wildlife preserves, historic sites and the freshest of seafood are all yours to enjoy on Alabama's Coastal Connection, a nationally designated scenic byway. Alabama's southern tip is one of those places where even first-time visitors will find a place to belong. Traveling the byway, you'll experience the link between the traditions of the Deep South and a more laid-back island lifestyle. And, amid the thousands of acres of preserved lands, the beautiful coastal waterways, and the good life of a beachfront vacation, you'll discover a myriad of opportunities to make your own connection to Alabama's Gulf Coast.
Connect with Nature
From migratory birds and sea discoveries on Dauphin Island to the 7,000 acres of wildlife habitat at Bon Secour National Wildlife Refuge (12295 AL Highway 180, Gulf Shores; 251-540-7720), the first leg of this nature journey is filled with amazing views. A safe haven for an abundance of threatened and endangered species of wildlife, flora and fauna, the refuge is comprised of five separate units in Mobile and Baldwin counties and has been named one of the 10 natural wonders of Alabama.
Be sure to take your camera and binoculars along when traveling to Bon Secour; this area of the byway is one of the most scenic. It provides rare opportunities to see nesting sea turtles, the endangered Alabama beach mouse, ospreys, herons, hummingbirds and a variety of other wildlife.
From Bon Secour, stop at Orange Beach Marina (27075 Marina Rd., Orange Beach; 251-981-4207), Zeke's Landing (26619 Perdido Beach Boulevard; 251-981-4044) or any one of the nearly two dozen other boat harbors. Make plans to spend the day having fun watching dolphins in their natural habitat, experiencing the deep waters of the Gulf on a guided fishing charter or going parasailing for the afternoon.
If you've got a hunger spot, you'll find two excellent restaurants on the premises of Orange Beach Marina. Palms Bar & Grille is great for casual waterfront dining while Calypso's is an island favorite featuring the best of the Caribbean. At Zeke's Landing, Wolf Bay Lodge is the downstairs restaurant by the docks at Zeke's Landing. It offers home-style Southern cooking, seafood and more in a casual, family-friendly atmosphere. At the Shrimp Basket at Zeke's, you can enjoy a refreshing cocktail inside the café or under a covered patio while waiting for your perfectly grilled, steamed or fried seafood.
There are lots of recreational opportunities along the Coastal Connection, and if fishing sets the order for your day, there are plenty of places along the strip to find live bait, rod and reel combinations and just about anything else you could possibly want to meet your fishing needs.
Take off on a geocaching treasure hunt, get lost on purpose on a coastal hideaway, head out for a day of charter fishing or dine your way from one great restaurant to the next.
SanRoc Cay (27267 Perdido Beach Blvd., Orange Beach; 251-981-5423) offers you the opportunity to enjoy everything from courtyard events, shopping and dining to dolphin cruises, fishing charters, jet skiing or simply spending the day relaxing by the beautiful Gulf. The Dock Store at the marina is great for buying bait, tackle and ice, but is also an excellent source for purchasing snack foods and some everyday items you may have forgotten to bring with you. There are also some exclusive stores at SanRoc, ranging from women's dress shops to a pet boutique.
From Orange Beach, your connection to nature moves onward to Weeks Bay, which is home to many species of waterfowl and one of few National Estuarine Research Reserves (11300 U.S. Highway 98, Fairhope; 251-928-9792) in the country. This leg of your trip concludes along the eastern shore of Mobile Bay, where calm waters are framed by stately oaks in the quaint coastal communities of Daphne, Fairhope, and Spanish Fort. This portion of the Coastal Connection is abundantly rich in art, antiques and history, and is one of the most charming areas in the state.
Connect with the Land and the Sea
Start at Grand Bay for another trip along the byway for a salute to the people who make their living from the land and sea. For more than a century, farmers in this once vibrant community have thrived on crops of pecans, cotton, soybeans, and watermelons. The Grand Bay Watermelon Festival (Odd Fellow Park; 10327 Taylor F. Harper Blvd, Grand Bay, 251-865-3456) celebrates the agricultural heritage of the area annually around the Fourth of July. The event offers lots of arts and crafts, entertainment, a seed-spitting contest and all the free watermelon you can eat, so come hungry.
Connect with the Past
From Bayou La Batre, point your car in the direction of Dauphin Island. Along the way, discover the floral beauty of Bellingrath Gardens (12401 Bellingrath Gardens Road; 251-973-2217) in nearby Theodore. This world-renowned property showcases acres of gardens, blooming all year long. Then cross the waters of the Mississippi Sound onto Dauphin Island. You can also retrace the steps of history from Fort Gaines (51 Bienville Blvd., Dauphin Island; 251-861-6992) to Fort Morgan (110 AL Hwy. 180 W., Gulf Shores; 251-540-5257), where the echoes of battles past still ring. Imagine naval gunboats sailing up river and troops planning to occupy the city of Mobile.
All along the route, local museums tell the story of the heritage and traditions of coastal Alabama, as well as the storms that have affected the area. They also showcase the resilience of the region, its communities and its residents, who have rebounded stronger than ever after each occurrence.
History buffs will not want to miss the chance to cross the bay and imagine the smoke of the big guns as Farragut cried, "Damn the torpedoes! Full speed ahead!" during the Battle of Mobile Bay. The Mobile Bay Ferry is an auto ferry that makes the trip between Historic Forts Gaines and Morgan part of the adventure of the visit. Check the website for fares and schedule.
Connect with Others
For added adventure, you can set your own pace and your own path along Alabama's Coastal Connection. Take off on a geocaching treasure hunt, get lost on purpose on a coastal hideaway, head out for a day of charter fishing or dine your way from one great restaurant to the next. You'll find a number of great places to eat on the Gulf in Alabama Tourism's "100 Dishes to Eat Before you Die." Spending time your way with your favorite folks is the best way to enjoy the byway.
Where To Eat
Seafood is king on the Coastal Connection! There are plenty of elegant dining options to choose from, but for a good old, casual seafood feast, try these local coastal eateries: For some great fire-grilled oysters, try the Original Oyster House with locations in Gulf Shores (701 HWY 59, Gulf Shores, 251-948-2445) or the Mobile Causeway (3733 Battleship Parkway/HWY 90, Spanish Fort, 251-626-2188). In Gulf Shores and Orange Beach there are three Tacky Jacks locations to choose from, each overlooking the water.
Where To Stay
Lodging options along the byway offer variety for all types of travelers. From quiet out-of-the-way bed and breakfast inns to luxurious beachfront condominiums, local tourism offices can direct you to the accommodations that will make your stay complete. For more information, visit the Alabama Coastal Connection website.
Don't Miss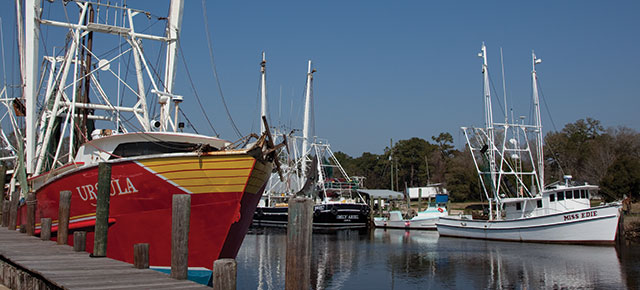 The Blessing of the Fleet
This leg of the scenic byway winds its way through Bayou La Batre, approximately 30 minutes from Mobile. Annually on the first Sunday in May, Alabama's Gulf Coast fishing and shrimping communities come together to offer prayers for a bountiful harvest, the safety of boating vessels and the people on board during the annual Blessing of the Fleet. Hosted by St. Margaret's Catholic Church (13790 S. Wintzell Ave.; 251-824-2415), the celebration includes land and boat parades, arts and crafts, a gumbo cook-off, seafood dinners, live entertainment and boat tours.