Alabama Beer Trail - Flight 1
by Eric T. Wright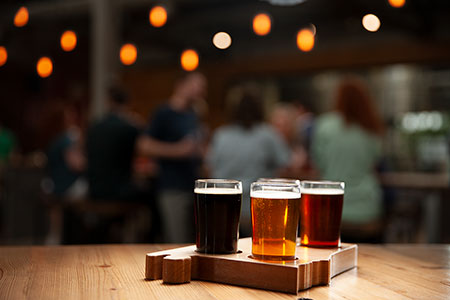 Alabama's burgeoning craft beer scene practically begs you to make a pilgrimage to some of the 29 breweries and brew pubs in the state. A decade ago, some legal barriers to beer production were dropped and breweries began to sprout up like hop bines. Now you'll find beer hot spots throughout Alabama, attracting both ale aficionados and craft beer neophytes. From the Tennessee border in the north to the Gulf in the south, destinations await adventurous and thirsty travelers.
Huntsville, a Brew-Lover's Capital
Huntsville's Yellowhammer Brewing (2600 Clinton Ave. W.; 256-489-3510) offers popular beers in crowd-pleasing styles. The Hop Revival Imperial India Pale Ale is the perfect example of a hugely hoppy beer that "hopheads" search for. The beer features 6 pounds of hops per barrel, which give it a brilliant citrus and floral bitterness. Several of Yellowhammer's other selections feature distinctively Belgian, Old World-style flavors that beer traditionalists will find intriguing. Two of the brewery's year-round favorites are the Belgian White Ale, a crisp lighter selection, and 1819, a stronger and richer Belgian Dubbel.
The brewery's taproom and biergarten are open on Fridays and Saturdays, so be sure to stop by to see what seasonal beers are on tap or to drink a fresh pint of one of Yellowhammer's year-round brews. The biergarten also offers a fantastic outdoor space that is perfect as the sun goes down and the live tunes start up.
Heading Straight to Ale
Without straying too far from downtown Huntsville, you can also visit Straight to Ale (2610 Clinton Ave. W.; 256-489-0820). This long-standing brewery's beers are available throughout Alabama. But what could be better than visiting the brewery and tasting "Monkeynaut" or "Brother Joseph's" straight from the source?
Straight to Ale is known far and wide for its cleverly named beers, such as "Wernher von Brown Ale," a nod to its Rocket City roots, and "Sand Island Light House," a Kölsch-style beer introduced in 2013 as an homage to the famous lighthouse in Mobile Bay. Of course, no serious beer aficionado could peruse the list of Straight to Ale brews without lingering on "Unobtanium." This special batch beer, an "Old Ale" aged in whiskey barrels, is a rare selection. This mystery elixir is as rich and complex as it is hard to find. Perhaps a stop at the taproom will give you enough clues to track down an elusive bottle.
Despite the fact that the brewery is located in a nondescript light industrial park, Straight to Ale is a happening social scene. While the brewery can only sell its liquids to patrons, multiple food trucks bring a hip culinary scene to the parking lot, serving selections like wood-fired pizza, scrumptious cupcakes, savory tacos and lobster rolls. The taproom also often features entertainment like open mic nights, live music and game nights. (Oh, and did I mention there is a pinball room?) Tours are available on Saturdays.
Where To Stay and Snack in the Rocket City
While Huntsville has plenty to interest suds seekers, mountains of other attractions are worth a visit. Lowe Mill Arts & Entertainment (2211 Seminole Dr. SW; 256-533-0399) is a unique venue in the heart of Huntsville that hosts a variety of cultural events and art shows. The Huntsville Botanical Garden (4747 Bob Wallace Ave. SW; 256-830-4447) has more than a 100 acres of gardens and paths for plant lovers to enjoy. Just up the mountain from downtown Huntsville, Monte Sano State Park (256-534-3757) has a huge network of trails and for mountain bikers and hikers.
Food options abound throughout Huntsville. If you are at Lowe Mill, stop by the food truck of Chef Will the Palate (2211 Seminole Dr. SW; 256-617-6052) for healthy, delicious and fresh vegetarian options. Below the Radar (220 Holmes Ave. NE; 256-469-6617) is a brew pub downtown that offers a great selection of draft and bottled beers from around the world as well as upscale pub fare. Finally, if pizza is what you are craving, Mellow Mushroom (2230 Cecil Ashburn Dr. SE; 256-883-0232) offers a selection of pizzas and calzones diverse enough to please everyone.
Located downtown with easy access to major highways, the Embassy Suites Huntsville (800 Monroe St. SW; 256-539-7373) is a great base of operations for your brewery tours and other Huntsville excursions.
Attractions, Eats and Accommodations in the East
As you travel, there are plenty of things to see and do before you check out the brews. In Gadsden, stop at the impressive Noccalula Falls (1500 Noccalula Rd.; 256-549-4663). They are especially spectacular after a rain, when roaring torrents pour over the rocks. Spend some time in downtown Gadsden (635 Broad St.; 256-547-8696), where a revitalized Broad Street is lined with shops, museums and restaurants.
In Anniston, burn off some energy and work up a thirst at Coldwater Mountain Trails (Coldwater Road). Just outside of town, these world-class trails are a playground for runners, hikers, mountain bikers and anyone who enjoys the great outdoors. If an inside excursion sounds more appealing, check out Anniston's premier museums, the Anniston Museum of Natural History (800 Museum Dr.; 256-237-6766) and the Berman Museum of World History (840 Museum Dr.; 256-237-6261). Both museums, located next door to each other, offer learning experiences with great collections of artifacts and interesting exhibits.
Bring your appetite along to Anniston and Gadsden. Eats in Anniston are always just around the corner. For a unique riff on pizza, try Mata's Greek Pizza & Grinders (1708 Quintard Ave.; 256-237-3100). You won't leave hungry and you may find a new Greek dish that will change your life. Classic on Noble (1024 Noble St.; 256-237-5388) is a popular and more formal dining choice that will give you a chance to sit down and indulge in some timeless dishes.
Gadsden dining choices range from classic to unique. If you venture toward Noccalula Falls, be sure to stop by Kati Thai Cuisine (102 Eble St.; 256-467-4221). While in an unassuming location, Kati Thai offers classic Thai dishes in a quiet atmosphere. If you are looking to try still more brews while having a bite in Gadsden, don't miss the Blackstone Pub & Eatery (525 Broad St.; 256-543-7473). It offers specialty pizzas, quesadillas and an extended craft beer selection.
Both Gadsden and Anniston have hotels downtown within walking distance of many locations. In Gadsden, check out Gadsden Inn & Suites (200 N. Albert Rains Blvd.; 256-543-7240), just a quick jaunt down Locust St. from Back Forty Beer Company and overlooking the Coosa River. In Anniston, Hotel Finial (1604 Quintard Ave.; 256-236-0503) is right on Quintard. This historic hotel offers a wide variety of rooms.
Don't Miss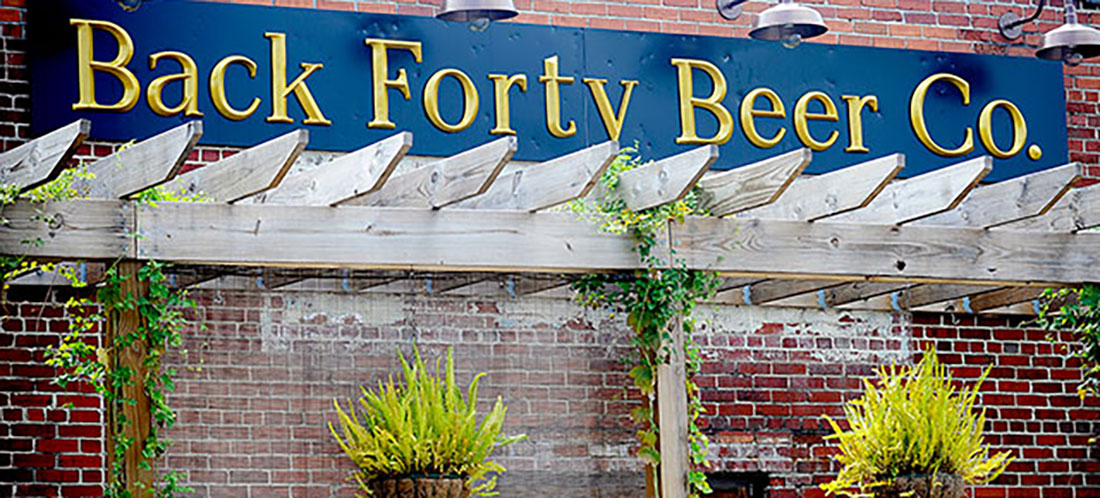 In Search of a Naked Pig in the Back 40
In downtown Gadsden, sandwiched between U.S. Highway 431 and the railroad tracks running through Locust Street, you'll find Back Forty Beer Company (200 N. 6th St.; 256-467-4912). Established in 2006, the brewery is housed in an old Sears, Roebuck and Co. facility. The taproom and long front porch are gathering spots where locals and visiting brew hounds can mingle and sample some of the beers on draft.
Back Forty boasts five year-round beers: Naked Pig Pale Ale, Truck Stop Honey, Paw Paw's Peach Wheat, Fence Post Session Ale and Freckle Belly India Pale Ale. If you are lucky, a stop at the brewery may yield a special beer such as Harvest Ale or Scotch Ale, which are seasonal selections, or a firkin (small cask) of something even more unique. The brewery's tagline is "drink local," and the owners are intensely focused on supporting their community. Crowd favorite Truck Stop Honey is made with honey harvested in Etowah County, where the brewery is located, and Peach Wheat is flavored with Chilton County peaches, grown south of Birmingham.
The brewery has quickly risen to prominence with its clever branding, wide distribution and status as the largest brewery in the state. Back Forty does hold special events in its space, so it might be worth a call before making the trip. Additionally, tours of the facility are available on Saturdays.