For some, there's nothing better than traveling the world on a motorcycle, and if you're one of those people, this road trip is for you.
When you start the engine and feel the rumble between your legs, you begin to feel that sense of freedom. You are no longer just riding but feel a connection between the asphalt and the rubber as you begin your journey. Being on a motorcycle allows you to form a connection with the world around you through an uninterrupted view that is unavailable in a car. And in Alabama, you're going to want an uninterrupted view. Whether you're looking to turn back the pages of history or take in breathtakingly-beautiful views, there's a place for everyone here.
Calling all motorcyclists. Put on your gear, hop on your bike and let's go on a road trip through Sweet Home Alabama.
Day 1
Your journey will begin in Birmingham, Alabama, at the Barber Vintage Motorsports (6030 Barber Motorsports Pkwy.; 205-699-7275). The five-story museum houses over 1,600 bikes ranging from Harley-Davidsons to Ducatis to Hondas and holds the Guinness World Record as the "Largest Motorcycle Museum" in the world. At this interactive museum, enthusiasts can select a bike off display and take it for a spin. In addition to a plethora of motorcycles, the museum also houses the largest collection of Lotus race cars in the world. As soon as you step inside, you are surrounded by a beautiful display of bikes and cars. Some of the automobiles are displayed on the floor of the museum, others are displayed on shelves located throughout the museum, and yes, even some are hanging from the ceiling.
This 880-acre site is also equipped with a multipurpose racing facility that has hosted numerous motorsport races including Grand-Am, Pirelli World Challenge, Vintage Racing Series events, AMA SuperBike and the IndyCar Series. After visiting the museum, you'll be inspired to get on your bike and travel to your next destination.
Your next stop – 50 miles east of Birmingham – the town of Talladega, home of the world-famous Talladega Superspeedway (3366 Speedway Blvd.; 855-518-7223). Talladega is a great place for lunch. We recommend giving Fincher's Real Delight (521 East St. N.; 256-362-2174) a try. This local favorite is known for its fried catfish, shrimp and barbecue, and its vintage decor makes it feel as though time has stood still for over 50 years.
After lunch, take a trip to DeSoto Caverns (5181 DeSoto Caverns Pkwy.; 256-378-7252), featured on the Alabama Tourism Department's 20 for 20 Natural Wonders list. This attraction has one of the world's largest continuing accumulations of onyx-marble stalagmites and stalactites. It is also home to a Native American burial ground and Civil War mines.
After exploring the caverns, head on over to your last attraction of the day, Cheaha State Park (19644 AL-281; 256-488-5151). Here, you can park your bike at the highest point in Alabama and encounter panoramic views of the Talladega National Forest. This beautiful point offers arguably Alabama's most beautiful view of the sunset and truly will make you feel as though you are on top of the world.
You can end the first day of your trip at the historic Peerless Saloon (13 West 10th Street; 256-238-1899) in Anniston, Alabama. The saloon opened its doors in 1899 giving it the title of Alabama's oldest saloon. Take a seat at the mirror-backed mahogany bar within the establishment. This bar was featured at the 1904 St. Louis World's Fair and has been in the building since 1906.
Day 2
Day two of this road trip has us heading to North Alabama, an outdoor enthusiast's dream. In North Alabama, you can enjoy a 22 mile ride through the scenic Little River Canyon Parkway (4322 Little River Trail NE, Ste. 100; 256-845-9605). You begin to move up through a beautiful cadence of decelerating, shifting back, looking into the bend and steering in the bend. Towering rock bluffs that look over the rushing river below make Little River Canyon a place of solitude where you can truly take it all in.
As you continue to ride, the forest will turn into agricultural fields, and you will pass by beautifully-maintained farms and houses that are truly an epitome of Southern culture. Keep on riding until you reach Rocket City USA, also known as Huntsville, AL. Huntsville is home to the U.S. Space and Rocket Center (1 Tranquility Base; 256-837-3400), a center that plays a large role in the development of the space program and the Apollo 11 rocket. The museum houses a space shuttle, an Apollo 16 capsule, a Saturn V and various films about space travel.
Once you hit Decatur, AL, you can experience some of the best BBQ in the state at Big Bob Gibson Bar-B-Q (1715 6th Ave SE ; 256-350-6969), home of its famous Bar-B-Q chicken and white sauce. This flavorful dish will give you just the right amount of energy to kick-start your next adventure to Muscle Shoals, Alabama, home of Muscle Shoals Sound Studio (3614 North Jackson Highway; 256-978-5151) and FAME Studios (603 E. Avalon Ave.; 256-381-0801). A music lover's dream, here you will learn the history of some of the greats that performed here including Rick Hall and "The Swampers." While Muscle Shoals Sound Studio is now a museum, musicians are still producing music at FAME.
Day 3
Once you've finished touring Muscle Shoals, it's time to head back to Birmingham. On your way back to the Magic City, be sure to get some fresh air and sunshine at the beautiful Bankhead National Forest (1070 AL Hwy. 33 N; 205-489-5111), also known as the Land of 1000 Waterfalls.
In Birmingham, end your trip by visiting the civil rights landmarks located throughout the city. Begin with the Birmingham Civil Rights Institute (520 16th St. N; 205-328-9696), a state-of-the-art, multi-media facility that houses exhibitions of historical events from post-World War I racial segregation to present-day civil rights progress. The Birmingham Civil Rights Institute is located in the Civil Rights District (520 16th Street North; 205-328-9696), which also includes Kelly Ingram Park (500 17th St N; 205-328-9696) and the Sixteenth Street Baptist Church (1530 6th Ave. N; 205-251-9402).
Love this road trip? Check out this video on our YouTube channel in partnership with RoadRUNNER Magazine, a source for motorcycle riders looking for exciting and scenic places to ride.
Don't Miss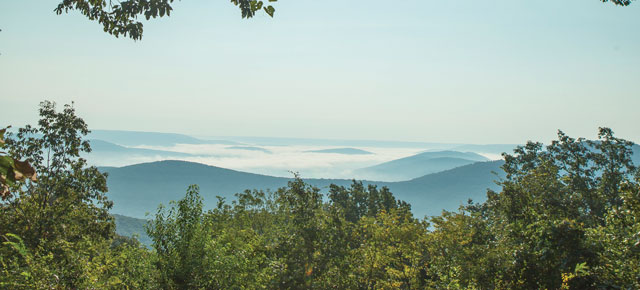 Monte Sano State Park
Just outside of downtown Huntsville, you can head over to Monte Sano State Park (5105 Nolen Avenue SE; 256-534-6589) to stretch your legs. Monte Sano Mountain, Spanish for "mountain of health," rises more than 1600 feet above sea level. Atop the mountain, you can enjoy scenic panoramic views along with multiple amenities including rustic cottages, picnic areas, Japanese-garden hiking trails, a planetarium, and an outdoor amphitheater.