A Centennial Road Trip along the Bankhead Highway
by Marilyn Jones Stamps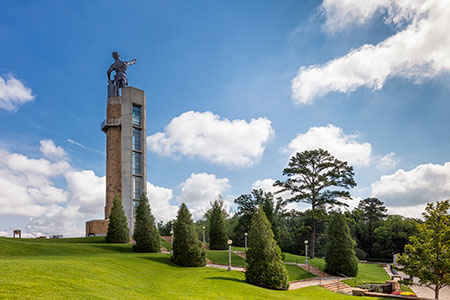 Mention the name Bankhead and many would undoubtedly think of Tallulah Bankhead of Hollywood and Broadway fame. But before the screen and stage star was born in Huntsville, Alabama in 1902, her grandfather John Hollis Bankhead of Jasper was making a name for himself. He was a Confederate war hero, an Alabama state representative, a state senator, a ten-term member of the U.S. House of Representatives, and finally a U.S. senator. He earned the title of "Father of the Good Roads" when he pushed for legislation that establish the first national highway system in 1916.
With his support as head of the Senate Committee on Post Offices and Post Roads, Congress passed the Federal Aid Road Act of 1916, which established one of the earliest auto trails in America. The John H. Bankhead National Highway connected the nation's capital, Washington, D.C., and San Diego, California on the Pacific, via multiple routes in several states, including Alabama.
Those wishing to experience the Alabama portion of the historic Bankhead Highway and see various attractions along the way can do so via U.S. Highway 78, which is a major east–west state route. It runs across the central part of Alabama from Georgia to Mississippi, roughly paralleling Interstate 20 from Atlanta to Birmingham.
Through Leeds, Highway 78 is named Parkway Drive. Then, from Irondale until it joins 5th Avenue South in Birmingham, it is Crestwood Boulevard. It briefly follows 5th and 4th Avenues South before running along 3rd Avenue South to 36th Street South.
Just west of Birmingham, heading toward Jasper, portions of the Bankhead Highway is now part of Interstate 22. Other parts of the route is signed as AL 118 to Guin and then northward to I-22 at Hamilton, it is signed as U.S. Highway 43/U.S. 278.
Where to Begin?
Begin your road trip in the east Alabama town of Anniston, where spring beckons you to enjoy beautiful azaleas along Quintard Avenue or an evening on Noble Street where the annual Noble Street Festival and Sunny King Criterium take place each spring. During this event, you can watch world-class pro bicycle racing, enjoy live music and sample local fare from various restaurants during the "Taste on Noble."
If you're looking for a place to play, walk through a rain forest or travel through an African Safari, then visit the Anniston Museum of Natural History (800 Museum Park; 256-237-6766) in Legarde Park.
Here, you can explore the wilds of Africa, the wonders of the North American wilderness, and the mysteries of 2,000 year-old mummies in seven fascinating exhibit halls. In addition to the exhibits, the museum has a children's discovery room, a Museum Store, a Changing Exhibits Gallery which fosters exploration in the visual arts, and beautiful nature trails.
Mind your manners. All the animals in the Museum Exhibit Halls, with the exception of the dinosaur and hippo models, are real, mounted specimens, so please do not touch!
Also located in Legarde Park is the Berman Museum of World History (840 Museum Dr.; 256-237-6261). It features a 6,000-plus piece collection of paintings, sculptures, Remington bronzes, weapons, photos, clothing, and large dioramas that bring history to life.
Next, it's off to the Races at Barber Motorsports Park!
From Anniston, steer onto I-20 W., and take U.S. Hwy. 78, Exit 140 to Leeds, home of the 830-acre Barber Motorsports Park and its world-class Barber Vintage Motorsports Museum (6030 Barber Motorsports Pkwy.; 205-699-7275).
Former Porsche race car driver George Barber Jr. started the museum in the mid-1990s after discovering there were no museums dedicated to preserving vintage motorcycles. It showcases more than 600 motorcycles from Barber's collection of 1,200 and features the largest known collection of Lotus race cars.
The centerpiece of the park is a 17-turn, 2.38-mile road racing track that annually draws auto and motorcycle racing fans to the area for several spectacular events, including the Indy Grand Prix of Alabama race each spring. The Barber Vintage Festival, showcasing vintage motorcycles each October, is also a huge draw.
Next Stop: Irondale
From Leeds, take U.S. Hwy. 78 and merge onto I-20 W., taking the Montevallo Road Exit 132 to reach Irondale. A former railroad town, Irondale sits in a valley with Red Mountain to its north and Cahaba Mountain to its south. More than 50 trains pass through the town daily, making it a popular destination for railroad enthusiasts. The town's historic caboose and covered train pavilion host thousands of visitors annually.
Also located in Irondale is the Eternal World Television Network (EWTN) (5817 Old Leeds Rd.; 205-271-2900), the largest religious media network in the world, and the Irondale Café (1906 1st Ave. N.; 205-956-5258), made famous in Fannie Flagg's Novel "Fried Green Tomatoes at the Whistlestop Café."
Choose the Irondale Café as a dining option on this road trip. Its Buttermilk Fried Chicken and Fried Green Tomatoes are local favorites.
Experience Alabama's Largest City, Birmingham
If you overnight in Birmingham, you'll wake up to discover there are a number of tour options to fill your day. You can explore the city's iron and steel history at Sloss Furnaces National Historic Landmark (20 32nd St. N; 205-254-2025), visit the Southern Museum of Flight (4343 73rd St. N; 205-833-9226), enjoy the outdoors at Vulcan Park and Museum (1701 Valley View Dr.; 205-933-1409) or tour the Birmingham Civil Rights Institute (520 Sixteenth St. N; 866-328-9696). In either case, history and adventure await you in Alabama's largest city.
Motoring Northwestward toward Jasper, Winfield and Hamilton
As you travel the Bankhead Highway from Birmingham, motoring toward the northwest part of the state via I-22, you'll pass through the historic towns of Jasper, Winfield and Hamilton, before reaching the Alabama/Mississippi line.
Jasper is home to many famous Walker Countians who have served in the U.S. Congress, including John Hollis Bankhead and several members of his family, Carl Elliot and Tom Bevill. Beginning with the Bankheads, a Walker Countian served in Congress for 111 straight years.
Worth the visit in Jasper is the Bankhead House and Heritage Center (800 Seventh St. W.; 205-302-0001). This classical-revival home, built around 1925 by William Brockman Bankhead, the son of John Hollis Bankhead, is where award-winning actress Tallulah Bankhead was married.
Two other attractions, the Carl Elliott House Museum (1700 Birmingham Ave.; 205-221-6355) and Bevill State Community College (1411 Indiana Ave.; 205-387-0511) are tributes to two men who rose from humble beginnings to accomplish great things for the cause of education.
From Jasper, head to Winfield. This town hosts the Mule Day Festival each September and is the site of the historic Pastime Theater, which has been beautifully renovated for use as a performing arts center.
Hamilton, the final stop on this road trip, spans the historic passage known as "Military Road." It was carved out of the wilderness by volunteer soldiers from Tennessee returning north to their homes from victory over the British at New Orleans in 1815.
Love the outdoors? A good way to end your road trip is to spend time exploring the hiking and biking trails along Hamilton's historic Military Road.
Where to Stay and Dine
Birmingham offers plenty of options for things to see and do as well as great places to stay and dine. So, why not make it a fun overnight stop with a resort stay in the Magic City. The Renaissance Birmingham Ross Bridge Golf Resort and Spa (4000 Grand Ave.; 205-916-7677) is the area's only four-star resort. Located on the acclaimed Robert Trent Jones Golf Trail, it offers a full range of amenities that include a spa, gourmet restaurants and a bagpiper that plays at sunset.
Don't Miss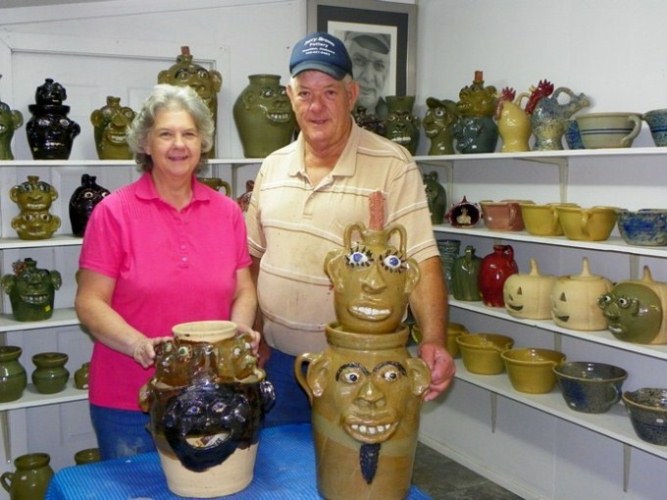 Jerry Brown Pottery
A good time to visit Hamilton is in March, when the Jerry Brown Arts Festival (1414 Co. Rd. 81; 205-921-9483) takes place. Jerry Brown Pottery, the only known mule-powered pug mill still operating in the U.S., showcases the handiwork of ninth-generation potter Jerry Brown whose famous mule, Blue, mix and grind the clay the artist uses to make his one-of-a-kind creations.