Andalusia: Where Art, History and Culture Abound
by Marilyn Jones Stamps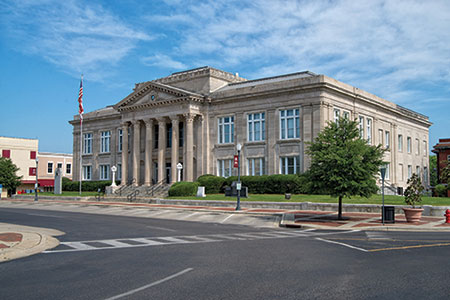 Whether big or small, almost every town has its claim to fame, and Andalusia, Alabama is no exception. Located in south-central Alabama in Covington County, this town of 9,000-plus is home to the World Championship Domino Tournament, lots of rich local history, engaging museums, and more.
Rattle some Bones during the World Championship Domino Tournament
Since 1976, the City of Andalusia, the Chamber of Commerce and the Rotary Club have teamed up to put on the World Championship Domino Tournament, a family event that annually attracts more than 300 players from around the country to compete in the "battle over bones" event.
Each summer, during the second weekend in July, participants travel to Andalusia from as far away as California and Texas with their minds set on nothing but winning. "And understandably so," says Andalusia Chamber of Commerce Director Chrissie Duffy. During the palm-sweating event, which also brings hundreds of spectators to town, there is more than $20,000 in prize money and trophies that are up for grabs. The event is also a Rotary Club fundraiser, which to date has raised nearly $1 million for local charities.
Prior to the event, players compete in hotel lobbies and restaurants, but by the weekend the action moves to the 40,000-square-foot Kiwanis Community Center, which transforms into an all-out battleground for those vying for the title of world domino champion.
Tip 1: Beyond the Domino Tournament, Andalusia has a lot more to offer. So why not carve out some time to delve into the town's art, history and culture scene.
Explore Downtown's Art, History & Culture Scene
Whether in town for the Domino Championship or visiting later in the year, you'll want see more of what Andalusia has to offer. A self-guided art and history walking tour takes you along the Andalusia Mural Trail to downtown shopping-and-dining venues, an art gallery and local museums. A map showing the location of each of the seven murals on the trail and other points of interest can be obtained by going online to www.andalusiachamber.com/community-map, or stopping by the Andalusia Area Chamber of Commerce office (700 River Falls St.; 334-222-2030).
Listed among the town's most popular attractions, the murals painted on the sides of historical buildings by artist Wes Hardin of Dothan, capture the essence of everything Andalusia. They depict places important to Andalusia and Covington County's history along with select local events, such as the Covington County Fair, and renderings of some of the famous people that have visited the area.
Andalusia was first settled in 1841. It was originally called "New Site" but was known as Andalusia by the time a post office was established in 1846. The town was incorporated in 1884. In 1899, two railroad lines arrived connecting Andalusia to the outside world, the Central of Georgia and the L&N Railroad.
Founded in Andalusia in the 1920s, AlaTex, another area landmark, occupied a 35-acre complex on River Falls Street until about 1995. In its heyday, the company produced millions of Arrow men's dress shirts, private label shirts for department stores and other apparel. In 2009, the City of Andalusia purchased the old mill and rehabilitated it to create a chamber of commerce office and welcome center, as well as a national monument to pay tribute to the thousands who worked in textile mills all over the country.
While strolling past Andalusia's beautiful murals, be sure and stop by the Lower Alabama Arts Coalition (LAAC) gallery (116 East Three Notch St.), an arts exhibition and reception venue. Next door, you'll see the Hank Williams and Audrey Sheppard historic marker.The duo were married at a Texaco station in Andalusia by a justice of the peace in 1944.
Just around the corner from the gallery on Central Street is the Three Notch Museum (334-222-0674). Located in the train station of the Central of Georgia Depot, a National Register Landmark, the museum displays historic photographs, a bottle collection, old cameras and accessories, tools, military items, sewing machines and other artifacts relating to Andalusia's history.
Outside is a large Norfolk Southern Caboose, a small CSX motorcar, and an L&N bay window type caboose. Kids will enjoy the Tommy the Tank layout designed just for them. Joining the railcars are the completely restored River Falls Post Office, the Clark Family Pioneer Log Cabin, and the Henry B. Little Country Store. Call ahead to confirm hours as the museum is not staffed at all times.
Catch the Andalusia Ballet
From murals, galleries and museums to dance, the celebration of art and culture continues in Andalusia at the Church Street Cultural Art Centre (420 Church St.; 334-222-6891). It is home to the Andalusia Ballet , a dance company founded in 1982, which focuses on training and educational enrichment in classical ballet and related art forms. Throughout the year, the Andalusia Ballet presents four master productions at the Dixon Center for Performing Arts, including The Nutcracker, always performed the second weekend in December. Check the Ballet's event calendar for production dates.
The Springdale Estate and Park
Nestled on 3.8 acres on the eastern edge of the downtown district, the Springdale Estate & Park (505 E. Three Notch St..; 334-428-1131), offers one the area's most exquisite mansions. The 5,630-square-foot home, its surrounding buildings and the scenic city-owned park provide the perfect setting for weddings, receptions and corporate, community and family events. On Thursday nights in July, the park is home to JulyJamz, a summer concert series showcasing local musicians and a giant foam canon for kids. During the month of December, it becomes a magical Christmas wonderland complete with an ice skating rink, dozens of imaginative play cottages, a steam locomotive ride, and daily snow shows.
Tip 2: Call ahead. While tours of the Springdale Estate are welcome, no tours are allowed during private functions and corporate events.
Where to Eat
There are plenty of places to eat in Andalusia, ranging from select seafood restaurants to local barbecue joints such as the Crow's Nest (605 W. Bypass; 334-222-4614). But while in Andalusia you'll want to go where the locals go. That includes the Dairy Queen (220 E. Three Notch St.; 334-222-5911) near the historic town square. Still serving your favorite soft-serve ice cream and signature shakes topped with a heaping helping of Southern hospitality, this local staple is one of the last six original Dairy Queens left in the United States.
Where to Stay
Make your visit to Andalusia memorable by staying at one of the town's favorite lodges or Bed and Breakfast inns. Only five minutes from downtown is Sweet Gum Bottom Bed and Breakfast (27761 Straughn School Rd.; 334-222-8007), listed as one of the 25 Best Weekend Getaways & Places to Visit in Alabama by Vacation Idea Dream Vacation Magazine. Another option is Hickory Ridge Lodge & Inn (27388 Straughn School Rd.; 334-222-6647). Nestled among tall pines and overlooking a scenic lake, the lodge offers six beautifully-appointed bedrooms with an industrial kitchen for full onsite catering. It is owed by George and Brenda Gantt, who also owns The Cottle House Bed & Breakfast and Sweetgum Bottoms Antiques.
Tip 3: While staying at the Hickory Ridge Lodge, be sure and take advantage of the beautiful walking trails, scenic vistas and catch-and-release fishing available.