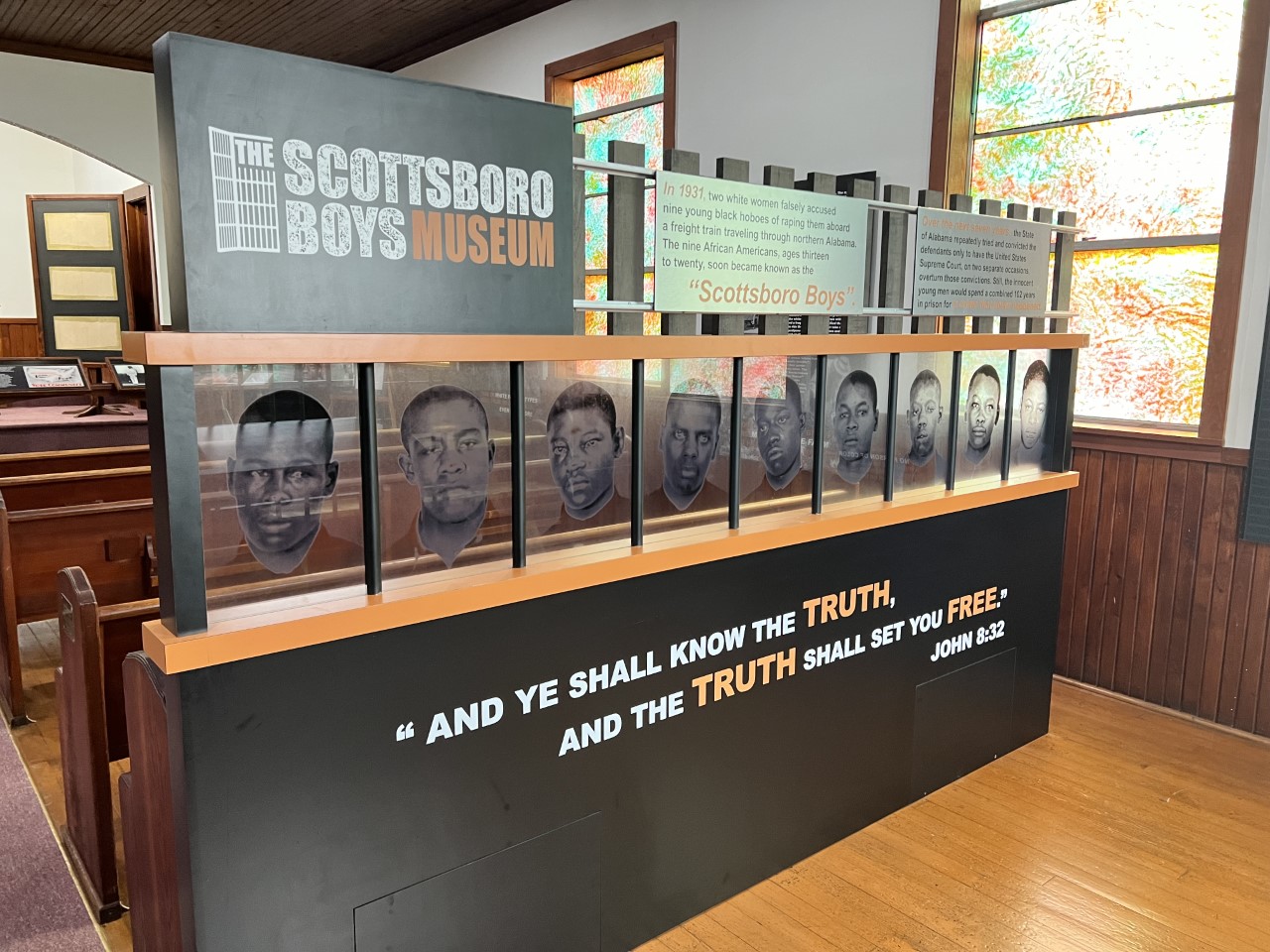 Places To Go »
The Scottsboro Boys Museum
Located in the historic Joyce Chapel, the Scottsboro Boys Museum offers an interpretive tour of the case that helped usher in the modern civil rights moment. On March 25, 1931, nine young African Americans were accused of raping two white women aboard a westbound train in northern Alabama. They were escorted to the Jackson County jail where they were tried and convicted within the next two weeks. The nine served 102 combined years in state prison for a crime they did not commit.
Their struggle made headlines around the world. To tell their complex story, the museum's content looks at various American mythologies surrounding race and gender, at Jim Crow culture and poverty, along with the case's legacies. A focal point of the museum is a re-creation of one of its trials. The exhibit features Haywood Patterson (the defendant) and Victoria Price (one of the accusers), along with Samuel Leibowitz (defense attorney), Thomas Knight (prosecutor), and Judge Edwin Horton. A separate room is dedicated to response and protest, and highlights the cultural reaction to terms of rallies, literature, film, and stage. A popular exhibit challenges visitors to consider comparisons between the Scottsboro Boys Case and To Kill a Mockingbird.
The museum is designed for self-touring; however, a guide can be made available for larger groups. See our website for more information.
P.O. Box 1557, 428 West Willow Street
Scottsboro, AL 35768
10:00 am to 2:00 pm and by appointment.
American Express, Discover, MasterCard, Visa
Admission Charged
Visit website for information
10:00 am to 2:00 pm and by appointment.
(256) 912-0471
Getting There
We are located in the historic Joyce Chapel.
P.O. Box 1557, 428 West Willow Street
Scottsboro, AL 35768
Get Directions
Where to Stay
Where to Eat
Find Your Alabama Sweet Spot
Find the sweetest Alabama vacation spot perfectly suited just for you. Customize your next Alabama vacation by the type of experience you are looking for, then filter by the region of Alabama you want to visit. Don't know what your Alabama destination should be? Let our interactive location map be your guide. Now, where is your next Alabama Sweet Spot?
Was this listing helpful?