SpringHouse
Restaurant
SpringHouse in Alexander City is a restaurant that serves up sophisticated cuisine while celebrating local and homegrown products. Highlights of the menu include whole Gulf red snapper, a garden-fresh Southern vegetable plate with chowchow and buttermilk biscuits, and their signature s'mores with made-from-scratch marshmallows.
For more information visit:
http://www.springhouseatcrossroads.com
256-215-7080
Hours of Operation
Wednesday - Thursday, 5:30 p.m. - 9 p.m.; Friday - Saturday, 11 a.m. - 2 p.m.; 5:30 p.m. - 9 p.m.; Sunday, 10 a.m. - 2 p.m.
---
Famous Dishes
S'mores
---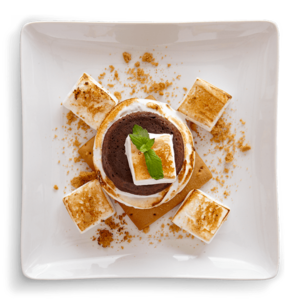 SpringHouse serves sophisticated cuisine made with fresh, local and homegrown ingredients. Located on a hilltop in Alexander City, the décor gives this restaurant a rustic, casual feel. Rob McDaniel, manager and executive chef, is passionate about traditional Southern cooking and supporting local farmers.
McDaniel's twist on a favorite campfire treat — s'mores —  has become the restaurant's signature dessert.
This is not your ordinary graham crackers, chocolate and marshmallows. These s'mores start with a graham cracker on the bottom and made-from-scratch marshmallows. Atop the marshmallows sits warm, dark-chocolate lava cake, oozing with chocolate sauce and topped with more homemade marshmallows. Want to kick it up a notch? Request a drizzle of Buffalo Trace Bourbon Cream.