Savage's Bakery
Bakery
Savage's Bakery & Deli has been a Birmingham landmark for over 70 years. It has expanded over the years and has a variety of different products, but a few things will always remain the same. Savage's has always been very well known for the Meltaways, Iced Smiley Face Cookies, Butterflake Rolls, and of course the CAKES! Savage's continues to use the original recipes, which take some time, but it makes all the difference when it comes to taste!
Wheelchair Accessible
For more information visit:
https://www.shopsavagesbakery.com/
Savage's Bakery
2916 18th St. S.
Homewood
,
AL
35209
205-871-4901
Hours of Operation
Monday - Friday, 8:00 a.m. - 5:30 p.m.; Saturday, 9:00 a.m.- 5:00 p.m.
Accepted Payments
American Express
Discover
MasterCard
Visa
---
Famous Dishes
Pimento Cheese On Sun Dried Tomato Bread
---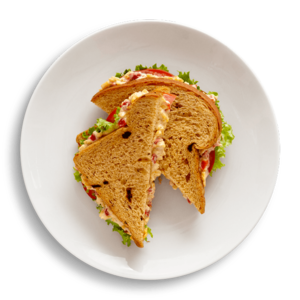 The origin of pimento cheese is a mystery, but locating it isn't hard to do when you're in the South. It's a simple, yet sophisticated down-home favorite that's easily made but not so easily mastered.
Savage's Bakery & Deli, however, had no problem perfecting the recipe — the trick is going heavy on the mayonnaise, according to Savage's.
The bakery offers up its delicious homemade pimento cheese spread over freshly baked sun-dried tomato bread. And if you haven't tried it yet, then you've missed out on one of life's simplest pleasures.
William Savage opened Savage's Bakery & Deli back in 1939. Van Scott, the current owner, purchased the business in 1978 after William died; he's been running it ever since. Scott says the pimento cheese sandwich is one of William Savage's original recipes.