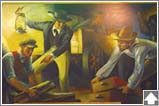 Places To Go »
Mural: Removal of the County Seat
"Removal of the County from Daphne to Bay Minette" by Hilton Leech in 1939. It was restored and moved to the current post office building in 1987. Although Bay Minette is the most centrally located township in Baldwin County, it was not chosen as the county seat when the county was established. Baldwin County is the third oldest county in the state of Alabama, created on December 21, 1809, ten years before Alabama officially became a state. The first county seat location was at McIntosh Bluff on the Tombigbee River but it was transferred to Blakeley only one year later in 1810. In 1898, the State Legislature decided to move the county seat to Daphne. In 1900 however, the Alabama State legislature officially named Bay Minette the county seat and on October 1, 1901, Bay Minette town leaders officially dedicated a courthouse to town. The city of Daphne resisted its loss of status however and refused to surrender the powers of government. In order to move the county records to Bay Minette, town leaders devised a scheme to lure the sheriff and his deputy out of Daphne with a false story. While the officers were pursuing the false story, a group of Bay Minette men stealthily traveled the 30 miles to Daphne, stole the Baldwin County Courthouse records and delivered them to the new courthouse in Bay Minette. Thus the town was established as the Baldwin County seat.
601 McMeans Avenue
Bay Minette, AL 36507
Where to Stay
Where to Eat
I want to discover my
Alabama Sweet Spot by
Was this listing helpful?