Irondale Cafe
Restaurant
The Irondale Cafe began in 1928 as a hot dog stand. Bess Fortenberry purchased the business around 1932 from Maggie Prentice, who had added hamburgers, barbecue, and a variety of sandwiches to the menu. Shortly after that, the stand became known as the Irondale Cafe. In the early 1940s, Bess leased the cafe and went to Florida to work for the war effort. While there, she ran into an old acquaintance named Sue Lovelace, whom she convinced, along with a cook named Lizzie Cunningham, to come to Irondale and help in the cafe. The trio made the Irondale Cafe one of the most popular places around town to dine. They cooked good vegetables and meats and had a thriving sandwich business. When owners bought the cafe in 1972, the restaurant's seating capacity was 31 in the front room and even less in the back. By 1990, due to its increased popularity, the restaurant had expanded and relocated several times before landing in the old Daily Hardware Store near the original site.
Wheelchair Accessible
For more information visit:
http://www.irondalecafe.com
Irondale Cafe
1906 1st Ave. N.
Irondale
,
AL
35210
205-956-5258
Hours of Operation
Lunch served daily 11:00a.m. - 2:30pm.m. Supper Monday - Saturday 5:00p.m. - 7:00p.m.
Accepted Payments
American Express
MasterCard
Visa
---
Famous Dishes
Fried Green Tomatoes
---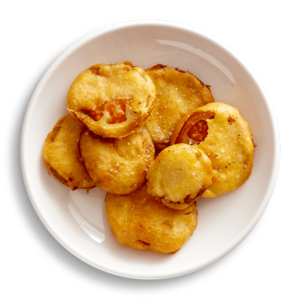 Fannie Flagg, the niece of the original owner of Irondale Cafe, published her novel, "Fried Green Tomatoes at the Whistle Stop Café" in 1987. Five years later, the movie based on the book premiered in Birmingham. After the movie opened, tourists flocked to the Irondale Cafe. The local newspaper ran an article that asked, "Seen the movie? Now taste the title."
But it's not only the fame of the book and film that has customers coming to the café from near and far. The fried green tomatoes are legendary in their own right, and the restaurant serves 600-800 slices daily.
The salty-sweet green tomato slices are fried in cream meal instead of cornmeal. Cream meal is a finely mealed version of cornmeal that produces a crispy, golden crust. After the tomatoes are deep-fried, Irondale Cafe serves them southern with rémoulade sauce made from mayonnaise, Creole mustard and other spices.