Highlands Bar Grill
Restaurant
Pardis and Frank Stitt complement each other in their commitment to creating a memorable dining experience for their guests, from excellence in the kitchen to intuitive service in the dining room.
For more information visit:
https://highlandsbarandgrill.com/
Highlands Bar Grill
2011 11th Avenue South
Birmingham
,
AL
35205
205-939-1400
Hours of Operation
Tues-Fri 5:30-10 Sat 5:30-10:30 Sun-Mon Closed
Accepted Payments
American Express
Discover
MasterCard
Visa
---
Famous Dishes
Baked Grits
---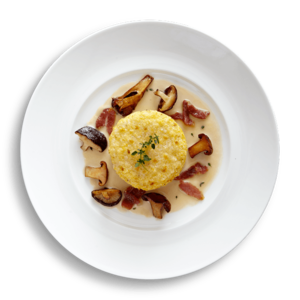 Baked grits, on the menu at Frank Stitt's award-winning Highlands Bar and Grill for almost 30 years, are a perennial customer favorite. In Stitt's first cookbook, "Frank Stitt's Southern Table", he describes the signature appetizer as "simple Southern with a little finesse." Yellow stone-ground grits are combined with butter, Parmigiano-Reggiano cheese, white pepper and egg, then baked in individual portions. The browned grits are served with a buttery Parmesan sauce made with white wine, sherry vinegar, shallots, country ham, heavy cream, hot sauce, lemon and herbs. Wild mushrooms, strips of country ham and fresh thyme garnish the dish.
Locally ground, organic grits are the foundation of this delectable combination. ("Don't even think about trying this with quick grits," Stitt admonishes readers in his book.) Highlands Bar and Grill sources their grits from Coosa Valley Milling, a stone burr gristmill in nearby Wilsonville. "I think that taking something as rustic and humble and country as grits and making them into this luxurious dish, which is almost like a soufflé, is what makes the baked grits an iconic dish for us," Stitt says.