Highlands Bar and Grill
Restaurant
Located in the historic Five Points South District, Highlands Bar and Grill combines the simple elegance of country French cooking with rich Southern tradition to create a dining experience that is, according to Birmingham magazine readers, time and again among the best. Buttery-colored walls donned with vintage posters and soft lighting are the setting for the intimate dining room, while the bar exudes a lively energy with locals and travelers alike seated around the Alabama marble oyster bar. At Highlands, where diners can select from a full menu, humble Southern ingredients, such as stone ground grits and country ham meet French sauces and braises, creating superb flavors and elegant balance.
Owner of three award-winning Birmingham restaurants — Highlands Bar and Grill, Bottega Restaurant and Café and Chez Fonfon — chef Frank Stitt is credited by many as a leader in Alabama's rise to national culinary status. A native of Cullman, Ala., Stitt once worked at legendary restaurant Chez Panisse in San Francisco, as well as in kitchens throughout Paris. Stitt was named Best Chef in the Southeast by the James Beard Foundation in 2001, and has since received multiple nominations in the foundation's Outstanding Chef and Outstanding Restaurant categories. In 2007, he earned the Southern Foodways Alliance Lifetime Achievement Award, and Esquire magazine inducted him into its Restaurant Hall of Fame in 2011. The author of two cookbooks, Stitt frequently appears in national, regional and local publications, where he discusses his love of creating classic Southern cuisine with a European sensibility.
For more information visit:
http://www.highlandsbarandgrill.com
Highlands Bar and Grill
2011 11th Ave. S.
Birmingham
,
AL
35205
205-939-1400
Hours of Operation
---
Famous Dishes
Baked Grits
---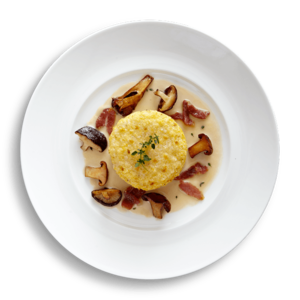 Baked grits, on the menu at Frank Stitt's award-winning Highlands Bar and Grill for almost 30 years, are a perennial customer favorite. In Stitt's first cookbook, "Frank Stitt's Southern Table", he describes the signature appetizer as "simple Southern with a little finesse." Yellow stone-ground grits are combined with butter, Parmigiano-Reggiano cheese, white pepper and egg, then baked in individual portions. The browned grits are served with a buttery Parmesan sauce made with white wine, sherry vinegar, shallots, country ham, heavy cream, hot sauce, lemon and herbs. Wild mushrooms, strips of country ham and fresh thyme garnish the dish.
Locally ground, organic grits are the foundation of this delectable combination. ("Don't even think about trying this with quick grits," Stitt admonishes readers in his book.) Highlands Bar and Grill sources their grits from Coosa Valley Milling, a stone burr gristmill in nearby Wilsonville. "I think that taking something as rustic and humble and country as grits and making them into this luxurious dish, which is almost like a soufflé, is what makes the baked grits an iconic dish for us," Stitt says.