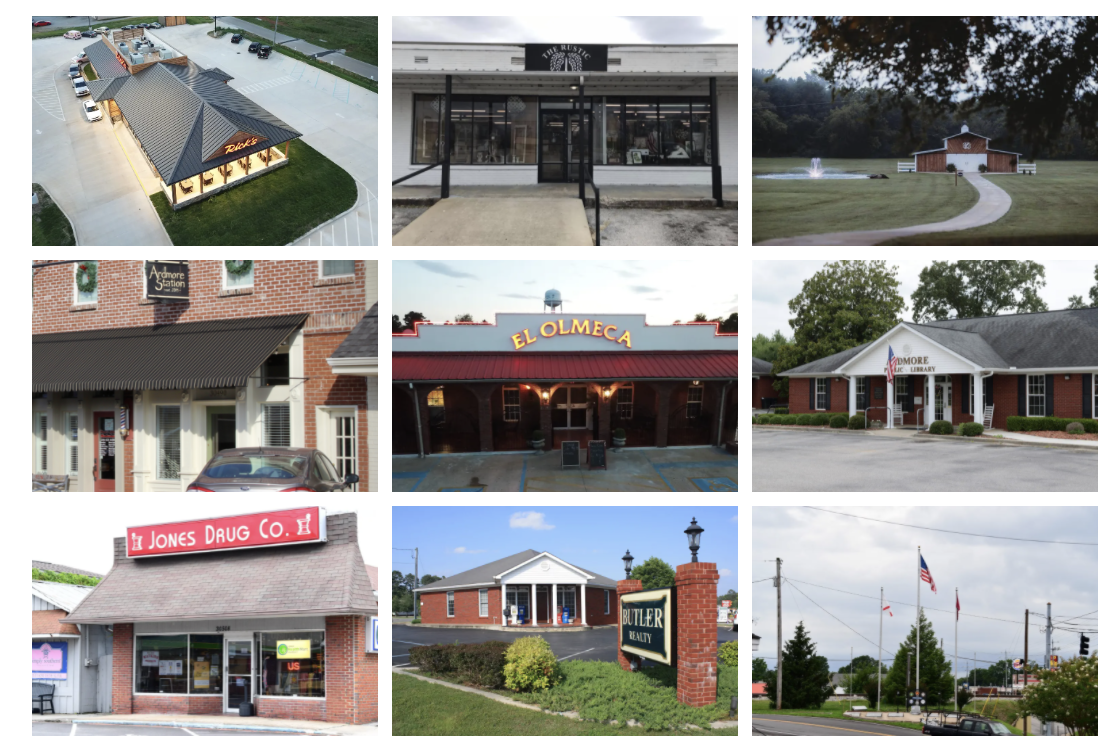 Places To Go »
Greater Ardmore Chamber of Commerce
The Greater Ardmore Chamber of Commerce serves the Town of Ardmore, Alabama, and the
City of Ardmore Tennessee. Ardmore is rare in that it is in two states, Alabama, and
Tennessee, and four counties, Limestone (AL), Madison (AL), Giles (TN), and Lincoln (TN). This
can make city, county, and state government a very interesting task at times. Ardmore has two
mayors and a town and city council. They have one police and fire department that service
both the town and the city.
Ardmore began in 1911 as a railroad stop named Austin after a store owner, Alex Austin, who
worked with construction crews working along the railroad between Nashville and Decatur. In
1914 the town's name was changed to Ardmore. Ardmore, Alabama was incorporated in 1922
and Ardmore, Tennessee was incorporated in 1949. Together Ardmore, Alabama and Ardmore,
Tennessee have a population of approximately 2500 citizens. If you stop at the Ardmore,
Alabama Welcome Center on Interstate 65 you will see the Saturn IB rocket and a Memorial
Display honoring the Veteran's of the State of Alabama. Ardmore is a direct route between
Nashville and Huntsville. Ardmore has also been recognized for The Benge Trail (Trail of Tears)
which came through Ardmore from Fort Payne, Alabama to Pulaski, Tennessee.
Many families have chosen to live in Ardmore because of the family type atmosphere. Ardmore
has two parks, walking tracks, an arena, a Veteran's museum, public library, a nursing home,
and several local doctors and dentist. The median family household income is $40,500. The
average cost of houses sold were $90-$100 per square foot. There are many churches in the
area and most residents in the Ardmore area are of the protestant faith. Many residents in the
Ardmore area work in Huntsville, Athens, Fayetteville, or Pulaski. The average commute time is
25 minutes.
In addition, there are also several options for employment or for furthering ones education in a
60 mile radius of Ardmore: Oakwood University (18 miles); The University of Alabama in
Huntsville (20 miles); Calhoun Community College (22 miles); Alabama A&M University (23
miles); Martin Methodist College (23 miles); J.F. Drake Technical College (24 miles); Motlow
State Community College (48 miles); and Columbia State Community College (58 miles)
There are three International Airports within a 120 miles radius of Ardmore: Huntsville
International Airport – 30 miles; Nashville International Airport – 92 miles; and Birmingham-
Shuttlesworth International Airport – 115 miles.
Ardmore High School and Cedar Hill Elementary are in the Town limits of Ardmore, Alabama.
To help the town maintain a local school system, the State of Alabama, the Limestone County
Board of Education, the Giles County Board of Education, and the Lincoln County Board of
Education have an agreement which allows city residents living on the Ardmore, Tennessee side
to attend Ardmore High School and/or Cedar Hill Elementary (with a yearly tuition). Ardmore
High School serves students in the North East corner of Limestone County. It is a 6-12 school
located on Hwy 251 in Ardmore, Alabama. The current student body is comprised of
approximately 900 students. The school mascot is the Tiger. Cedar Hill Elementary opened
August of 2003 and is located at the corner of Cedar Hill Road and Gatlin Road and has
approximately 650 students and is a PreK-5 th grade school. When students complete Cedar Hill
Elementary they attend Ardmore High School.
For families that live in Ardmore, Tennessee and chose for their children to attend a school in
Tennessee their school assignment would be dependent on which county in Tennessee they
resident in in Ardmore. If they live in Giles County, Tennessee their children would attend
Elkton Elementary (K-8) and then Giles County High School (9-12). If they live in Lincoln
County, Tennessee their children would Blanche Elementary (PreK-8) and then transfer to
Lincoln County High School (9-12).
For families that live in Madison County, Alabama the elementary school zone is dependent on
which part of the County they reside in. Most children would attend Sparkman High school.
Parents could enter the address in the School Zone Finder on the Madison County School's
website (https://www.mcssk12.org/Page/5804) to verify the correct school zone.
As one can see, Ardmore has a unique history and has a lot to offer someone. The individuals
help make its charm inviting and the beauty of the landscape and countryside surrounding the
town and city are exceptional. We hope you will visit Ardmore and enjoy it as much as we do.
26461 1st Street
Ardmore, AL 35739
Mondays Tuesdays and Thursdays
Find Your Alabama Sweet Spot
Find the sweetest Alabama vacation spot perfectly suited just for you. Customize your next Alabama vacation by the type of experience you are looking for, then filter by the region of Alabama you want to visit. Don't know what your Alabama destination should be? Let our interactive location map be your guide. Now, where is your next Alabama Sweet Spot?
Was this listing helpful?