Dreamland Bar-B-Que
Restaurant
The original location in Tuscaloosa, a homegrown joint with a worldly following, still packs in hungry diners. Back in the 1960s and 1970s, Dreamland developed devoted fans who would travel across the nation to eat at this storied spot. Nowadays, servers deliver complimentary appetizer plates of white bread and the same sauce that the original owner, Big Daddy, developed. Smoked sausage, chopped pork sandwiches and sides of beans, slaw, potato salad and banana pudding have been added to the menu since the original restaurant opened. But keeping those ribs just like they used to be is key to Dreamland's success both here and at the other shops, explained Betsy McAtee, the CEO of today's Dreamland. "All of our Dreamlands use the same meat, the same sauce, the same wood vendor out of Tuscaloosa, just like the original location," she said.
For more information visit:
http://www.dreamlandbbq.com/
Dreamland Bar-B-Que
1427 14th Avenue South
Birmingham
,
AL
35205
205-933-2133
Hours of Operation
Sunday - Saturday 10am - 10pm
---
Famous Dishes
Ribs And White Bread
---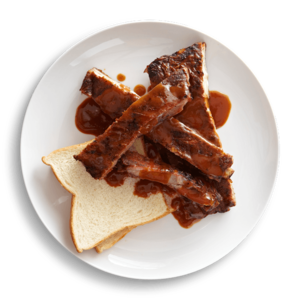 University of Alabama paraphernalia lines the walls of the original Dreamland building where hickory-smoked pork spareribs have been grilled to perfection for more than 50 years. The sauce recipe is a tightly kept secret, but what we do know is that it's a vinegar-based sauce with hints of garlic and brown sugar. Dreamland encourages its customers to use the slices of white bread served with the ribs to soak up any extra sauce left on their plates.
Celebrities like Reba McEntire and Hank Williams Jr. have been known to stop by the restaurant to sample the legendary ribs and sauce. And once you've visited the original, it's likely you'll want more. Luckily, ribs can be ordered and shipped right to your front door, fully cooked, vacuum-sealed and packed on dry ice. Rib packages include Dreamland's famous sauce and a loaf of Sunbeam bread.