Savor The Taste of Fall in Sweet Home Alabama
August 2020
The leaves have begun to fall and the smell of pumpkin spice fills the air which means it's fall y'all, and we could not be any happier. From pumpkin spice bread pudding to butternut squash soup, Alabama has no shortage of fall dishes and beverages that will satisfy your taste buds all season long.
Pumpkin Spice Bread Pudding, Huntsville
Bread pudding and pumpkin spice? That's the best of both worlds. This housemade bread pudding at 1892 East consists of a blend of fall spices and caramel made from locally-sourced honey. This mouthwatering dessert is topped off with a nice, cold scoop of sweet vanilla ice cream.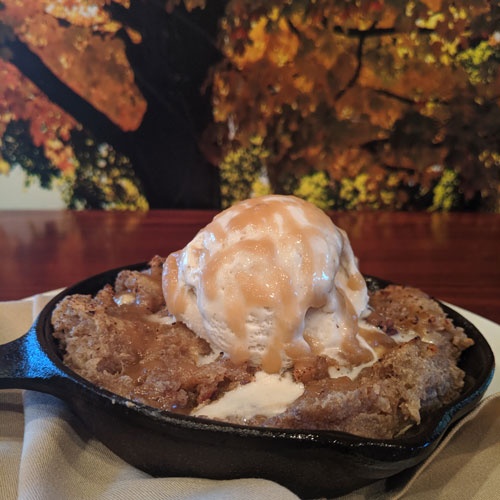 Meredith Marzen Oktoberfest Beer, Birmingham
The first-ever true lager brewed at Avondale Brewery: this Oktoberfest beer is the ideal drink for those fall nights. With a beautiful burnt orange color and a toasty, biscuit-like flavor, you'll be taking advantage of this beverage all autumn long.
Butternut Squash Soup, Birmingham
This cooler weather means it's time to indulge in soups that warm you up from the inside out. Luckily for you, Brick & Tin's butternut squash soup has a blend of flavors that keep locals coming back for more. Made with locally-grown produce, this velvety soup is fresh, creamy and rich.
Alabama Autumn, Auburn
The Alabama Autumn from Prevail Union is a mix of espresso poured over soft cranberries with a blend of fall spices. The last addition to this unique beverage is a cool glass of tonic. This beverage is the perfect thing to cool off on those warmer fall days.
Apple Cinnamon Cupcake, Mobile
The Apple Cinnamon Cupcake from Twist Cupcakes combines all of the best fall flavors into one mouthwatering creation. This cupcake consists of a vanilla, cinnamon streusel cupcake topped with a sweet, brown buttercream icing. To add to an already amazing treat, the cupcake is filled with an apple and brown sugar cinnamon filling.
Whether you're a pumpkin spice fan, a cinnamon apple fan, a butternut squash fan or all of the above, our wonderful state has a dish that can satisfy each of your cravings. Which one of these seasonal dishes will you be trying first?