Barbecue Time
August 2020
It's the summer and it's time for barbecue! Luckily, Alabama has some of the best barbecue joints in the South. Check out some of our favorite spots below.
Big Bob Gibson's Bar-B-Q, Decatur
Big Bob Gibson's Bar-B-Q has been cooking up its famous mouthwatering, slow-cooked meats and national award-winning sauces for four generations. This restaurant is known for its tangy white barbecue sauce and meat so tender that it melts in your mouth. From smoked chicken to brisket, each customer is sure to find a dish that is guaranteed to tantalize the taste buds.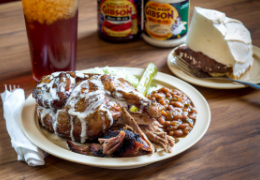 Dreamland BBQ, Tuscaloosa
At Dreamland, everybody is special, and everybody is there for the same reason – the ribs. As soon as one bites into the caramelized crust of one of Dreamland's ribs, the meat falls right off of the bone. To get the most out of this experience, visitors use white bread to soak up the sweet, zesty barbecue sauce that the restaurant is known for. Dreamland has grown and expanded its menu to include selections such as pulled pork, barbecue chicken, smoked sausage and banana pudding.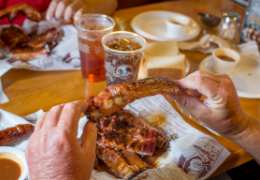 SAW's BBQ, Birmingham
When a restaurant has a dish on the list of "100 Dishes to Eat in Alabama Before You Die," it has to be good. SAW's BBQ in Homewood serves up Carolina-style pork, barbecue chicken with white sauce, and ribs, among other dishes. One of its most popular creations is the pork-stuffed tater, a baked potato smothered with pulled pork, onions, bacon and topped with SAW's famous barbecue sauce. For a flavorful explosion in your mouth, check out this BBQ-lover's paradise.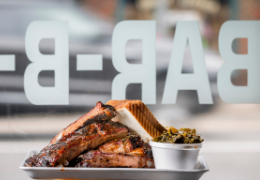 Miss Myra's Pit Bar-B-Q, Birmingham
When looking for the best places to eat, go where the locals go. Miss Myra's Pit Bar-B-Q has been serving up smoked pork, homemade sides and homemade desserts since 1987. For lunch, one must have the hickory-smoked barbecue and flavorful white barbecue sauce, but be sure to save room for the most important meal of the day ‒ dessert. For dessert, try Miss Myra's famous homemade banana pudding, described by Food Network's Andrew Zimmerman as "dessert heaven." It's the perfect place to satisfy all barbecue cravings.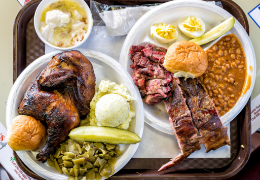 Bob Sykes BBQ, Bessemer
Each morning, the chefs at Bob Sykes start roasting its pork on a fire of hickory coals. Its legendary pork sandwich and its delicious barbecue sauce are just a few of the reasons we've inducted this restaurant into the Barbecue Hall of Fame. In addition to pulled-pork sandwiches, Bob Sykes offers a variety of dishes including ribs, burgers and its popular lemon icebox pie.