Progressive Thanksgiving Table
Take your taste buds on a journey throughout our state with a progressive five-course Thanksgiving meal.
Holiday Beverage, Fairhope
Every good Thanksgiving meal begins with a holiday beverage, and lucky for you, Fairhope Brewing has just what you need. The Judge Roy Bean Coffee Stout is carefully crafted and consists of a nice, creamy cold coffee flavor that mixes perfectly with the base stout. This beer is a light option, which means it's a great way to begin your meal. However, if you're more into cocktails, give the Holiday Old Fashioned at the Haberdasher in Mobile a try. This drink consists of housemade cranberry syrup, genever, London dry gin, and bitters.
Housemade Soup, Dothan
Before you dig into the main course, take a minute to warm yourself up with a cup of housemade soup from the Basketcase Cafe. Choose from a cup of savory Cream of Tomato Soup or Sweet Corn Chowder. Trust us, no matter which soup you choose, you can't go wrong.
Alabama Butcher's Board, Auburn
After a nice, warm cup of soup, indulge in the flavors of the Butcher's Board from Acre. This appetizer includes four house-cured meats, pickles, pecan mustard, local cheese, fruit and benne crackers all served on a piece of Alabama wood. The combinations of flavors and textures make this dish something you won't be able to get enough of.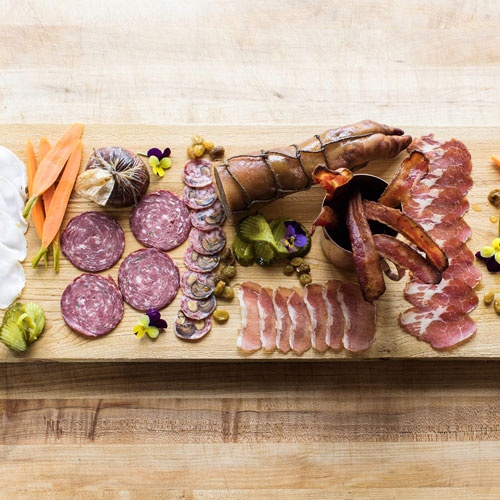 Turkey and Dressing, Irondale
You can't have a Thanksgiving without turkey and dressing, of course! At Irondale Cafe, you can get all the Thanksgiving food you want. From a Brined, Slow-Roasted Hen Turkey to cornbread dressing, macaroni and cheese, and green beans, Irondale Cafe has all of the Thanksgiving dishes you need.
Sweet Potato Fluff, Gadsden
The perfect end to a perfect Thanksgiving meal is found at Pruett's Bar-B-Q in Gadsden, Alabama. The Sweet Potato Fluff is a combination of sweet potato casserole and warm, gooey fluff. Although this dish is still a bundle of sugary goodness, it's lighter than your average sweet potato casserole making it a pleasant end to a meal full of delicious Thanksgiving food.