Jack Daniel's Cooperage
~
Flavor by the Barrel
Trinity, AL cooperage produces famous whiskey's essence
By Rick Harmon
Alabama Tourism Department
Alabama is making one of the key ingredients for Jack Daniel's Tennessee whiskey – the barrels.
"It's definitely fair to say 100 percent of the color and somewhere between 50 to 60 percent of the flavor comes from the barrels," said Derrick Connor, the plant director for the Jack Daniel's barrel-making facility in Trinity, Ala. "There are people with better taste buds than mine, who can taste Jack Daniel's and detect more than 200 different flavors."
The Jack Daniel's Cooperage is in Trinity, a city of 2,137 people located about 14 miles west of Decatur. It is one of only two facilities that makes barrels for Jack Daniel's and the only one that makes barrels exclusively for the famous Lynchburg distillery. Jack Daniel's views the barrels as an ingredient in creating its whiskey, and like other ingredients, they can only be used once – for whiskey.
"We can't use them in our process more than once, but the same barrels are reused to make Scotch," the 46-year-old plant manager said.
Barrel Production
How many barrels does the Alabama facility make? That is an ever-changing answer for the facility that opened last year and created its first barrel in April 2014. "We are like any other start-up," Connor said. "We were making about 600 barrels a day when we first got here. Now, we are up to 800 or 850. By the end of April we plan to be making 1,200 a day and we hope to eventually get to 2,500."
While Connor believes the Trinity plant can increase its barrel production to about 1,200 a day without increasing the 118-member labor force, he believes it is only a matter of time before the plant has a major expansion. "I think we can grow to about 1,200 barrels a day with our current employees, but as we continue to grow, and we hope to double that by around 2018 or 2018, we will need to also grow the workforce," he said. But getting to 1,200 barrels a day won't involve increasing employees but efficiency, learning to make perfect barrels faster and faster.
Making Barrels
Making the barrels isn't easy. Instead of being put together mechanically, the vast majority of each barrel is constructed by hand using temporary barrel hoops to help shape them and using the physics of equal pressure to keep them together. In fact, Connor, who came to run the plant about a year ago, didn't come from a barrel-making background, but is an engineer – an engineer who has learned a greater appreciation of wood. He says that now when he goes out and sees a bench or anything made of wood, he sees it with a new appreciation.
But putting the barrels together, although difficult, is just the culmination of a long process. It begins with the white oak from Alabama, Tennessee, Indiana and Ohio being delivered to company saw mills, where they are sawed into 38-inch planks. When they are brought to the cooperage, the barrel-making facility likes to leave them out for six to nine months to age. The wood is put in a kiln to cut back on moisture content and cut down to 35 and 5/8 inches. Then the surfaces of the rough planks are planed so workers can spot any defects and use only the best wood.
Connor said it's clear why Jack Daniel's chose Alabama for its barrel plant: The location fits perfectly in the supply chain with the plant being close to sources of white oak and close to the distillery. He said the other cooperage in Louisville is about twice as far away from the distillery as Alabama's. "And it is to the north so if there is crazy weather up north, we are less likely to be hit, and it is less likely there will be supply chain disruptions," Connor said.
The Trinity facility will eventually help create a significant amount of Jack Daniel's Tennessee Whiskey. They are currently making more than 800 barrels a day. A single barrel holds 53.5 gallons of whiskey, which will be transformed into about 200 to 225 fifths of whiskey.
How good will the whiskey that these barrels produce be. The 54-year-old engineer said he can hardly wait to find out, but that he will have to. "While the aging process varies, all the barrels here are being used for Jack Daniel's Old No. 7, which is aged for at least four years," he said. So Connor and the workers at the Trinity plant will have another 2 ½ years before they will be able to taste the whisky they helped make and get proof (80 percent proof) of what they have accomplished.

Explore the area

Decatur: Fun in the River City
Huntsville & Decatur
Decatur and Morgan Count
y
Decatur Events
For more information visit: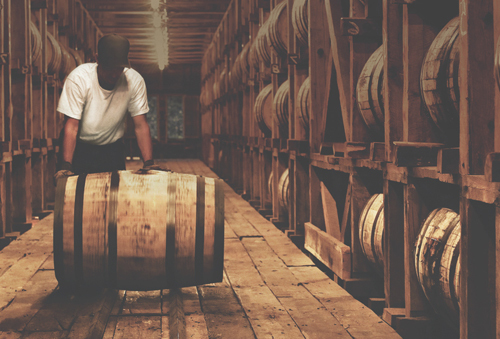 Video provided by Jack Daniel's Cooperage
Unless otherwise stated, photo provided by Jack Daniel's Cooperage